By the end of The War Between the States (Civil War), the U. S. military, as well as European armies realized that muzzleloading rifle muskets were obsolete. Because there were huge stocks of martial front loaders in good condition all over the world, many countries decided to convert them to breechloaders. As "economy" was the watchword, superior designs were often ignored in order to utilize existing arms. The British converted their excellent .577 Enfield by fitting the Snider action while retaining the original lock, stock and .577 caliber barrel. Various European armies used other breechloading systems to update their muzzleloaders.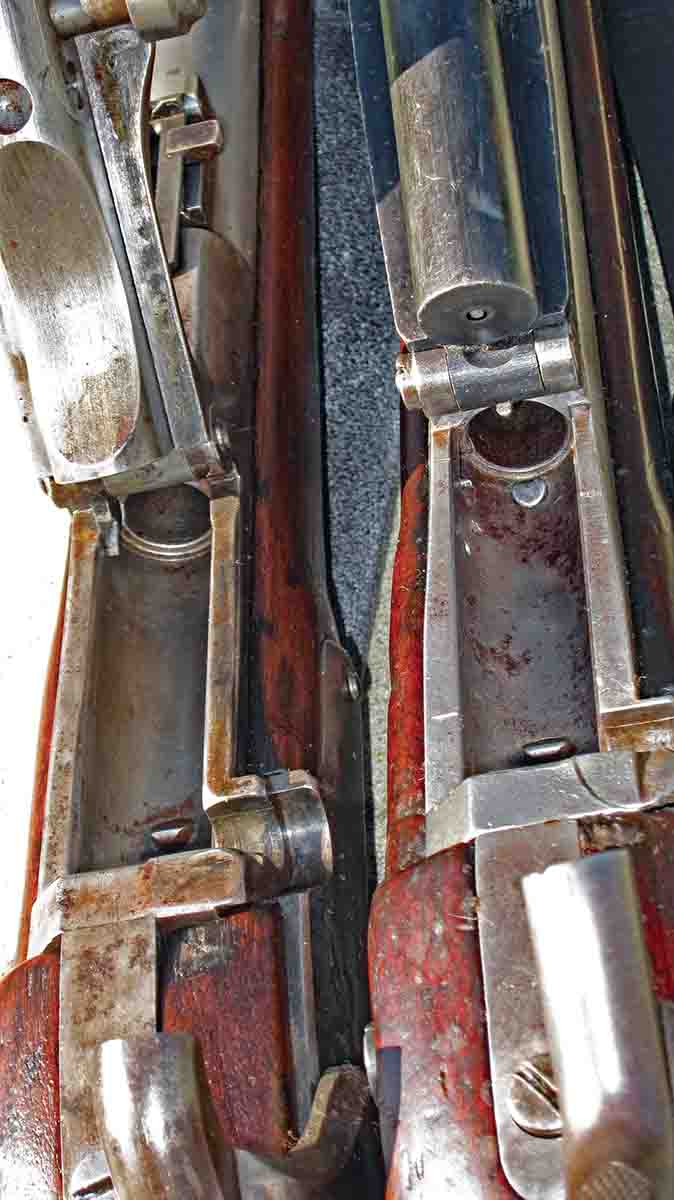 Springfield Armory, after testing several different actions, selected the "Trapdoor" Model 1866 chambered in .50-70 Government. This 3-band rifle was based on the .58 caliber Model 1863 Type II rifle musket's lock, stock and barrel with a brazed in .50-caliber liner. This was our Army's first standard issue centerfire rifle. The Model 1866 (aka 2nd Allin Conversion) did not possess a separate receiver as the breech of the original barrel was simply milled out to receive a hinged "trapdoor" breechblock. The lack of a proper receiver resulted in a flawed extractor/ejector system that frequently got out of adjustment and required tuning or the replacement of fragile parts. The following Model 1868 Trapdoor featured a separate receiver that screwed onto the barrel and a reliable extractor/ejector design that was used in the later Model 1870 (.50-70) and Model 1873 (.45-70) Trapdoor rifles.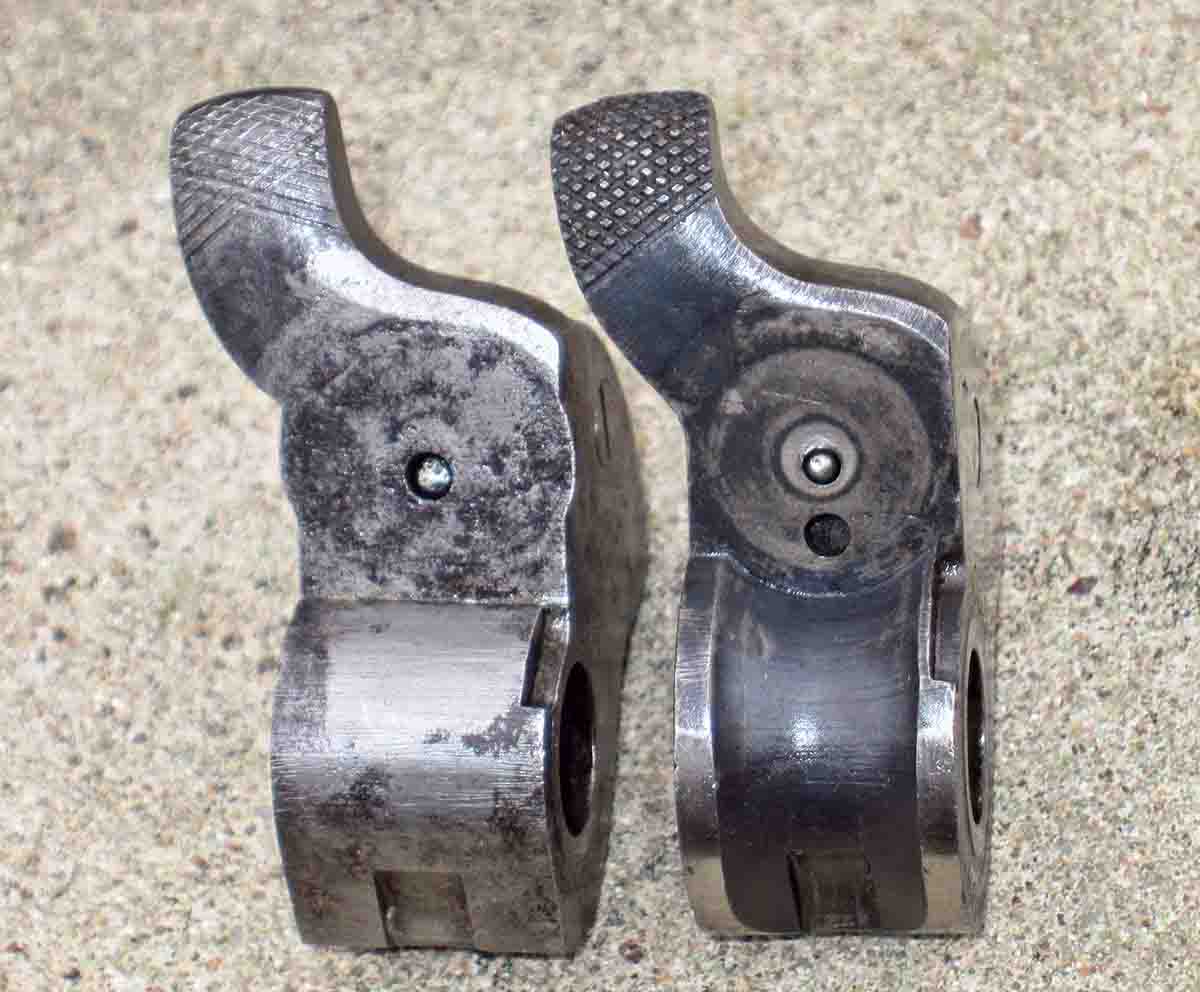 In 1868, using Remington-made rolling block actions, Springfield Armory converted 500 Civil War rifle muskets, with another 498 converted in 1869. Brazed-in .50 caliber liners allowed chambering in .50-70 (see Ball). Sometime prior to 1869, Remington began using Type I Rolling Block actions to convert a small number of Model 1841 "Mississippi," Remington "Zouave" and Enfield rifle muskets. Later, when Model 1861 and Model 1863 Springfield rifle muskets were finally sold from military stores, they were used to make most .58 Rolling Block conversions. These conversions (Remington called them "Transformed" rifles) were chambered in .58 Rimfire and .58 Berdan centerfire. After August 1870, "Transformed" rifles had standard flat base breechblocks (in lieu of earlier concave base blocks) and side (bar-type) extractors. The last recorded sale of "Transformed" rifles were 400 sold to the Dominican Republic in November 1888. Remington apparently manufactured "Transformed" rifles until 1886 (see Layman).
The scarce .58 Berdan (aka .58 Musket) chambered Rolling Blocks are easily identified. Most have a lower tang that is longer than the upper tang and all have breechblocks with "ears" to accommodate the large diameter .58 Berdan cartridge rim. Another indicator is a larger than standard milled-out area on both interior sides of the top of the receiver that allows the wider "eared" breechblock to open completely. Note that I said "most" have a longer lower tang. I have seen a .58 Berdan Remington "Transformed" from a Model 1861 that had the shorter standard length lower tang and a 38¼-inch barrel. This rifle also sported a breechblock with a small plate dovetailed into the face of the block to form the "ears." My .58, based on a Model 1863 Type II, has the longer lower tang, a 39-inch barrel and the later one-piece breechblock.
The reasons a longer lower tang was required on "Transformed" rifles are obvious. The longer tang is designed to fit stocks inlet for Civil War rifle musket trigger groups. If the shorter tang were used, then a wood insert would have to be added to fill the void at the rear of the trigger plate inlet. The longer "Transformed" lower tang receives a standard Remington tang screw as well as the same wood screw used in the original Model 1863. By comparing a "Transformed" buttstock to a Model 1866 (that uses the original Model 1863 trigger group) it becomes clear as to why the longer lower tang was required.

Initial repair, case forming, load preparation and shooting the rifle pictured herein was described in a detailed two-part Black Powder Cartridge News article that appeared around 2006 and was reproduced in The Yellow Book. To be brief, a shattered buttstock was repaired then refitted to the receiver and the badly rusted bore was partially cleaned. Although the bore still had several lumps of rust, I was developing a bad case of "cleaning rod elbow" and began working up loads and shooting with the still rusty bore. The best load grouped 1.81 (four rounds) at 35 yards. At 100 yards a four-round group measured 7.54. Both groups excluded the fouling shot. Part of the 100-yard accuracy problem was sight picture (disappearing front and rear sights) due to vintage eyeballs. Around three years ago, I underwent double cataract surgery and now have much better distance vision.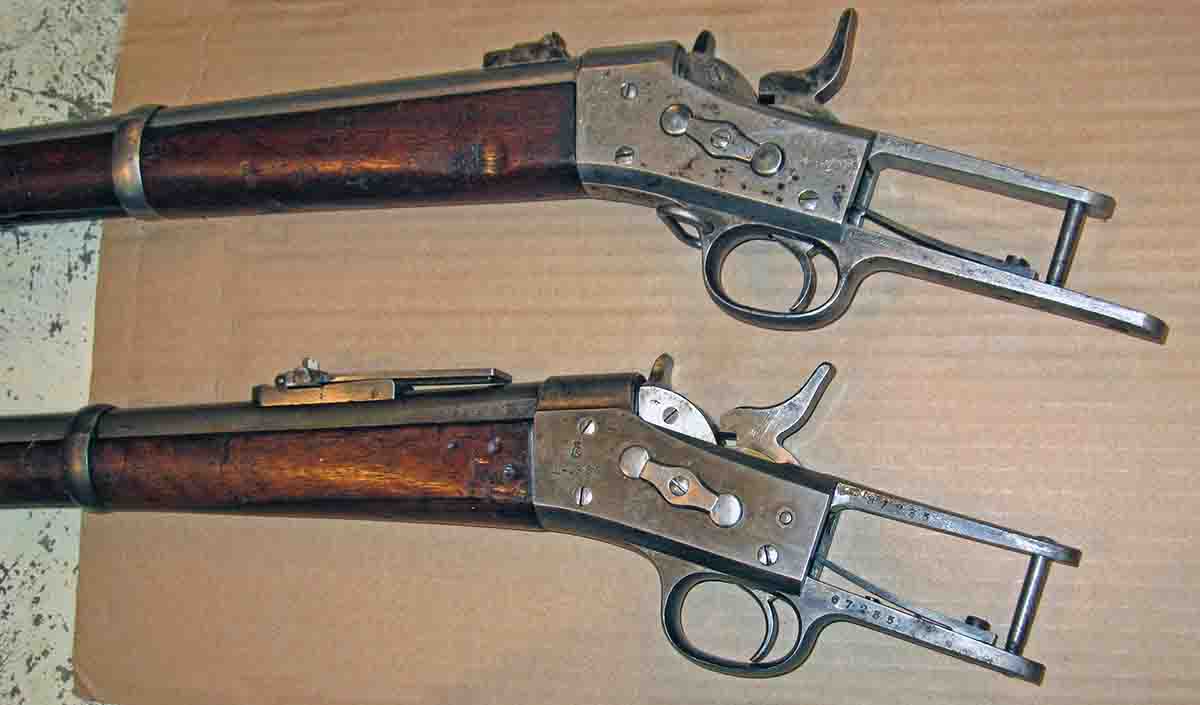 Most of my other black powder cartridge military single shots group from one inch to two-and-a-half inches at 100 yards. These include the Model 1867 Danish, Model 1870 Navy, Model 1879 Argentine and Model 1872 Whitney Rolling Blocks as well as Model1866, Model 1868, Model 1870 and Model 1873 Trapdoors, Model 1867/77 Werndl and the .577-.450 Martini. I wasn't happy with a dismal 7.54 group where the fouler hit a foot low. Having other projects, I put the .58 Rolling Block away and added it to my "fix it later" list. After resting in the gun cabinet for about 12 years, I recently took a long look at the bore from both ends. As I had originally surmised, this rifle had been fired with black powder without benefit of cleaning at least once, and probably many more times in its 150-year life.
Further inspection revealed that the rifling was stronger than I remembered although badly pitted, especially for the first six inches in front of the chamber. The lumps of rust were still there and, immediately in front of the chamber, rust filled the edges of the lands where they met the grooves. In other words, the bullet might not spin until it traveled further up the bore.
What to do? Extreme problems require extreme measures. I decided to use Naval Jelly but couldn't find any at the local hardware emporium so I bought another product. This stuff is a pink gel and goes by the name "Permatex." It comes in a handy eight-ounce plastic bottle with a wide neck allowing rod-mounted patches to be completely immersed.
After removing the stocks, stripping the action and de-oiling the bore, patches dripping with "Permatex" were swabbed from chamber to muzzle three times to ensure complete coverage. After a half hour, the bore was washed with water from a garden hose and then cleaned with a 20 gauge bore brush. Some of the lumps were gone but others remained. After a second treatment, the lumps disappeared although the rust along the groove/land juncture was still there. Recommended by my old hunting buddy Calvin Johnson, I next tried "Evapo-Rust" on the stubborn bore. "Evapo-Rust" is water soluble, re-useable and may be left in the bore for a couple of days if needed. The only problem with this product is that for it to work ambient temperature must be at least 65 degrees Fahrenheit. The highs for the last few days reached 65 F., but only at midday and early afternoon. I wired a shop light to the breech and left it, a cork and a barrel full of "Evapo-Rust" for two days. After rinsing and brushing, the land/groove rust disappeared. Final barrel preparation included spinning a 20-gauge bronze brush up and down the bore and fire lapping with a paper patched Minie´ ball. Now the bore, although pitted, will hopefully print tighter groups.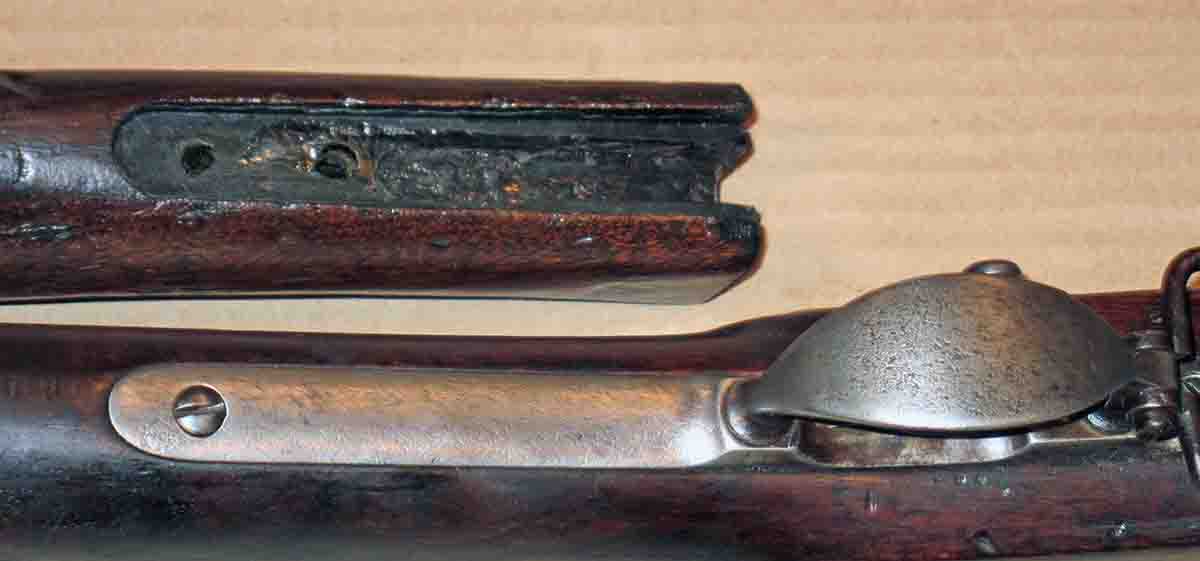 Other steps towards improved accuracy include painting the rear sight white and selecting a shorter bullet. The white rear sight makes it contrast with the patina front sight, while a shorter bullet will be more stable when fired from the slow 1-68 twist rifling. Initial loads were fired with a longer (1.044) Lyman "New Style" 505-grain Minie´ ball. The shorter (.953) Lyman "Old Style" Minie´ ball is based on an original Civil War design that weighs 493 grains. Both bullet weights are based on ladle-poured pure lead. For future loads, I will continue using paper-patched, lubricated Minie´s to eliminate leading a badly pitted bore and to increase bullet diameter by .007. Larger diameter is needed to better fit shortened 24-gauge brass shotgun shells with .011 thick neck walls, compared to shortened .577 Snider cases that measure .018 thick. As I've exhausted my supply of Schuetzen FFG used in original loads, I will try Goex black powder. Reformed brass (24 gauge and .577 Snider) as well as primers will remain as before.
When gathering data to work up loads, I found conflicting information on case length, bullet diameter, bullet weight, etc. I'd been down this road several times before with other obscure black powder cartridges. A chamber cast was poured confirming a 1.75-inch case length and .589 groove diameter. At this point the chamber cast was measured and full-length and neck sizing dies were ordered from a maker. I made a mistake by specifying that the neck sizing die be dimensioned for a .589 diameter bullet instead of .576 diameter. I thought I could buy a stock .589 mould but couldn't find one. I made the compression die by modifying a .416 Remington Magnum seating die.
Observations
During nearly five decades of shooting .58, .50 and smaller caliber black powder rifles I've come to several conclusions concerning the .58s. Based upon my experience, I would say that the .50-70 (the nearest caliber to a .58 I've fired) is far more accurate than the .577 Snider, .58 muzzleloader and the .58 Berdan. When comparing .58 performance to lesser calibers, several factors must be considered. The .577 and .58s were all fired with Minie´s and therein lies part of the performance problem. When my flat-based bullets head downrange, I know that no primary wad is sticking to the base because I've included one or two newspaper wads under the bullet. I have no way of knowing what leaves the muzzle in the base of one Minie´ ball to the next.
The other factor is twist rate. All my .58 shooting has been limited to 1:68, 1:72 and 1:78 twist rifling. When 1:48 twist is used, accuracy almost invariably improves. Another problem is the pitiful bore condition of my .58 "Transformed" Remington that I am sure limits bullet stability and accuracy. In any case, I'm not yet ready to accept 7.54-inch, 100-yard groups and as soon as weather permits, I'll try again. But this time I'll have a cleaner bore and a much better sight picture. You can't shoot any better than you can see.
References
1. Springfield Armory Shoulder Weapons 1795-1968 (Ball)
2. Remington Rolling Block Military Rifles of the World (Layman)
3. The Yellow Book (Barker), Cistern Publishing. Phone: 361 865 0030