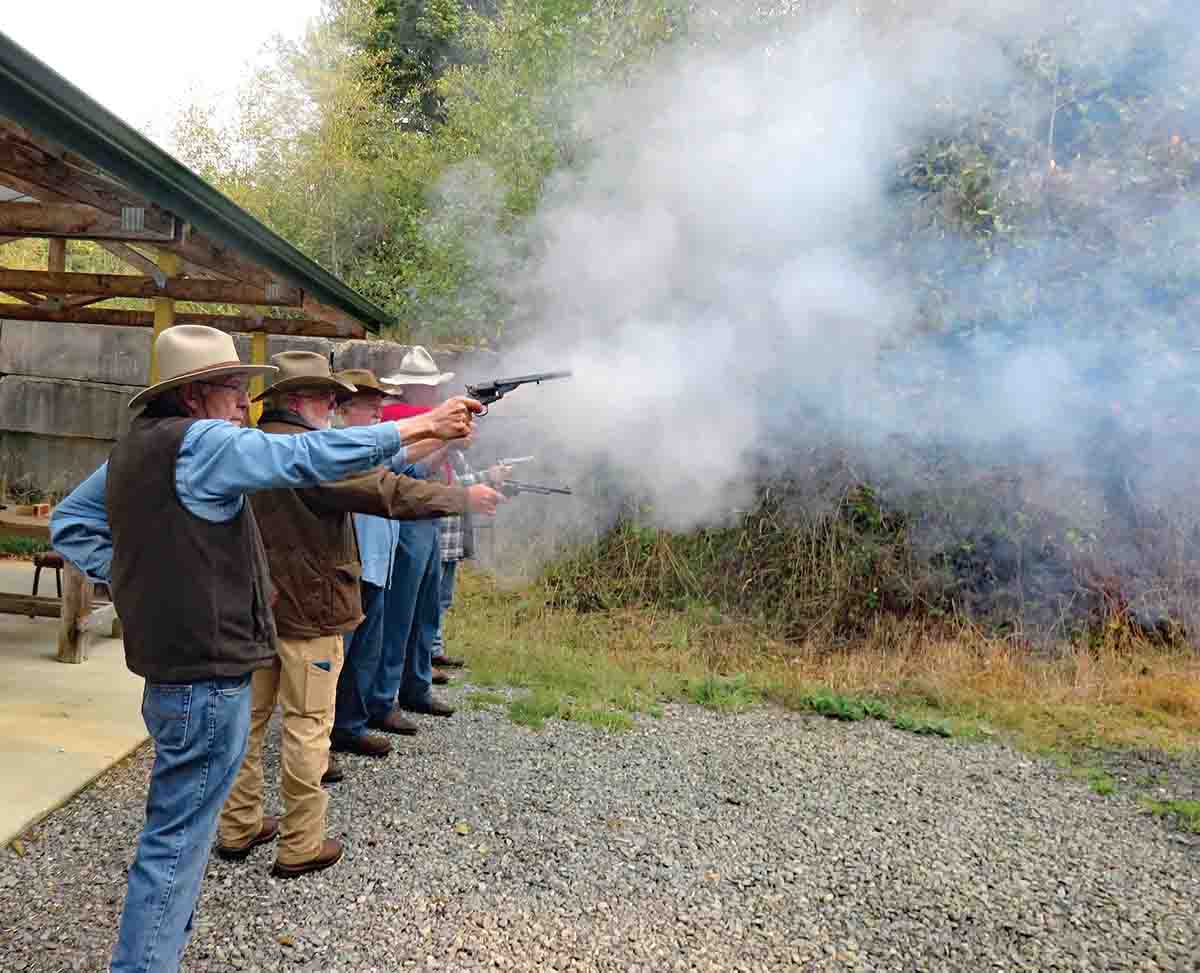 The greater percentage of our shooting, as well as most of the stories we read in
The Black Powder Cartridge News
, gravitates towards black-powder rifle cartridges. I have no problem with that, and I certainly join in, but black-powder loads in revolvers are also worthy of our attention. Most of my "happy handgunning" lately has been done with either Colt Single Actions or replica revolvers using black-powder loads. Those loads are generally assembled by following along the path of the original loadings, most often reduced by a few grains of powder to accommodate modern brass cartridge cases. The results are usually very pleasing and echoed by the roar of the black powder .44s.
One general comment must be made before getting into the shooting part of this review. All of my shooting is done using BPC lube, from C. Sharps Arms, on the bullets. The actual brand of lube isn't as important as the fact that a good black-powder lube is being used. I have no argument with SPG, DGL, Vigilante, Big Sky, or other any of the good black-powder lubes; they're all good. This is being pointed out because some of us might try using bullets purchased commercially and lubed with a common "smokeless" lube. If those bullets are used, the revolver's barrel will be fouled after about three shots, to the point where accuracy is lost. Use a black-powder lube, and if you buy your bullets, get them with a black-powder lube. Proper lube does make a difference.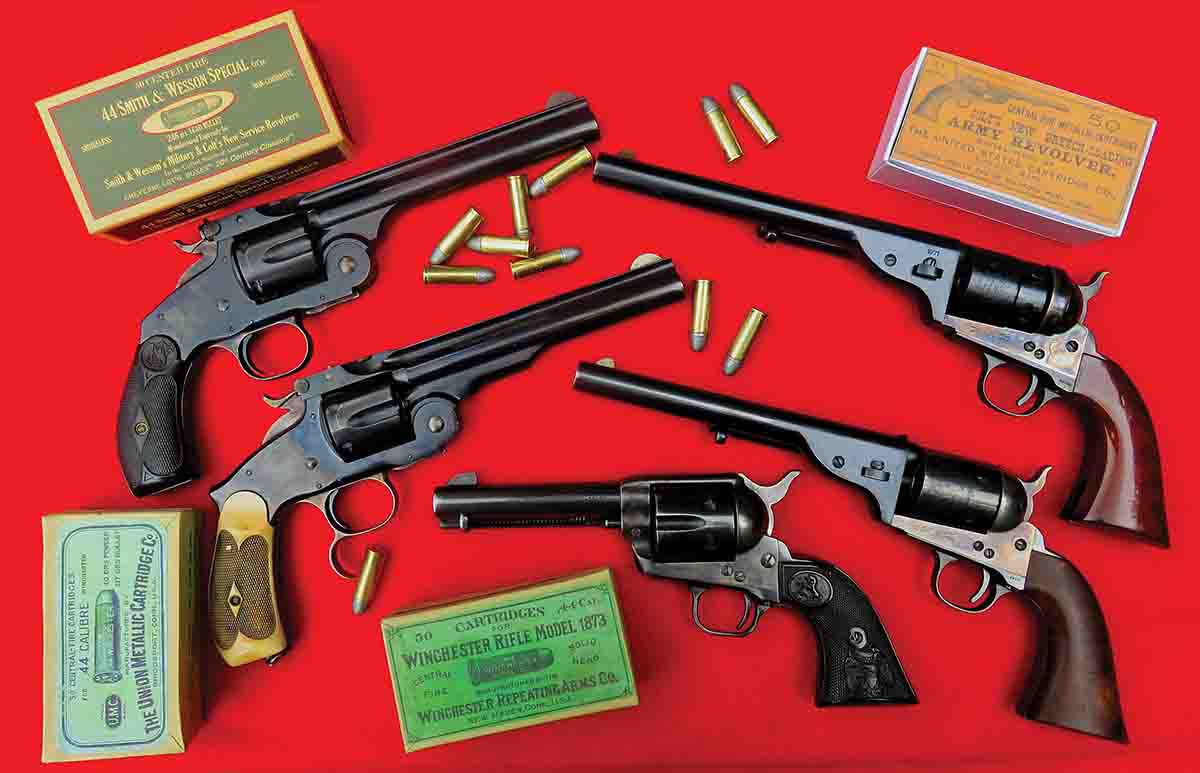 Let's start with the .44 Russian, a cartridge that won my admiration many years ago. Currently I have two copies of the old Smith & Wesson (S&W) revolvers that use this cartridge. One is an Uberti copy of the Model 3 Russian 3rd Model. That's a fine sixgun and similar S&W revolvers were no strangers in the old buffalo camps. My other revolver that devours .44 Russian ammunition is a new copy of the New Model #3 Frontier Target. Made by Uberti and imported by Taylor's Firearms, it is actually chambered for the .44 Special cartridge. This is the gun I use the most lately, and it is carried in a holster on a web cartridge belt that holds 20 rounds of the .44 Russian ammunition, plus another 15 rounds of .44/77s or .50/70s for a rifle.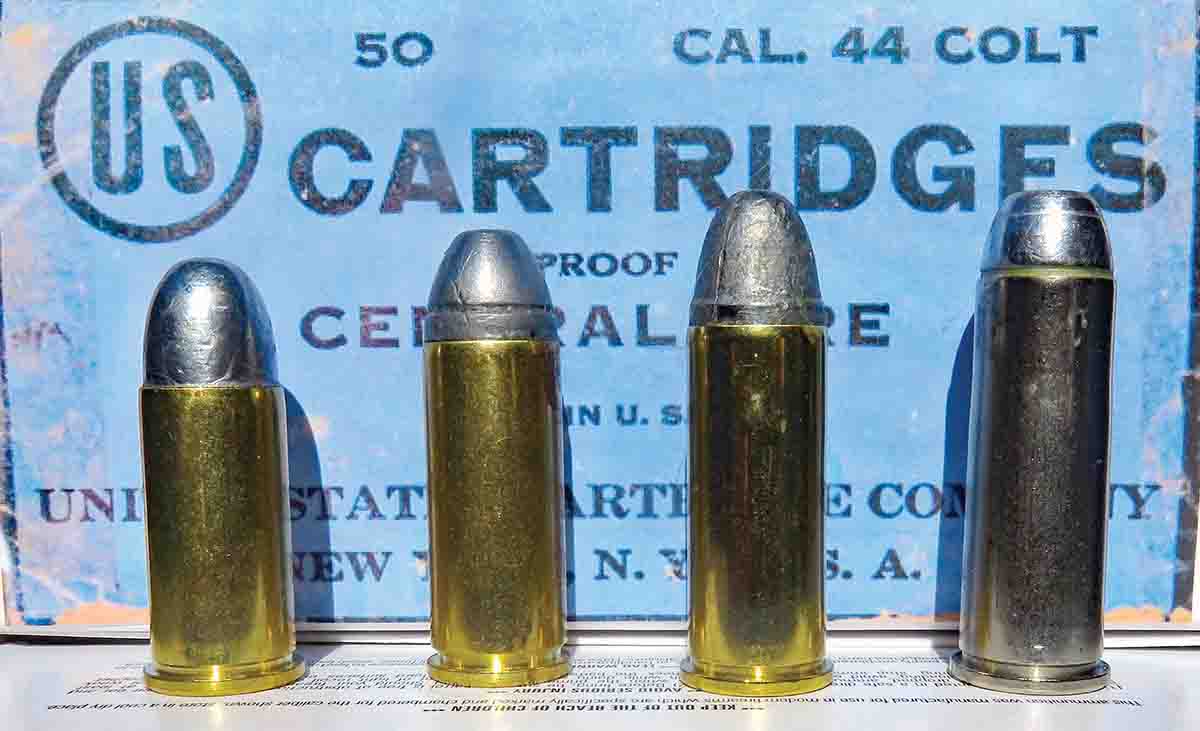 In either of these S&W copies, I use Starline .44 Russian cases, filled with 18 or 18½ grains of Olde Eynsford 2F powder under a 245-grain bullet from an old Lyman mould 429184 for the original bullet shape for the .44 Russian. Those loads are almost five grains of powder less than the old factory loads for the .44 Russian, but that's fine. The new brass won't hold quite as much powder as the old cases, with their balloon primer pockets, but the performance is very good. The New Model #3 has become my standard belt gun and leaves me with nothing to complain about at all. Five shots with the 18½-grain load averaged 698 feet per second (fps) out of the 6½-inch barrel.
One other revolver that takes .44 Russian ammunition must be mentioned; the Uberti "Cattleman" Flattops that are made in either .44/40 or .45 Colt for Dixie Gun Works. In my most humble opinion, these are the finest black-powder revolvers available today with their target sights. The one I have was recylindered with .44 Special chambers, so now it's a convertible gun and most of the time it stays fitted with the .44 Special cylinder, being used with .44 Russian ammunition. We'll mention one of these Flattops again when we talk about the .44/40.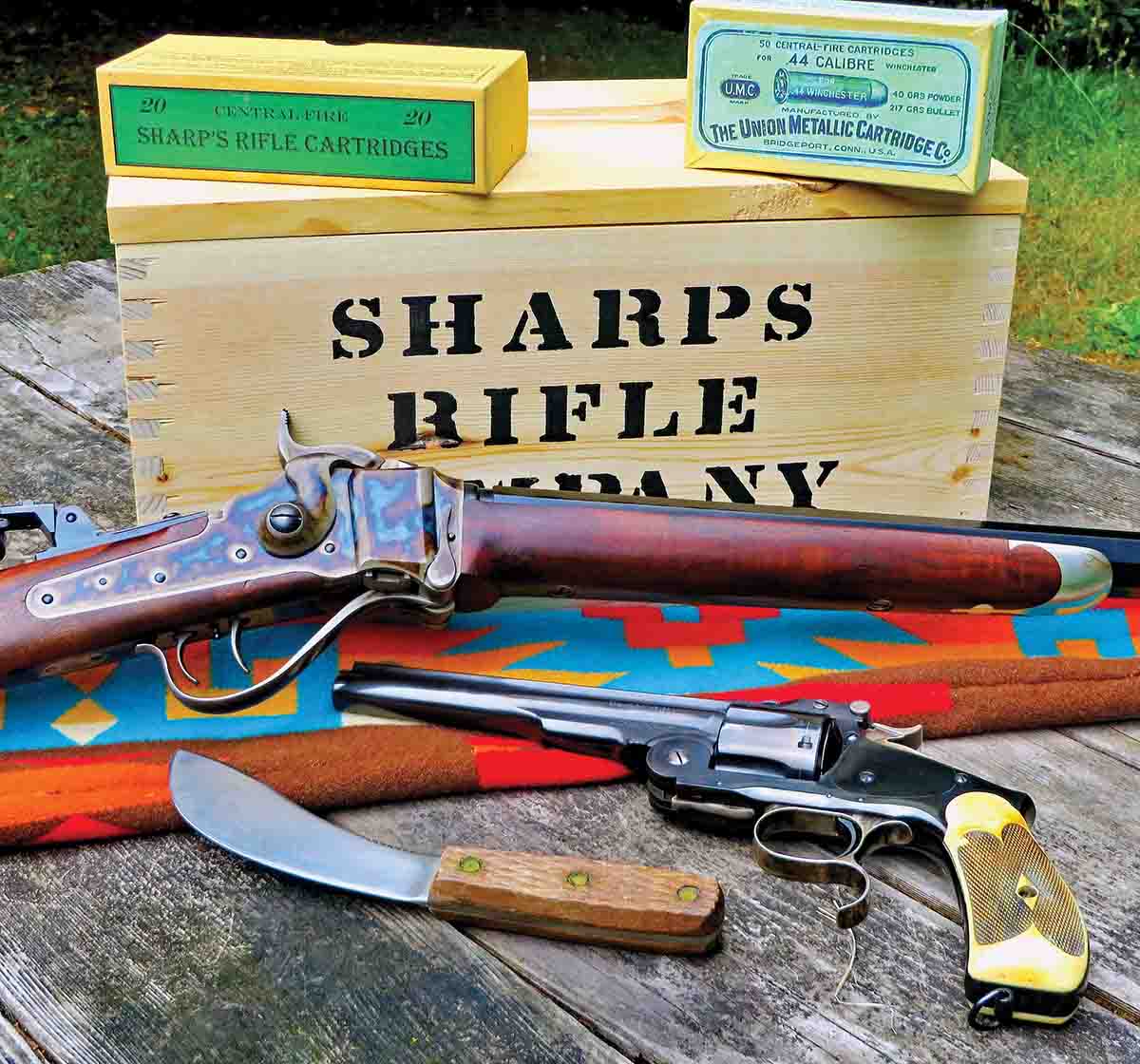 While using my Top Break New Model #3 with the .44 Russian loads, I was able to shoot a target that scored 100-10X in a match we shot at our club after shooting one of our Old West centerfires rifle matches. That match called for 10 shots, fired offhand (holding with both hands was acceptable) at 30 feet. Yes, the target was fairly generous too. But my target was the match winner while all of our pistol shooters that day scored in the 90s. Perhaps this is just one reason why I wanted to talk about the .44 Russian first.
Next comes the .44 Colt and this is the cartridge we might spend the most time with, mainly because it's the .44 I have used the most. Before getting too deep into the loading for this cartridge let me explain the differences between the new and the old for both the ammunition and the guns. When the .44 Colt was introduced in 1871, it was loaded with a heeled and outside lubricated bullet because the barrels for those old .44 Colt revolvers had the same groove diameter as the .44 percussion revolvers, or about .451. The guns that I use are newly made as offered by Cimarron Firearms Company and they have barrels with a groove diameter of about .429 inch or the same as other common and modern .44s.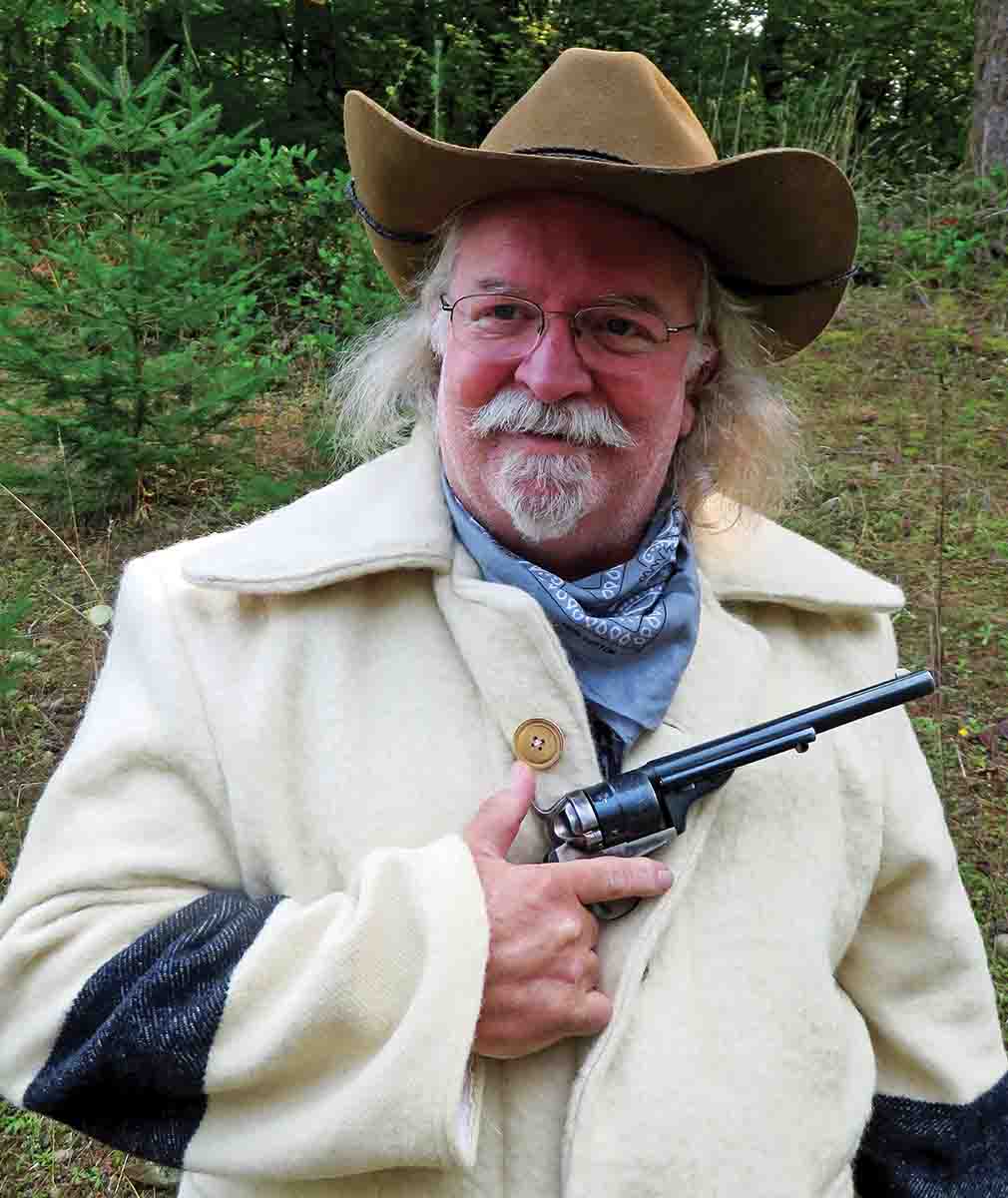 One small fact that makes this very noticeable is seen while trying to chamber an old original .44 Colt round (by U.S. Cartridge Corp. in this case) in the chamber of a newer replica revolver made for the .44 Colt. The old round will not completely enter the chamber. Original .44 Colt chambers were bored straight through because the bullet diameter and the case diameter were the same. Today's .44 Colt chambers have the "step down" in diameter where only the bullet can enter, extending beyond the end of the cartridge case.
Mike Venturino, in his fine book, Shooting Sixguns of the Old West, included a lot of interesting information about loading for the old, or original .44 Colt revolvers. Some of the guns he used for the .44 Colt were actually new conversions of replica .44 caliber 1860 Army revolvers, which still used the .44 percussion barrels. One of his remade revolvers did have a lined bore and he shot that one with bullets generally intended for the .44/40. If you have a .44 Colt that wants the heeled bullets of about .451-inch diameter, be sure to read what Venturino had to say in that book, it is certainly worthwhile and I'll be referring to it again.
Today, we have just a couple of advantages that Venturino didn't have when he wrote that book in 2012. One is the new .44 Colt brass by Starline. The Starline .44 Colt cases are the proper length, and the rim on those cases fits right into an RCBS #2 shellholder, the same shellholder that's made for the .30/30. Another advantage, naturally, is the new revolvers that are being made to accept the .44 Colt cartridges. Also, Venturino did not have Olde Eynsford powders by GOEX when he compiled the data for his book. I feel that Olde Eynsford powder is one of those things that I call an advantage.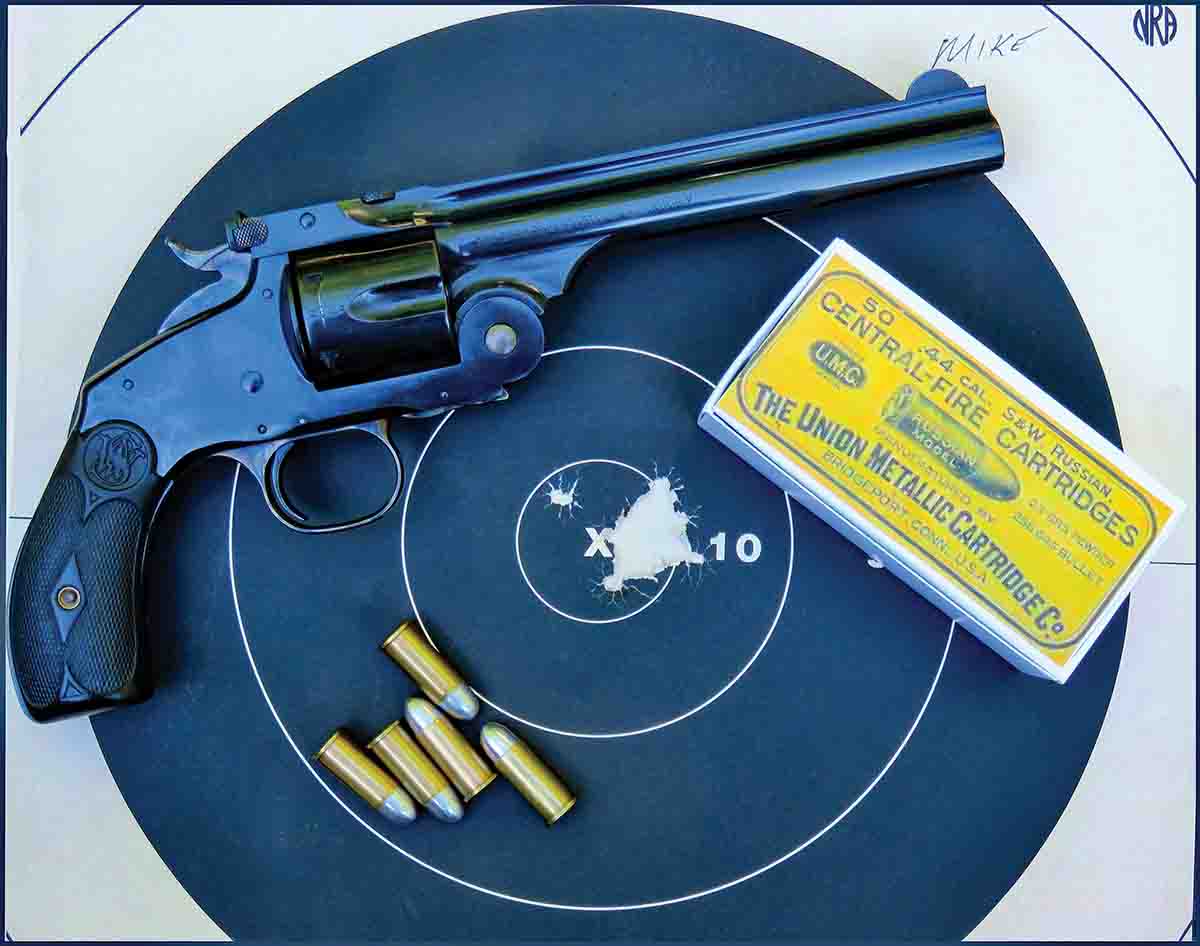 My .44 Colt is one of the replicas of the Richards-Mason conversion from 1871 with the 8-inch barrel. At first, I used it with .44 Russian cartridges, but after getting some of the Starline .44 Colt brass, my ammunition for this revolver got more refined. I purchased Accurate Molds' 43-220NR bullet mould (which has the ring around the bullet to make it look like an "old" .44 Colt) and more accurate shooting was the result.
At first, I loaded my .44 Colt ammunition with 25 grains of powder under the 220-grain bullets, but I found that to be a bit heavier than what was wanted. Then, "copies" were made of the .44 Colt ammunition (as described in the 1916 Winchester catalog) that used 23 grains of powder under the 210-grain bullet. That load wasn't bad, but after reading more about the old .44 Colt, especially Venturino's description of the old UMC loads that he dismantled, I reduced my loading to 21 grains of Olde Eynsford 2F powder.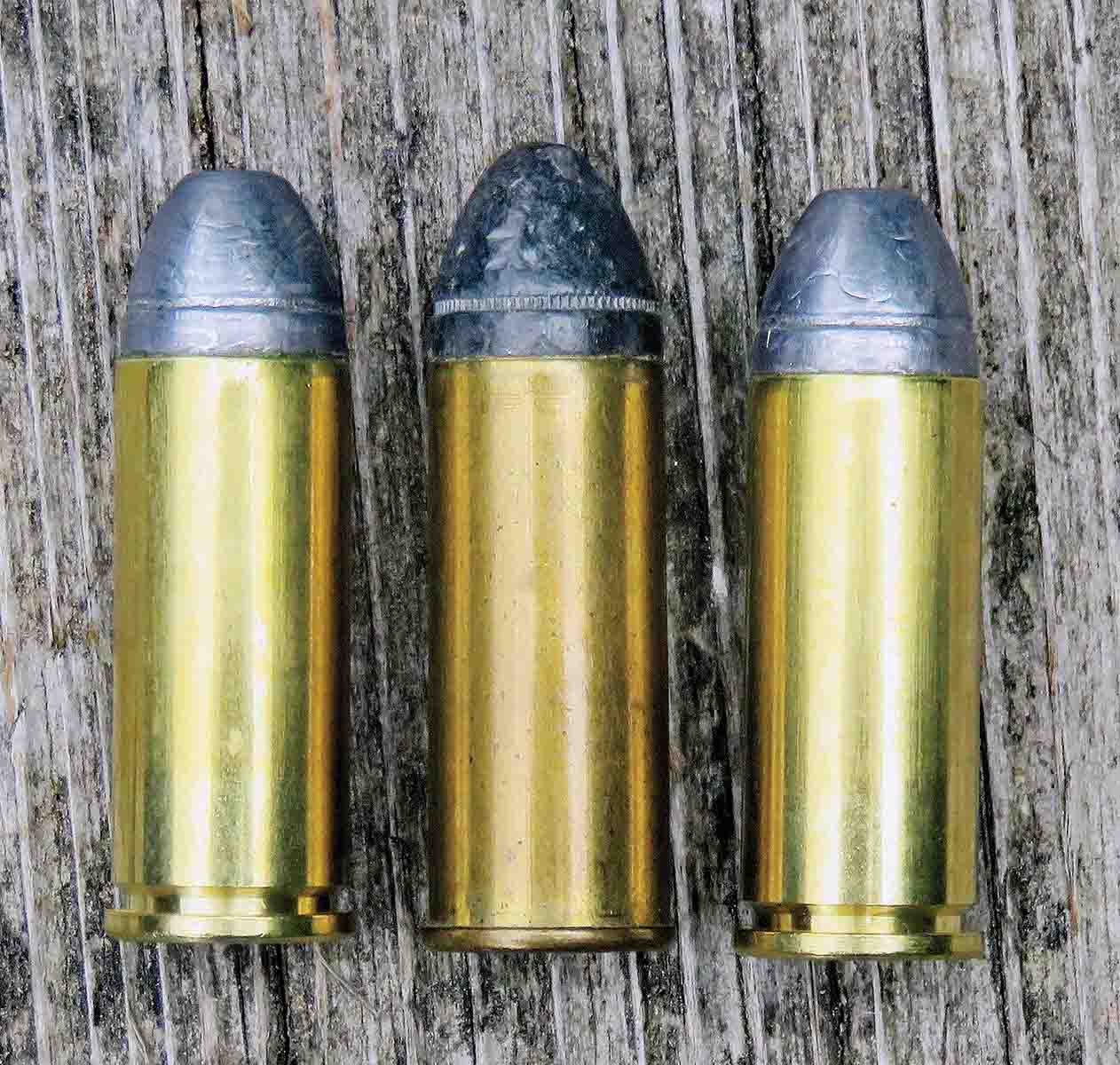 Loading bullets from the 43-220NR mould, sized at .429 inch, over 21 grains of Olde Eynsford 2F powder needs very little compression of the powder. That makes it easy ammunition to assemble and it is just as easy to shoot. Jerry Mayo, my shooting partner who also uses a Richards-Mason replica in .44 Colt, joins me each week to fire at least 10 rounds, two cylinder loads of 5 shots, just to maintain our practice with these guns. Recently, at one of our practice days, I shot 10 consecutive shots on a target posted at 30 feet, scoring 100-5X while shooting offhand but holding with both hands. That's the kind of performance I enjoy.
Five shots from Jerry's .44 Colt sixgun with an eight-inch barrel, using Olde Eynsford 2Fg powder averaged 766 fps. Five more shots were taken, which were loaded with 21 grains of GOEX 2Fg powder, giving 645 fps. This shows a real difference between those two powders.
My copy of the Richards-Mason conversion by Cimarron Firearms has been modified very little. It was tuned a bit to give it a better trigger pull and the Uberti springs are often on the strong side. Also, the sighting notch in the hammer (the rear sight on this gun and several of the Colt or Colt-style cap and ball revolvers) was deepened and widened a bit for better visibility and sight picture. Neither of those modifications show up in the photos, but they certainly make a difference in the shooting.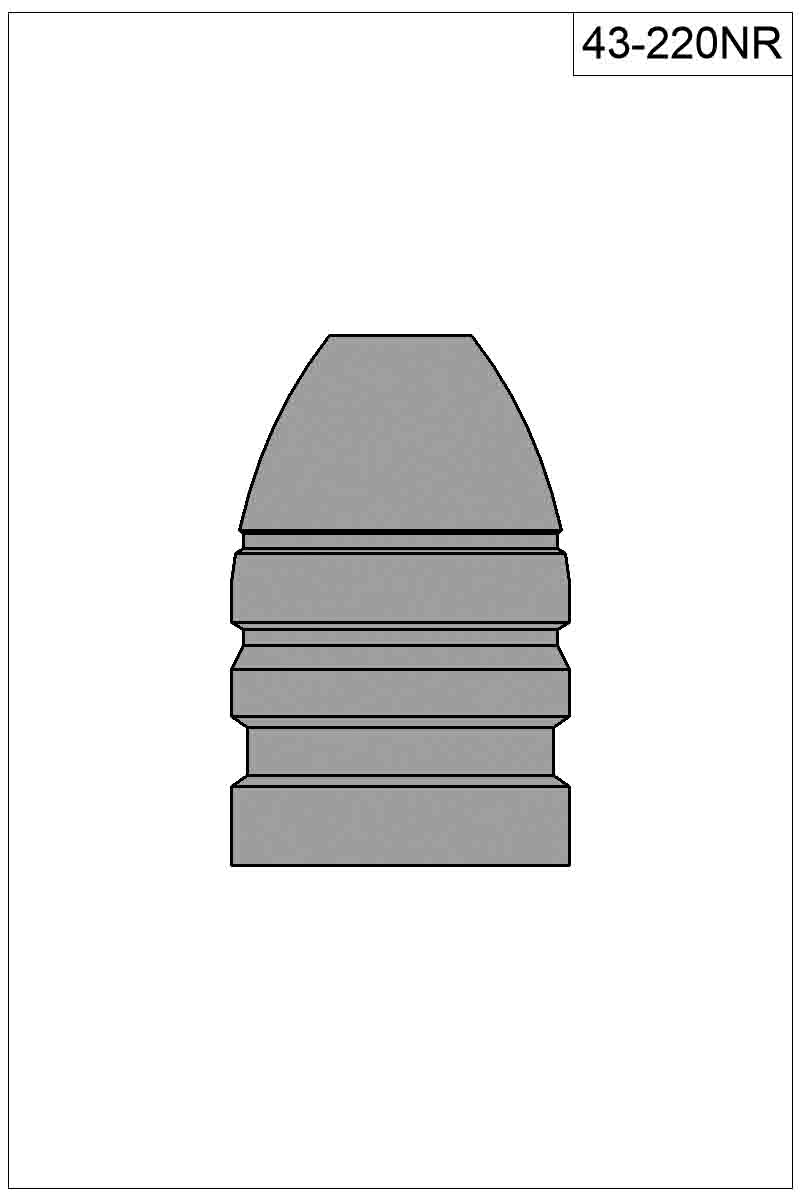 At our Buffalo Camps, where we enjoy competition with our buffalo rifles, we also have a "Meat Hunt" for the camp guns that are usually chambered in .44/40 or similar calibers. The Meat Hunt is shot on the club's muzzleloader trail-walk, shooting at hanging steel animal silhouettes, and is a lot of fun. Along that same trail-walk, we also have a 10-shot black powder revolver match, which uses hanging steel targets from 10 yards out to 80 yards. The 80-yard shot is a life-size black bear and even at that distance, if you hold over, you'll shoot over. I've used my .44 Colt in that revolver match three times and last year I got my highest score of 8 hits on the 10 targets. So far, no one has aced the revolver match.
As we discuss these revolver cartridges in order by their case length, we come to the famous .44 Special. This outstanding cartridge was introduced in 1906, as our last revolver cartridge designed for use with black powder and it was originally loaded with 26 grains under its 246-grain bullets. While I have the New Model #3 Frontier and the Cattleman Flattop in .44 Special, plus an original, but rebuilt Colt Bisley Model, I actually haven't used the .44 Special to any great deal with black-powder loads because I've had such good luck with using these same guns with the .44 Russian brass and loads.
One of our club's shooters, Phil Wiebe, uses a Cimarron 1872 Open Top copy by Uberti in .44 Special for his black-powder revolver shooting. He selected this sixgun after doing some shooting with another Colt copy in .44/40, and found the .44/40 to be "a bit much" for good comfortable revolver shooting. He loads his ammunition with 26 grains of powder under the 250-grain bullets, just like the old factory loads, and I have suggested to him to reduce the powder charge just a bit.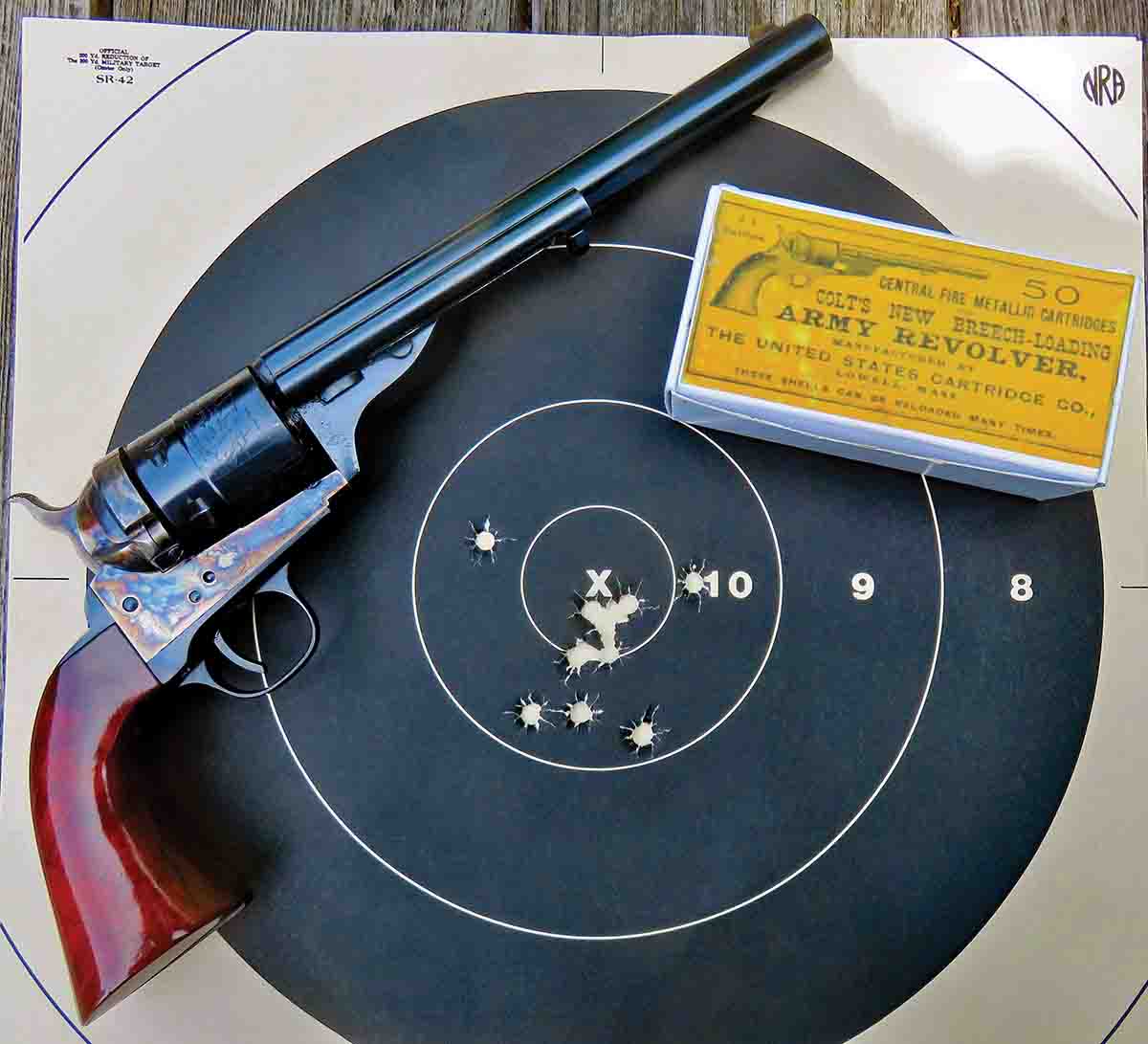 What I recommend (and I use this myself) is to load the .44 Special with 23 grains of black powder. That's only three grains below the old factory loads and it's probably a more "fitting" load for use in the newer solid head cases. One reason why I don't use the .44 Special more often, or even more exclusively, is because of history and authenticity. I enjoy shooting the .44 Russians and the .44 Colts because those cartridges were there during the time of the old buffalo hunts. At the very same time, if I were recommending a black-powder revolver cartridge combining the best performance and power, the .44 Special would easily be the one.
Five shots with the 23-grain loading in the .44 Special recorded 790 fps from a 7½-inch barrel. This is 20 fps faster than the listed velocity for the old factory load using 26 grains of black powder.
Now we come to the big-bore blaster of black-powder .44 revolver cartridges, the .44/40. When loaded with full black-powder loads, the .44/40 really roars in a sixgun. The .44/40 stands alone among the cartridges we're discussing in this story because it was originally designed as a rifle cartridge for the 1873 Winchester. As a .44 revolver cartridge, the .44/40 has the heaviest powder charge and the lightest bullets of all when used with its standard loading. That certainly gives the .44/40 the highest velocity in the guns we're talking about. The .44/40 in a revolver is really a handful.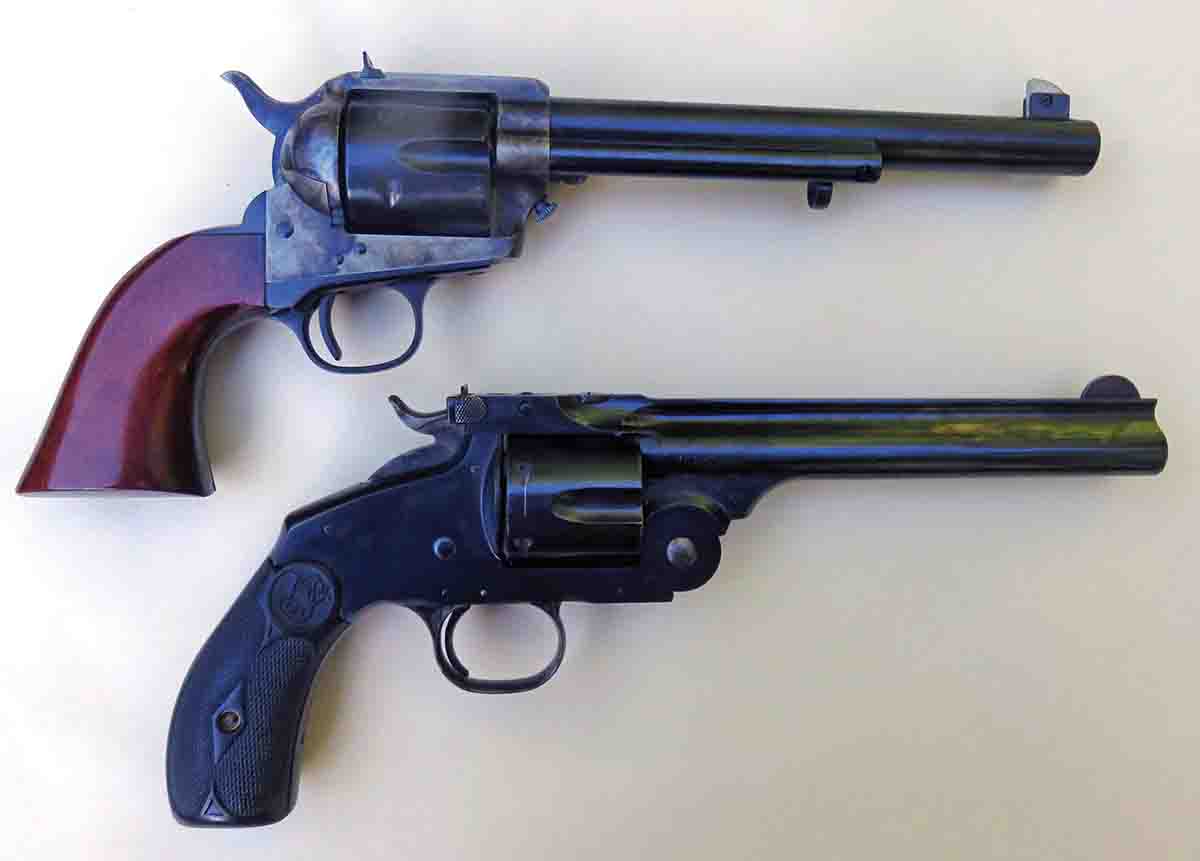 My standard load for the .44/40 uses a bullet from Accurate Molds' 43-205C, which has a single, but very large, lube groove. This bullet was designed for use with black powder. With the 25-to-1 alloy, this bullet drops from the mould at 207 grains and that is loaded over 34 grains of Olde Eynsford 2F powder and sparked with a Large Pistol Magnum primer. In my other .44s for revolvers, standard primers are used, but in the .44/40 the Magnum primers give this load just a little extra "pop." This load is primarily made up for shooting in rifles and the .44/40 revolver is somewhat of a tagalong, but in both rifle and revolver it works very well. Five of the 34-grain loads in the .44/40 sped along at 960 fps from the 7½-inch barrel.
The best performing revolver I have for the .44/40 is one of the Uberti copies of the Colt Single Action Flattop, which was already mentioned, with the early style of target sights. These are still available from Dixie Gun Works and I will recommend them highly. Shooting partner Allen Cunniff uses one of these Flattops in .44/40 almost exclusively, with loads that I have described, and in a revolver match Cunniff is simply hard to beat. I also have a couple of Colt SAA's in .44/40, which are very enjoyable to shoot, but for more serious shooting for score, the Flattop with its superb sights and the 7½-inch barrel is the gun I prefer.
We really shouldn't consider a discussion about shooting revolvers with black powder complete without including some comments about cleaning the guns after doing some shooting. Black powder is dirtier than other powders and the guns, as well as the brass cases, must be cleaned. A new gun being subjected to black-powder loads for the first time will be quite dirty and cleaning it can take more than the standard amount of cleaning patches. However, I am a believer in the idea that a gun barrel can be "broken in," so after a few shooting sessions (followed by good cleanings) the gun will become much easier to get clean.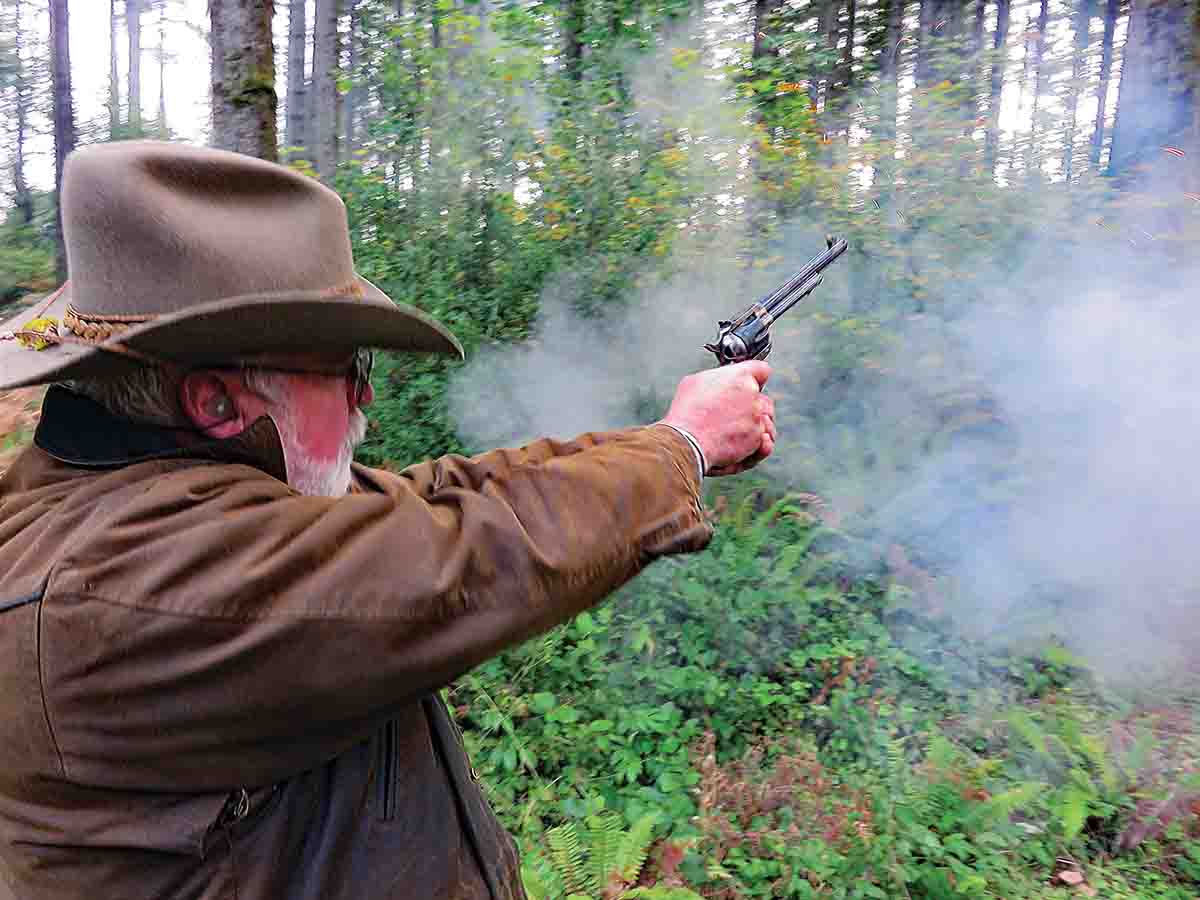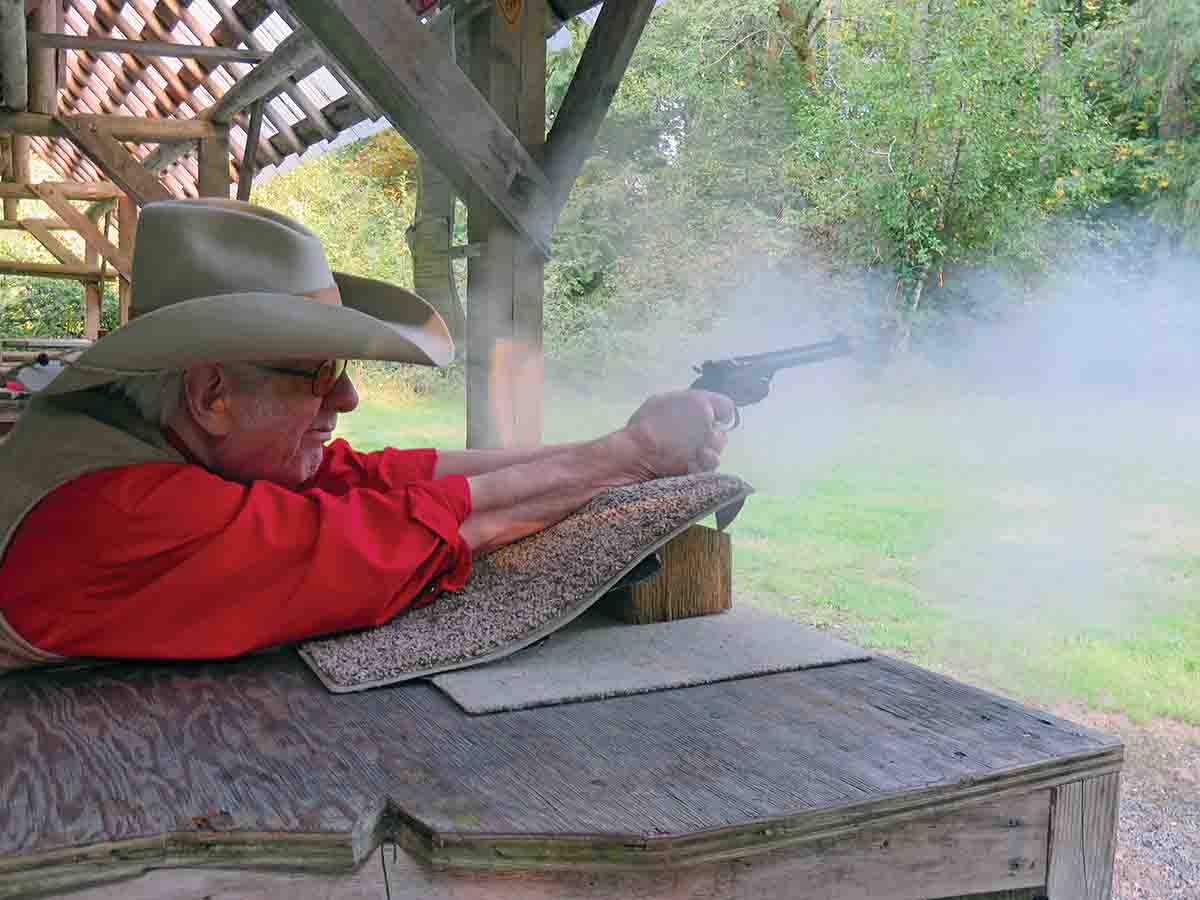 As an example, my S&W-styled #3 Frontier in .44 Special (which primarily gets fired with .44 Russian brass and loads) at first was almost difficult to clean. But now the barrel and cylinder come clean with just two patches, generally used with Three Rivers black powder solvent. Those two patches are then followed by one oiled patch and the gun is clean. After the outside of the cylinder and the gun's frame are wiped down, first with one of the solvent patches and then followed with the oiled patch, a drop of oil is put in the screw hole at the top of the frame so the cylinder retainer and the frame will always have oil between them, and the large hollow pin that the cylinder rotates on is given some grease. After that, the cylinder is put back in and the gun is ready for more shooting.
My Colt-style revolvers are also easy to clean. No problems there and cleaning simply must be done. Cleaning not only keeps the revolvers looking good but the clean barrels maintain best accuracy. And, the accuracy of these black-powder revolvers, primarily in .44 caliber, keeps us coming back for more good shooting.