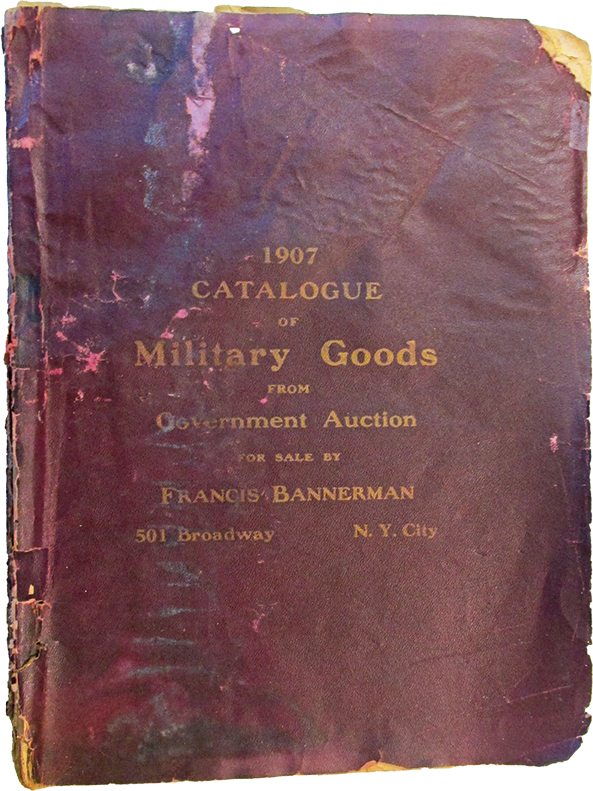 There has never been a better time than right now to be an American gun nut. We live in a time of product variety and quantity, and some reloading component shortages notwithstanding, supply.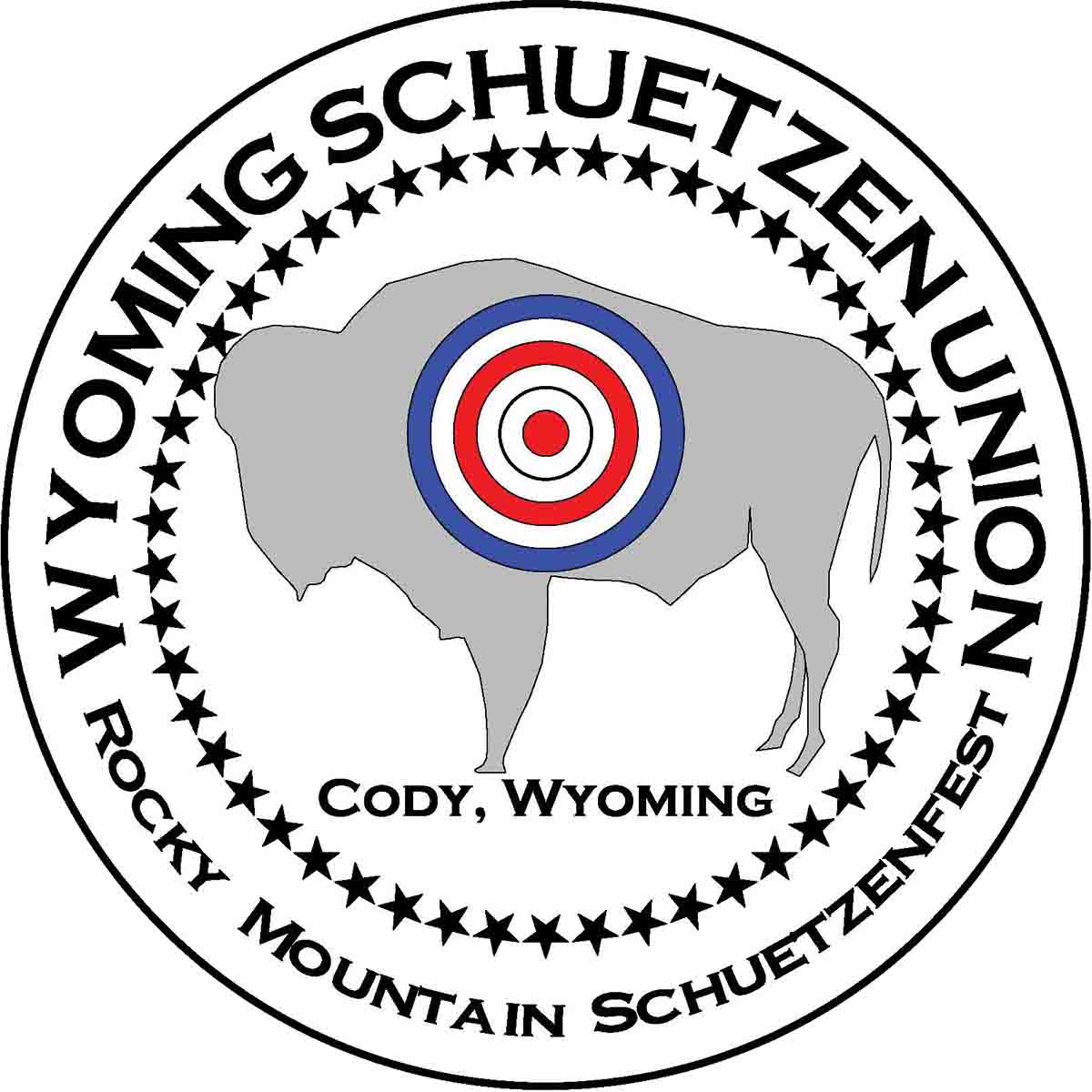 The many internet forums disseminate knowledge and guidance, the exchange of opinion, and afford the opportunity to interact almost limitlessly with like-minded brethren in every imaginable niche of specialized interests. This overdose of "gun-nuttery" is at our fingertips, at our whim, and at our pace. Not secondarily, the internet is a marketplace for products and services for which the mainstream gun enthusiast has created a demand.
The state of these things for our ancestral gun crank at the dawning of the last century was rather grim in comparison. That person absorbed whatever slanted information he could glean from the black and white type in gun catalogs or what questionable wisdom he picked up at his gun club. What little mutual exchange that there happened to be was in the form of letters published by the very few sporting papers then in circulation. The city dweller often bought his guns and gear at a sporting goods store while the rural shooter shopped by mail order or sight unseen used guns via the classified ads in the major outdoor magazines. They may not have had the variety of utensils, equipment, or option we take for granted, but they had one outlet that we would envy: they had Bannerman's.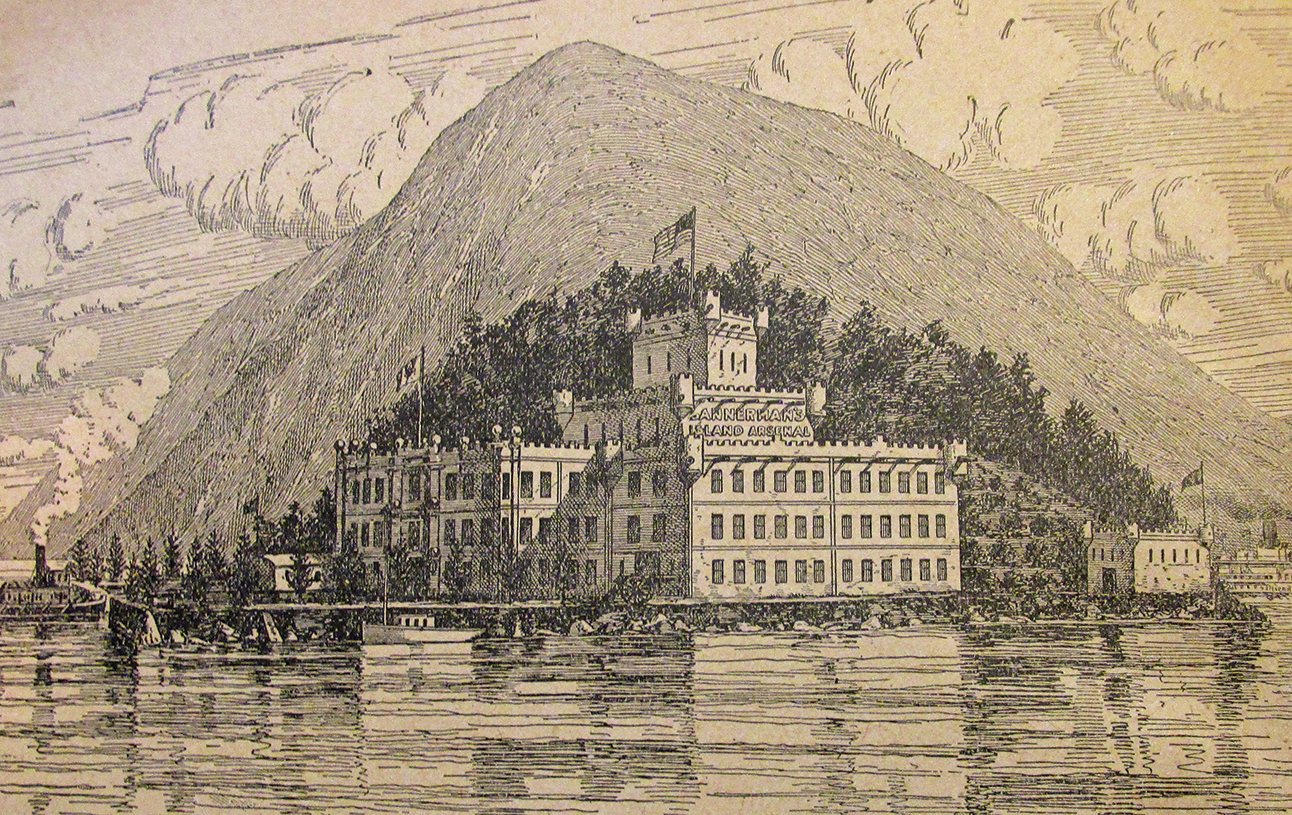 Francis Bannerman built a mail order empire selling surplus armament. In the 1860s, he got his start by attending government auctions and bidding on surplus war materials after the Civil War. The practice at the time was to tear down the guns and sell the steel as scrap iron. The brass hilts were removed from the swords and likewise sold for what they would bring as scrap. This same practice was also done in Europe. Rifles yielded 5 pounds of salvageable metal – the rest was discarded.
Bannerman considered the waste involved in that current practice and reasoned that there would be more value in the guns as relics and heirlooms. He curtailed his part in the destruction and set out to market the items as artifacts and built a successful business in doing so. In New York, he established a seven-story, 42,000 square foot office/salesroom displaying a thousand different pistols and a like number of swords. The heaps of long guns were likewise strong sellers. He took a gamble, bidding more than his competitors on cannons and heavy ordnance and found a ready international market.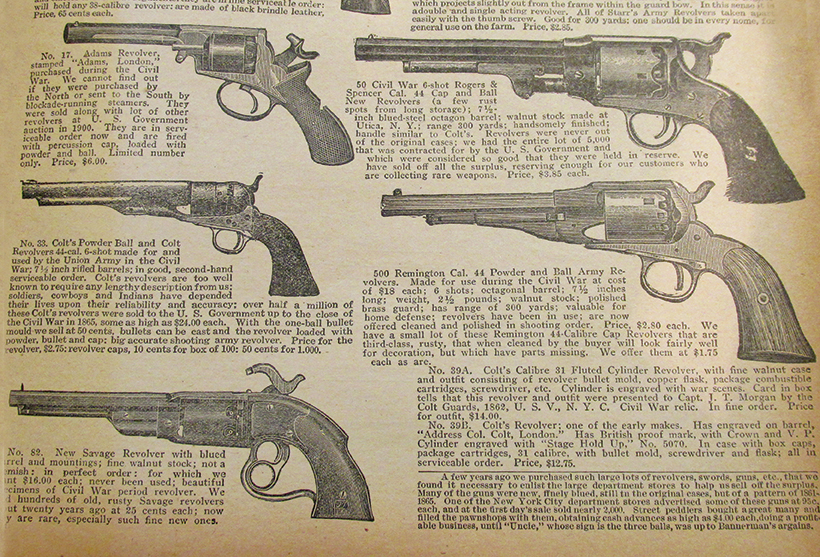 In 1889, Bannerman built, and presently outgrew, a warehouse in Brooklyn, New York. Three more locations were secured to contain his purchases from both governments following the Spanish American War of 1898. Several South American armies were armed with the Mauser rifles bought from Spain or captured by U.S. forces. At that time, he bought an island in the Hudson River near Cornwall, New York, and there, built three warehouses patterned after Scottish castles. Bannerman's became the most prominent name in the surplus arms trade. He was a reverent and principled individual who refused sales to minors or clients he had reason to regard as suspicious. In addition, he publicly took this stance: "
We will not knowingly fit out revolutionists.
"
Just after the turn of the century, a European shipping firm sold an obsolete steamer to an unnamed South American government and commissioned Bannerman to convert it into a warship, supplying and installing the necessary cannons and other armament. His crews armed, outfitted, and delivered the completed vessel within seven days, and the county had a formidable, modern, defensive one-boat navy on the budget of a poor nation.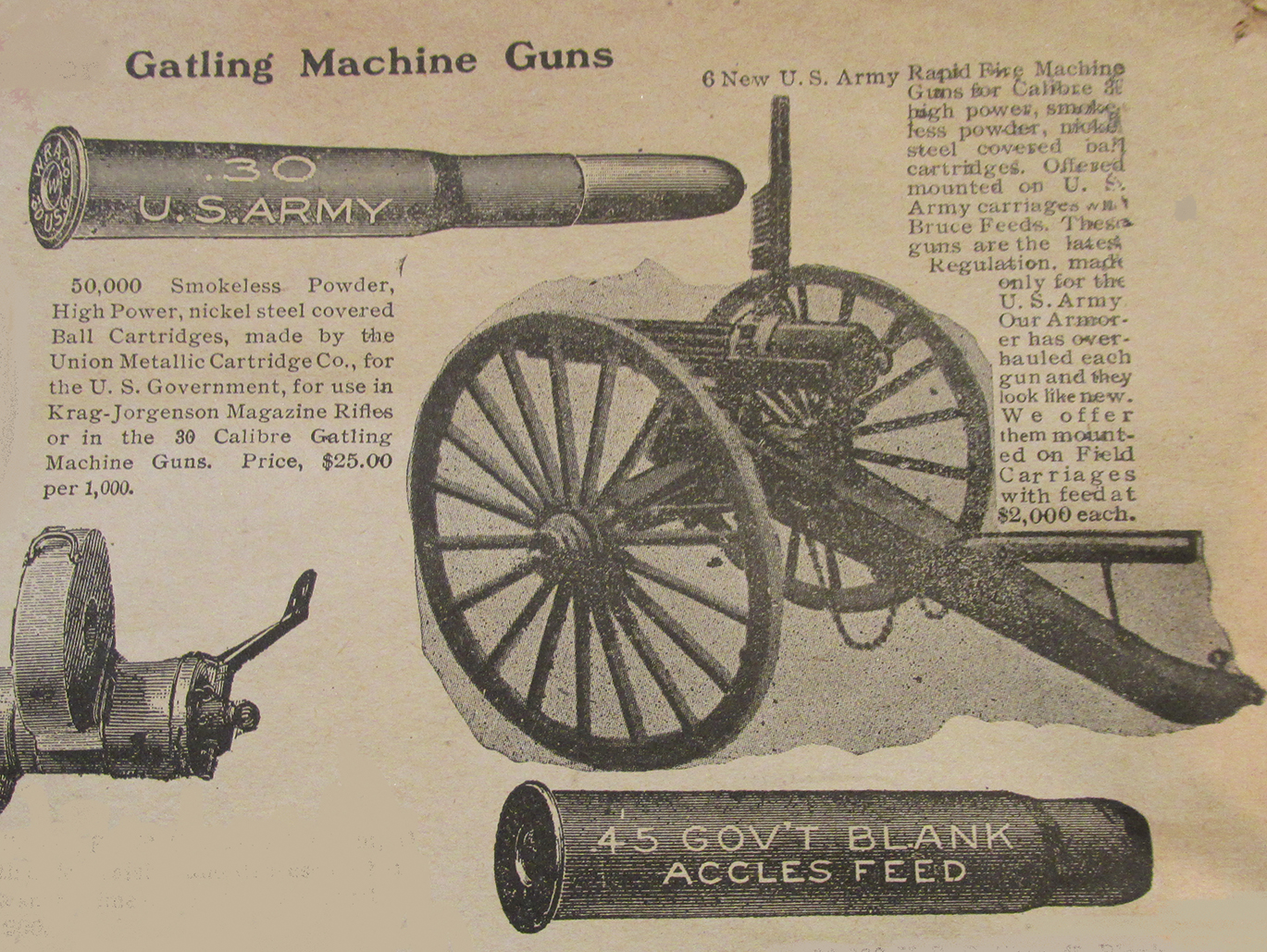 If our gun-crazed counterparts of the 1900 era were in the market for something that was cheap, different, or quirky and the cartridges to shoot through it, the first place to investigate was usually Bannerman's. Recently, I acquired an original 1907 Bannerman's catalogue. I wasn't prepared for what I found inside of its 260 pages.
The catalogues first few introductory pages were taken up with selected testimonials from all points, after which formalities such as Bannerman's conditions for buying and instructions for ordering and payment and conditions governing the sale of goods.
A veritable museum-quality offering of assorted wheel locks and matchlock weapons of bygone ages was found on the next page. Following that was two full pages of crossbows of many sorts, and the inclusion of bows and arrows collected from "savage tribes" in the Congo and other parts of Africa.
Bannerman's lineup suddenly got meatier with the presentation of his Gatling guns on page 11. Limbers and field carriages with fixed ammunition boxes rounded out the Gatling package. These were the same Gatlings that kept the Spanish heads down to allow the Rough Riders to advance on their assault of the San Juan Heights on July 1, 1898. At two thousand 1907 dollars, they were not cheap. Buyers were going to need ammunition. Anyone flush enough to spring for a Gatling wouldn't have balked at paying $25 per 1,000 for the 30-40 U.M.C. cartridges necessary to rattle off 400 to 900 rounds per minute. Bannerman had 50,000 of these cartridges in stock. Left over from somewhere was a short-barreled version Gatling for use from camel's back complete with saddle and gun mount.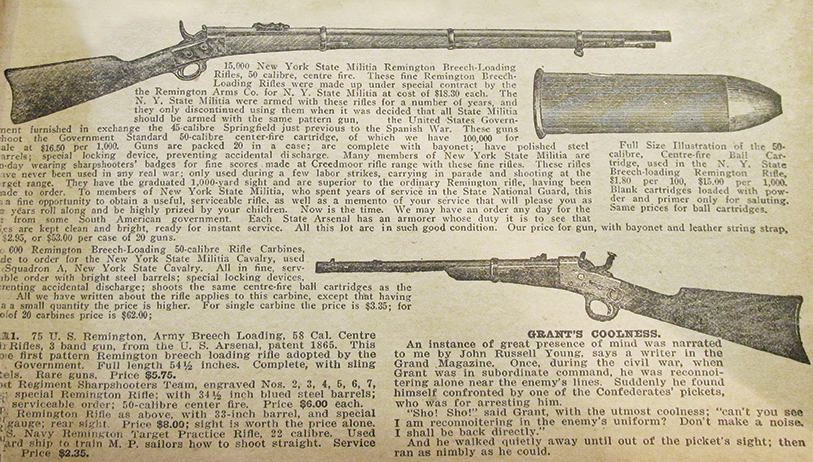 Flintlock, percussion, and pill lock muskets and musketoons from all over the globe were well represented. Included was an assortment of garishly and ornately inlaid Arab flintlocks. This class of outmoded guns filled nine full and well-illustrated pages of catalogue space. Contrary to what might be expected, Bannerman did not give these away. Many were in the $30-$70 range. A notable exception was a crateful of Hall breech-loading flintlocks, apparently new and found forgotten at a United States arsenal, together with a tag reading "packed away in 1842." Each specimen could be had for $10 plus expressage.
Grouped with these guns was a number of lavish European single-shot target rifles and a massive bow-mounted whaling harpoon gun, which Bannerman opined, in apparent seriousness, would double as "a good ducking gun." Those like-minded may have developed an interest in either of the two English break-open hammer guns that fired seven 32 rimfire shots with a single trigger pull. Intended for shooting geese at long range, this gun was just the rimfire ticket for flock shooting or polishing off distant cripples.
More to our general liking and seemingly out of place among the many and various mundane "breech loading shotguns and sporting rifles" shown on pages 26-30, was a 10-pound Remington Creedmoor rifle of .45 caliber for $14. A like gun in .44 caliber, sighted for its intended target use, was listed as "new but shopworn" for $9.50. There was a magnificent Officer's Model trapdoor Springfield with detachable pistol grip, engraved lock plates and sighted like a match rifle for $16. Two others, not as nice, were listed at a dollar less. A Sharps .40 caliber Creedmoor rifle, sighted as you would expect for 1,000-yard target work. It originally cost $200, and was on sale at 1907 used gun prices for $18.
Page 25 arranged a sizeable assortment of guns that were said to have been confiscated from Indians. Included was a weapon reportedly captured from "Sitting Bull Indians after the fight." In 1907, Bannerman's disclosure may not have added much value apart from the curiosity element. Nowadays, even his dated assertion would magnify the asking price considerably.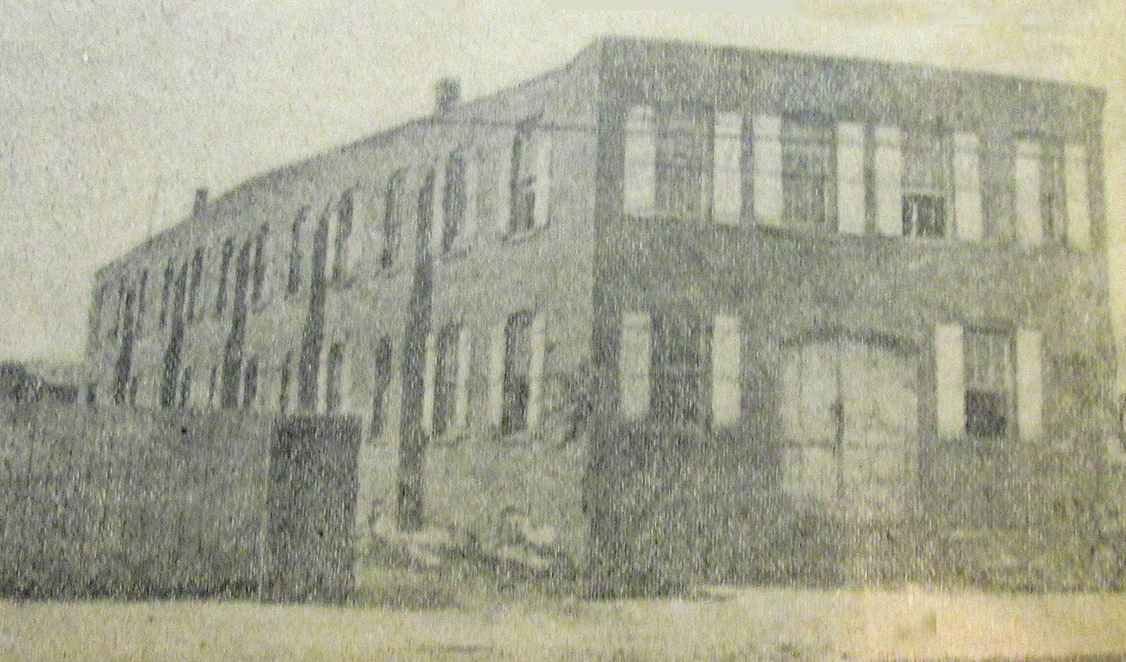 Bannerman had Trapdoors galore. Page 28 carried an illustration of a slow-moving Model 1866 50-70 caliber Springfield Trapdoor. The New York dealer had 10,000 of these things in his warehouse, together with cartridges uncountable, priced to sell at $3.25, or a crate of 20 for $53. Each gun came with a bayonet and leather sling. He had 5,000 of the .50-caliber Model 1868 for $3.45. In stock were 50,000 cartridges, for sale cheap at $14 per thousand. The switch in military thinking from big bore to smallbore .30 caliber led to the obsolescence of the 45-70 Government army rifles, and subsequently their disposal. Bannerman bought several lots of them and sold lightly-used examples for $3.45. A brand-new rifle, surplus to Uncle Sam's needs, could be had for forty cents or more. Also, cut loose and picked up by Bannerman, was seven million 45-70 arsenal loaded cartridges that he priced to sell at $1.75 per hundred.
Bannerman's bidding brought him the six historic Trapdoors recovered from the battleship USS Maine as it lay in the Havana harbor in 1899. Four of these would be sold if he could get his asking price of $40 each. The remaining two were destined to remain in his museum. Included in the haul were the 54 Winchester 6mm Lee Navy repeaters also taken from the USS Maine. Their serial numbers, and those of the recovered Trapdoors, were listed on page 35, along with unassailable documentation from the U.S. Navy Department.
A sizeable cluster of basically uninteresting prototypical and inventor's model guns, mostly European, filled an entire page with fine print, and a listing of obsolete foreign military rifles also took up its share of space.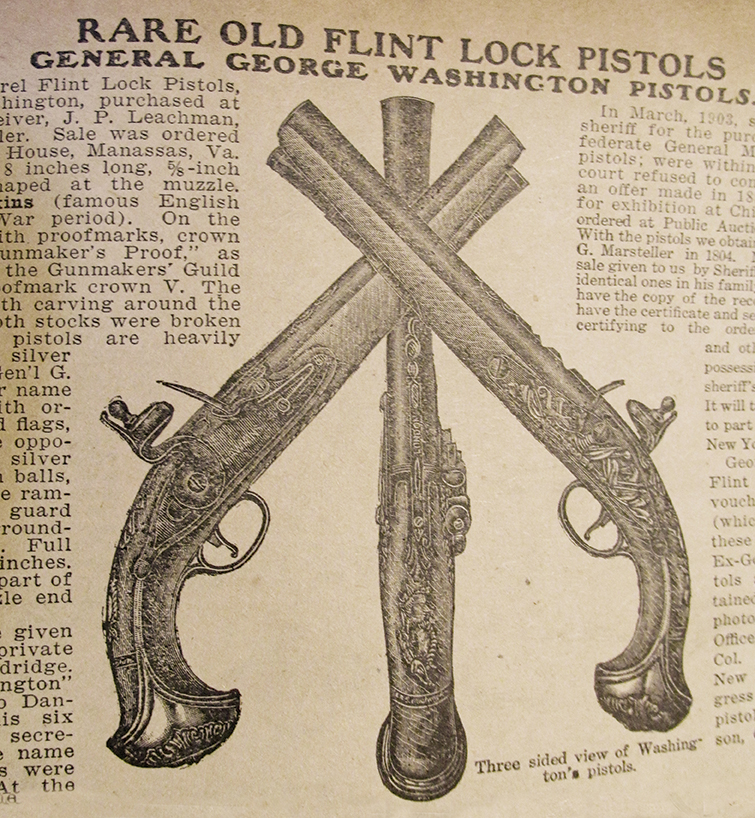 From the Cuban conflict came an unspecified number of Remington Rolling Block rifles chambered 43 Spanish, for which Bannerman had furnished the high bid at a government auction in September 1900. These were in "serviceable" condition, just as they were surrendered, captured or picked-up from the battlefield. They were priced in the catalogue, bayonet included, at $3.25. Three million fresh black and smokeless powder cartridges came from the same sale. In November 1903, seven thousand Rolling Blocks chambered for the 43 Spanish Reformado, surrendered or captured in the Philippines came into Bannerman's hands via another government auction. He peddled these for $2.95 each. Twelve hundred Rolling Block carbines came his way at the same time.
With the intention to export them to South America, Bannerman bought up 18,200 Spanish Mauser 7mm rifles. Complementing this windfall was the winning of seven million rounds of the enemy's ammunition. The U.S. gun market was saturated with this stuff for years thereafter.
Bannerman had a thousand Spencer .50-caliber repeating rifles. They were described as "new in factory cases." These new guns could be bought for $3.50. "A few hundred" used seven-shot Spencers were on sale for $2.95. There was plenty of ammunition – 700,000 – copper cased cartridges priced at $13.75 per 1,000.
What we might consider an odd thing to catalog with an already unusual line was a chunk of real estate with a gun factory upon it. Bannerman owned the old Spencer Repeating Arms plant in Brooklyn and devoted the whole of page 49 to his effort to sell it. Spencer had closed the business in 1869, and Bannerman was able to acquire the building, together with its machinery, tooling, and fixtures. The package was described as "complete and ready to work." Its owner seemed eager to close a deal, and that "a quick buyer can purchase this plant at a bargain."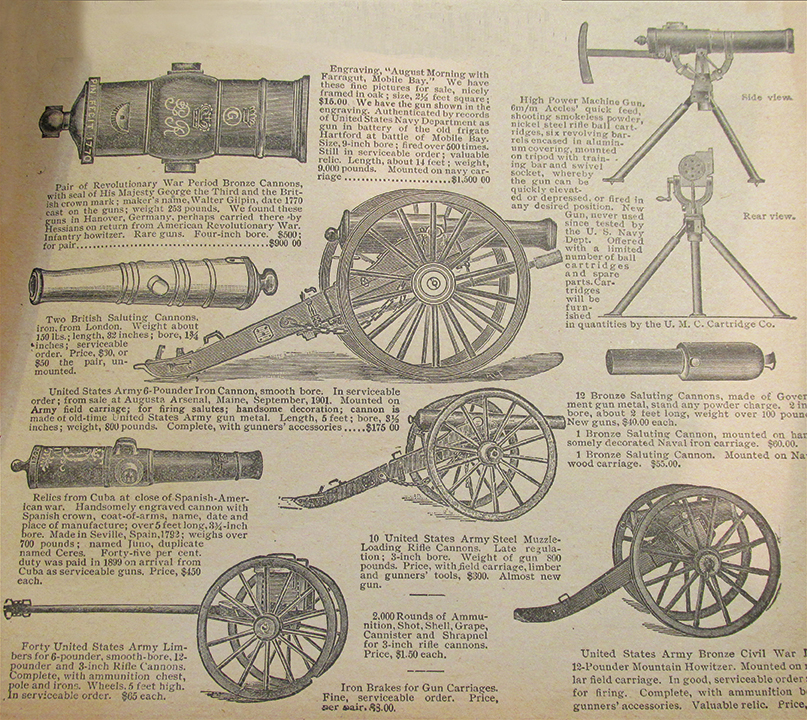 A fair number of oddball rifles that classified as simply old guns in 1907, are seen throughout the first 60 or so pages in Bannerman's wish book. There were Ward Burtons, and example of Henry's Volcanic lever-action repeater, Joslyn, Star, and Smith breechloaders, and Burnsides are some of the less obscure types, together with a great many forgettable "also-rans."
Bannerman presented his expected share of pistols to his diverse mix of stuff for sale. Ignition types ran the gamut from matchlock and flintlock to surplus cartridge revolvers and the self-loading Luger. He had an unusually remarkable assortment of cased dueling pistols. Featured prominently among them was a pair of duelers that had been presented to General George Washington. Their ownership had filtered down through a short series of prominent figures until they reached Francis Bannerman who won them in a sealed bid auction in March of 1903. By 1907, he offered them for sale and stood firm that "It would take an offer of $10,000 to induce us to part with these historic relics."
The inclusion of cannons in his catalogue showcased the scope of Bannerman's enterprise. He listed most conceivable models of artillery variations through the progression of their development from the 8-inch Civil War mortar cannon through the dynamite guns used in Cuba and the modern 3-inch, semiautomatic rifle cannons of the current day. The largest was a U.S. Naval cannon weighing 10,000 pounds. One could obtain from Bannerman's, seemingly without restriction, a Hotchkiss Mountain gun with a 1.65-inch bore and 4,000-yard range, mounted on a field carriage and ready to be towed to the nearest front. If a person needed more than one, this was easily arranged. The same could be said of the Hotchkiss 3-inch Mountain Cannon and the Hotchkiss five-barrel revolving machine gun. He had in stock several serious-looking bronze cannons that still meant business. Leftover ordnance, both live and inert, from both sides of the combat in Cuba was offered. Spanish artillery shells from the 1-pounder rapid-fire gun to the 1,300-pound, steel-piercing shell with a range of 13 miles could be had for a price.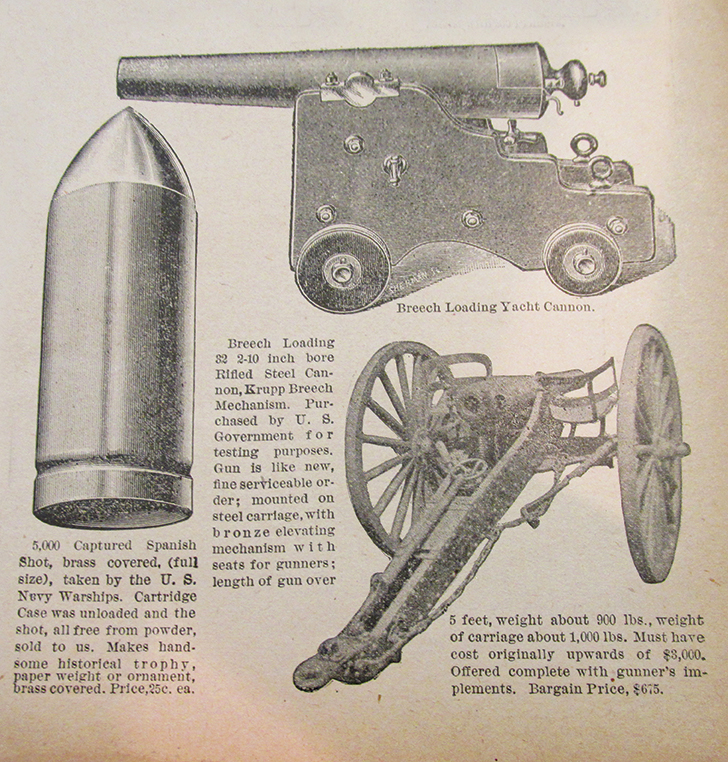 If a person wanted a relic sword for any reason, Bannerman had all manner of them – 22 pages full. They ranged from Turkish scimitars to all ages and origins of U.S. and the world's swords and bayonets from the Revolution to the Spanish-American War. Battle axes and lances were lumped into the mix.
Captured in the recent Philippine fracas was a great assortment of edged weapons such as barongs, bolos and kris. No Filipino would be without his bolo until a U.S. Army trooper took it away from him at bayonet point. For sale, too, was a Filipino Talilong, or executioner's axe that was used to behead two insurgent natives the morning its wielder was relieved of it; the story was vouched for by a U.S. Army Scout. The gruesome artifact could have been delivered to the door of any Bannerman catalog browser with the interest and willingness to part with $15.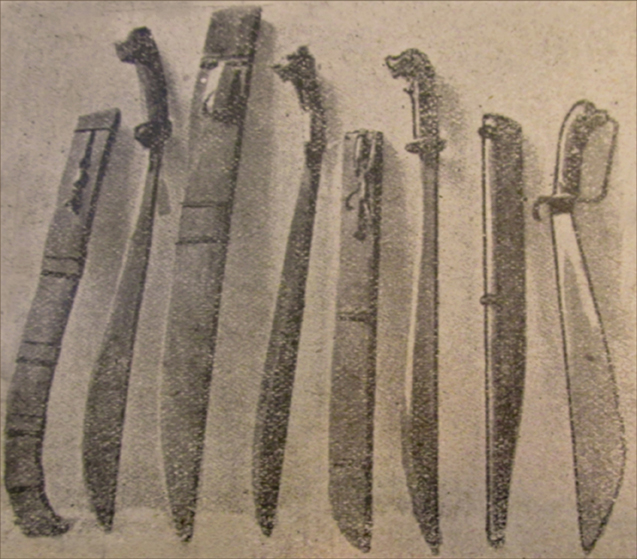 The Bannerman inventory of primitive African and Asiatic edged weapons filled page after tiresome page before moving on to the suits of armor, shields, and helmets that somehow found their way the U.S., after which, they had little appeal to the mainstream gun enthusiast. The many pages devoted to every aspect and definition of military insignia, medal and decoration did nothing to change the mood, nor did the vast assortment of international military uniforms, particularly those of Spanish soldiers. A fair-sized grouping of saddlery and tack and other horse gear, and other leather items such as belts and holsters, preceded the last few more pages filled with mostly uninteresting oddments before the back cover showed itself after page 258.
In the final analysis, I consider my fanciful time traveling back to 1907, to have been a welcomed, whimsical adventure and a worthwhile day's browsing.