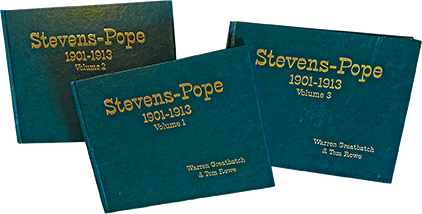 The three volumes of
Stevens-Pope, 1901 to 1913
, authored by Warren Greatbatch and Tom Rowe, is the second set of volumes narrating the history of H.M. Pope. The first was
H.M. Pope-Hartford, 1887 to 1901
and detailed his early years. This second set details his years at Stevens Arms and Tool Company beginning in 1901, and Stevens continuing to make Stevens-Pope rifles up to about 1911.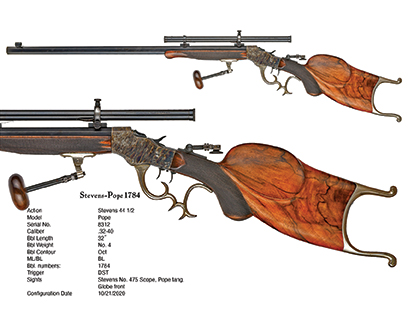 Warren Greatbatch and Tom Rowe have studied H.M. Pope for years. They have consulted with more than 112 serious collectors and conversed and photographed examples from their collections for this series on Pope. Warren Greatbatch was the point of contact for anything related to H.M. Pope in the American Single Shot Rifle Association for many years and as a result, obtained or had access to material many of us were never even aware of or, for that matter, knew that it even existed. Tom Rowe was able to photograph examples of Stevens-Pope rifles and their associated appendages at various gun shows and association meetings through the courtesy of the present owners of the rifles. He was also able to obtain photographs from the various auction houses that handle premium collections when they come up for sale. In short, in these books you will see items that have been hidden away from the general public for years, much of it well cared for and in pristine condition.
This set of volumes is not for the weak of heart. To begin with – the three books weigh 25 pounds. They are in huge 12-x14-inch landscape format, utilize high-quality paper with sewn binding and contain more than 1,000 pages. The pages per volume consist of Volume 1 - 358, Volume 2 - 370 and Volume 3 – 350; that is a total of 1,078 pages. Why such a large landscape format you ask – well if you have seen the photography of Tom Rowe in any of his many publications, and especially in the H.M. Pope-Hartford, 1887 to 1901, then you will realize that it needs this huge format to showcase the "uber" quality of images.
As can be seen from the images, the scope of the information is not just related to Stevens rifles produced by the Stevens Arms and Tool Company, but documents the known rifles that used Stevens-Pope barrels as well. All the known rifles that have been identified to either Greatbatch or Rowe are documented – many of them with superb high-quality images.
One of the very first things I do with a new set of books is look at the Table of Contents and the Index. I want to see what is actually covered in the books and how it compares with my knowledge of the subject. The Table of Contents for each respective volume follows: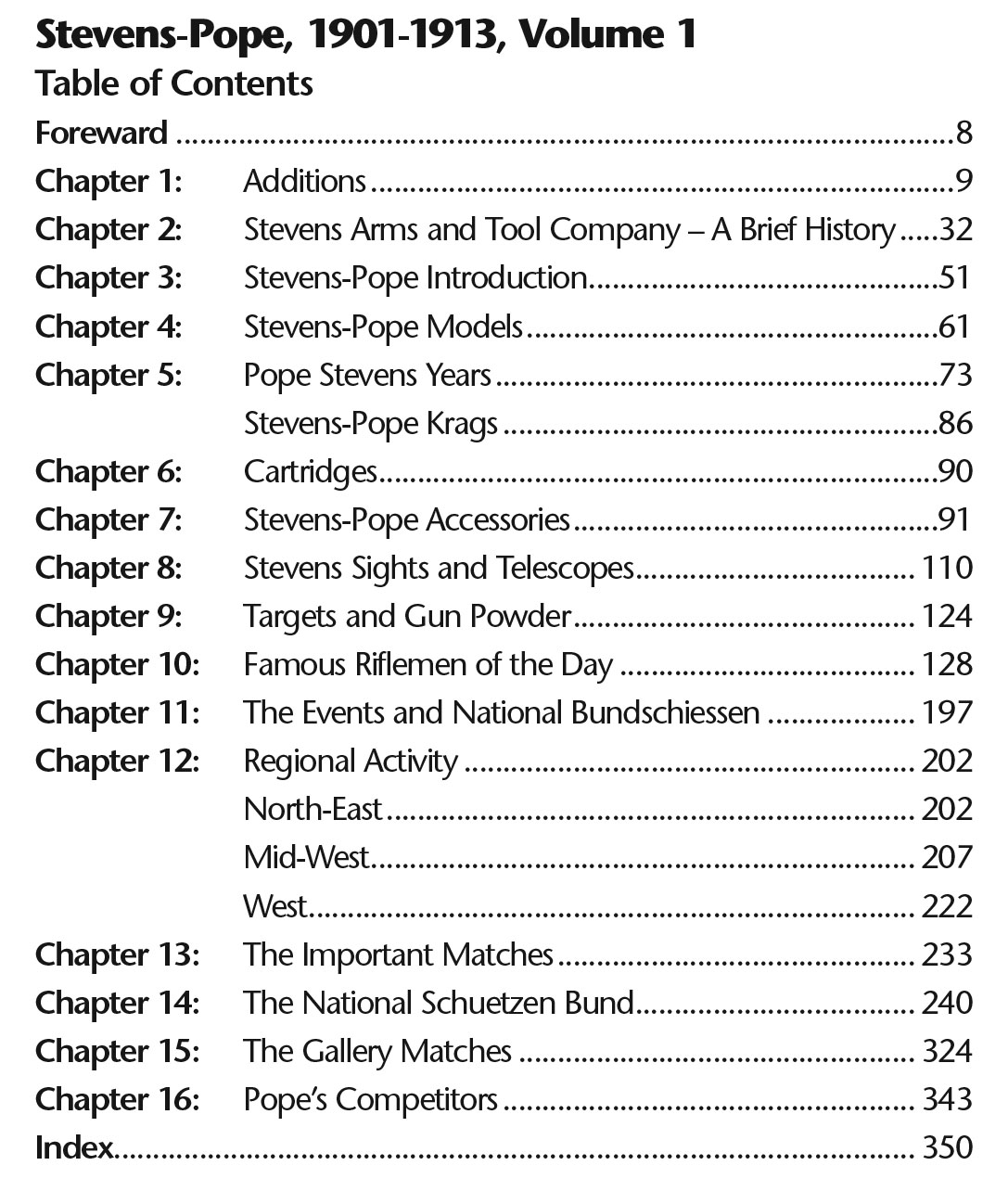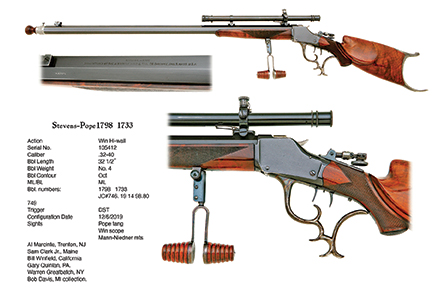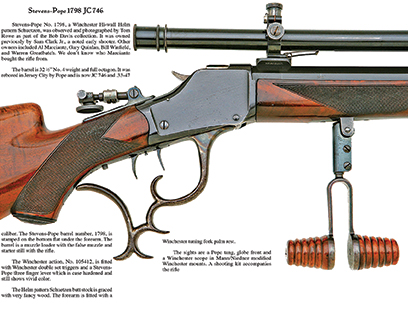 Volume 1 is a comprehensive coverage of not only H.M. Pope's association with Stevens, but also covers Stevens – Pope accessories, Stevens telescopes along with the special H.M. Pope telescope mounts. If this isn't enough – there is extensive coverage of some of the famous riflemen of the period, including coverage of the National Bundschiessen along with regional coverage where available. The National Schuetzen Bund is explained and the more interesting regional and national matches are documented. Today, it's almost impossible to appreciate the ability of men who could shoot 100-shot offhand matches at 200 yards with rifles weighing anywhere from 12 to 18 pounds and even more amazing to see the scores they posted.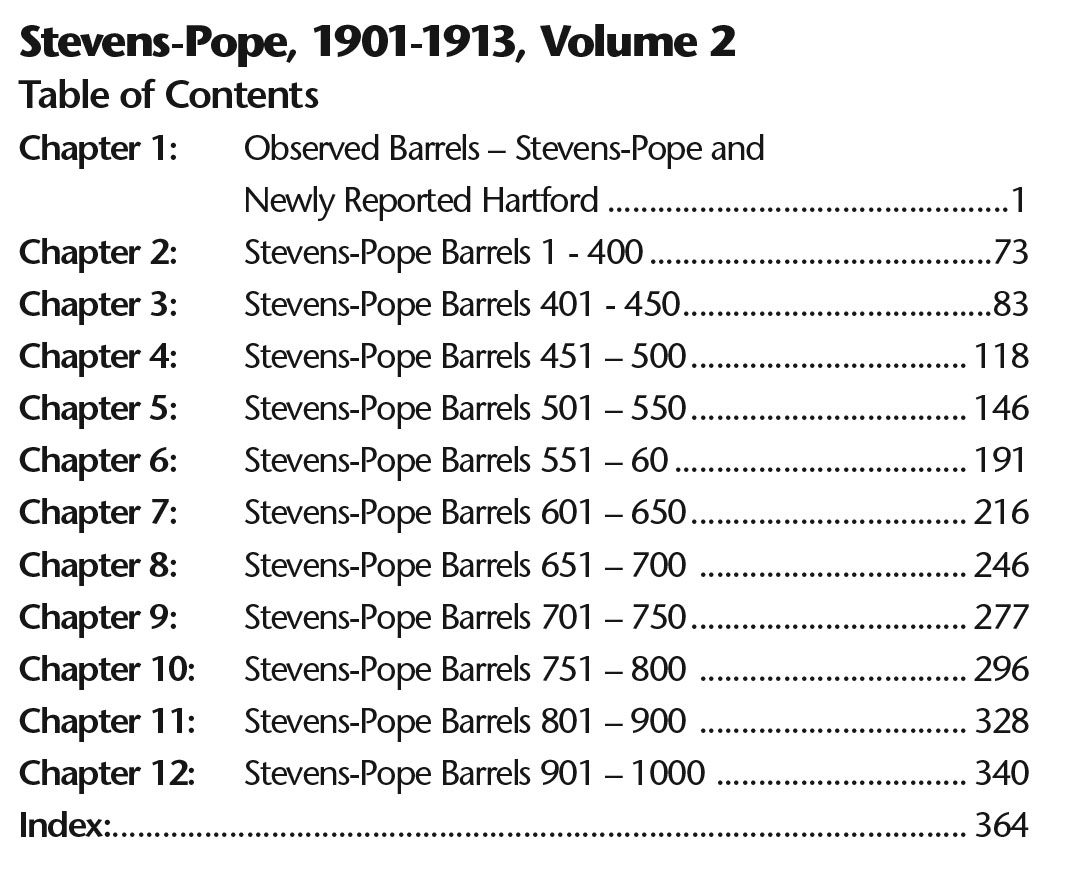 Volume 2 begins with a continuation of newly obtained information on the H.M. Pope Hartford-era rifles. It then delves into the most fascinating coverage of Stevens-Pope manufactured rifles and Stevens-Pope barrels fit to other manufacturers rifle actions such as the Ballard, the Winchester, the Hepburn and of course the Sharps-Borchardt. The information contained is the single most comprehensive study ever compiled. When available, documentation includes the known history of the particular rifle, a description of the rifle and spectacular photographs when possible.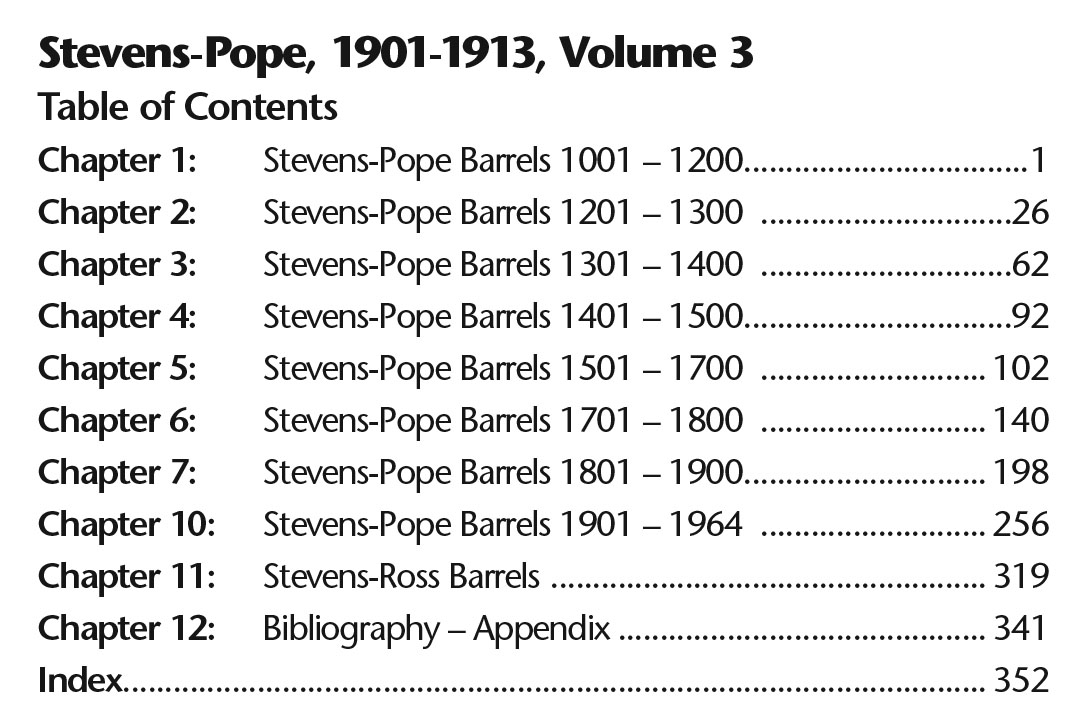 Volume 3, is the conclusion of the study of Stevens-Pope era rifles and Stevens-Pope barrels fitted to other than the Stevens action. It also includes all the known information on the Stevens-Ross association, another fascinating subject of which too little has been published, until the publication of this series.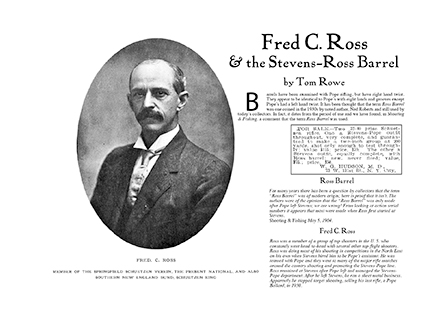 The photographs are simply examples of the photographs in the three volumes. One cannot appreciate the quality of the rifle photographs until they are seen in the large landscape format. To add these quality publications to your collection, contact Tom Rowe, POB 207, Sugar Grove, VA, 24375. Phone: (276)-783-8037 or email: Rowebooks1@gmail.com. Due to the expense of printing a limited edition, only 250 sets were published. When I spoke with Tom a couple days ago, over half of the three-volume set had already been sold. The cost is $375 plus $25 shipping for the Stevens-Pope set of three volumes. Tom Rowe prefers payment in the form of personal checks, as he is not set up to process credit cards. You will not be disappointed.