Montana Vintage Arms Muzzleloader Sight
Steve Garbe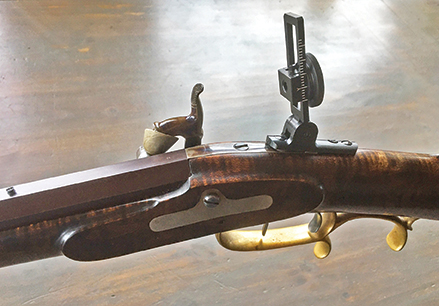 We have become accustomed to Montana Vintage Arms (MVA) recognizing a need in our shooting sports and coming up with a product to fill that hole. The newest MVA offering is precisely that; a quality sight made to address the needs of the market.
Many of us who shoot muzzleloaders, especially roundball muzzleloaders, have wanted a quality tang sight that was adjustable for windage and elevation, but more importantly, that could be adjusted for the angle of the staff so that it was straight vertically. As many muzzleloaders vary in wrist angle, most sights on the market could not be plumbed without being altered. Even then, some sights were simply not suitable. Also, what was desired was a simple sight with a short staff that would not get in the way when used in the field or when folded down against the wrist.
The new MVA "Muzzleloader Sporting Sight" is exactly that – a simple, adjustable tang sight that does all one needs and nothing more.
I mounted the MVA sight on a favorite .40 caplock Ohio rifle to test function and suitability. I estimated that it would provide for roughly 300 yards of elevation with roundball loads. The pitch of the staff was easily adjusted to give a straight vertical alignment and the windage adjustment allowed me to regulate the rear sight to the front sight for zero windage. The simple scale on the staff allows for repeat sight settings for different yardages, very important with a roundball rifle.
If you are looking for a high-quality, traditionally styled peep sight for your favorite hunting rifle, whether it is a muzzleloader or breechloader, look no further that the "Muzzleloader Sporting Sight" from Montana Vintage Arms. The price is $195. Contact Montana Vintage Arms in Belgrade, Montana, at 406-388-4027. MVA has many other great sights, scopes and accessories on its website (montanavintagearms.com) and the MVA high-quality product line is made right here in the U.S.
---
BACO's Swaged Bullets for Paper Patching
Mike Nesbitt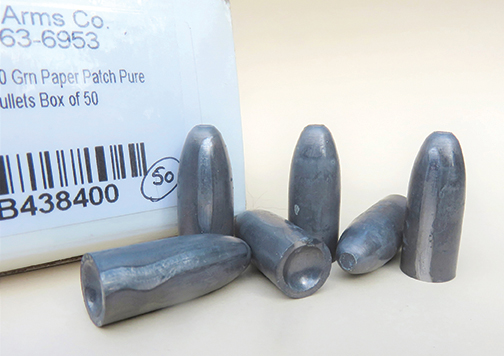 The excellent variety of diameters for swaged bullets to be paper patched from Buffalo Arms begin at .365 for the 38-55 and similar bored calibers with two weights, 250-grain and 300-grain. Next, came the .395 diameter bullets with three weights ranging from 330 grains up to 425 grains. However, there are more bullets for the .40s and .399 diameter can be selected with weights from 330 grains up to 450 grains. The .40s aren't quite through because bullets of .402 diameter can also be had, with weights from 330 grains up to 430 grains. Next, came the bullets for the 44 Sharps and those are what interested me the most. With a diameter of .432 and a starting weight of 330 grains, the .44 bullets go up to 540 grains. The lineup continues with .438 diameter, beginning with 330 grains and going up to 540 grains. They're not through with the .44s just yet and bullets of .441 diameter can be picked as well as bullets with a diameter of .442, with weights from 350 grains on up.
The shooter will have to decide if those .442 diameter bullets are on the large size for the .44s or perhaps on the small size for the .45s. Each barrel can have a preference and it's nice to have such a variety to choose from in order to find what our rifles really like.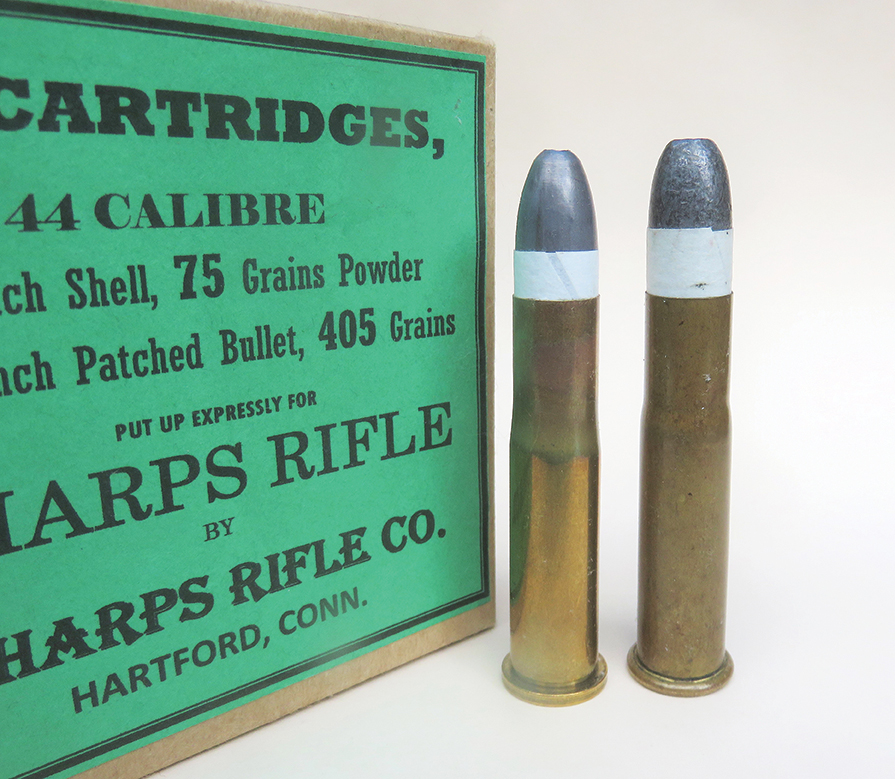 Then, the diameters jump up to .444; these are generally considered good hunting bullets for the .45s, with weights from 380 grains up to 550 grains. For larger bullets to be fed through the .45s, the next step is for .451 diameter, starting with a 350-grain weight and ending with a 550-grain weight. There is even an option for the .451-diameter bullets to pick a 540-grain swaged with 20:1 alloy instead of the pure lead.
One bullet is offered with a diameter of .459, weighing 480 grains. If you have a .45-caliber rifle with a larger than average bore, that might be the best choice.

From there, the bullet diameters jump to .492 and those are for the .50s. The weights for those begin at 450 grains (just right for the 50-70) and climb to 650 grains to be suitable for today's faster twist .50-caliber barrels; those bullets are followed by ones with a .504 diameter that have weights beginning at 350 grains and climbing up to 650 grains.

The list of diameters is completed with some bullets swaged for the .577 rifles, with diameters of .570 at 450 and 480 grains plus diameters of .578 with bullets weighing 450, 500, 550 and 600 grains. That's quite a lineup and when I made my notes about this selection, most of them were in stock and ready to be shipped.

What brought these swaged bullets for paper patching to my attention, was I wanted some 400-grain bullets of .438 diameter to try in my 44-77. This was following my "dissecting" of the old original UMC 44-77 cartridge, which contained a .438 diameter paper-patched bullet of 405 grains. Trying some of the BACO swaged bullets might be a good step to take before buying a bullet mould.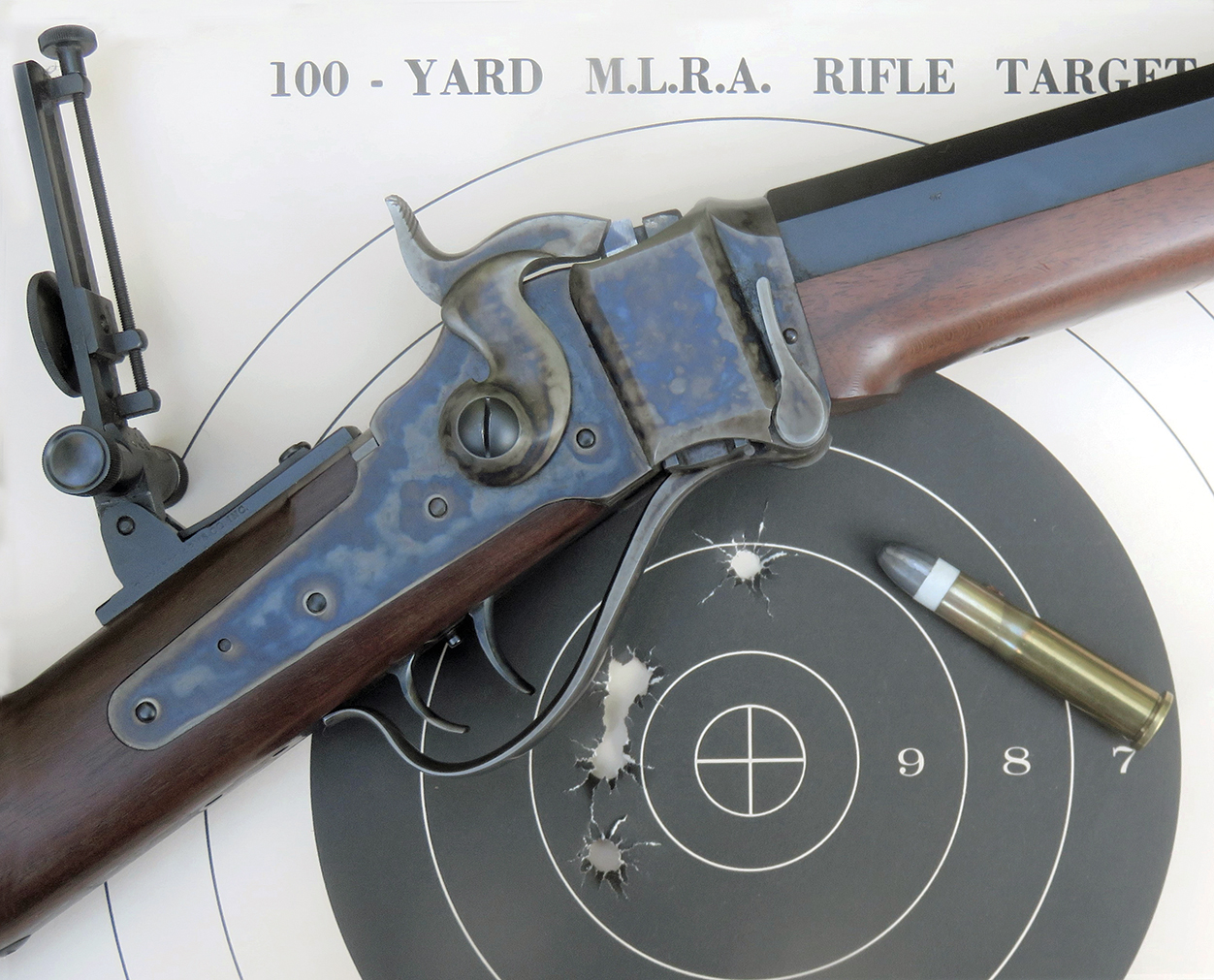 My loading of these .438 bullets copied what I found in that old cartridge but with one exception; I did add a .060 Walters Wad over the lube and under the bullet. At first, I didn't and accuracy was certainly wanting. So, the wads were added for the second try. Apparently, even with pure lead, we cannot trust the hydraulics of the lube to expand the base of the bullet enough to completely seal the gases from the powder. The wads over the lube will certainly help with this.
The final loading, which gave me closer to the wanted results, held 75 grains of the Swiss 1½ Fg powder, an over-powder wad, 1⁄8-inch of BPC Lube, an over-lube wad, then the patched bullet. Ignition was provided with Federal No. 150 Large Pistol primers. This load, when fired out of "Hefty Hannah," gave me meat-making accuracy at 100 yards, which is what I really wanted. More shooting will be done, of course, and my heavy 44-77 might be used in our Paper Patch Match as well, using the swaged bullets from Buffalo Arms Company.

The 400-grain bullets I used are priced at $28.99 for a box of 50, and the price per box goes down when the size of the order is increased. Heavier bullets are somewhat costlier. Trying the bullet weight and diameter with these swaged bullets is a great way to determine whether a bullet mould for similar-styled bullets should be purchased. Contact Buffalo Arms in Ponderay, Idaho, at 208-263-6953, or via the website at buffaloarms.com. There are many great black-powder shooting supplies available and good quantities are in stock.
---
SPG Sales "Bear Grease" Patch and Bullet Lube
Steve Garbe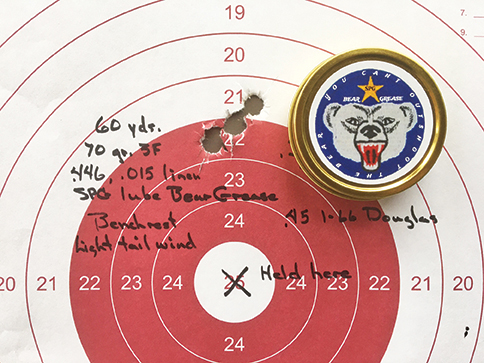 SPG Sales has developed another great lube aimed primarily at muzzleloading, roundball shooting. Called SPG "Bear Grease," it is a soft lubricant designed to work in the coldest of temperatures and is easy to apply to the patch for roundball shooting. We do a fair bit of muzzleloading shooting, being hopeless flintlock addicts, so a favorite .45 flintlock roundball rifle was selected to give the new Bear Grease a try. This "flinter" is a proven performer at many turkey matches, so we were confident it would make a great test rifle.
We specifically tried the new lube at temperatures of around 30 degrees Fahrenheit, as it is our opinion that getting a lube to work in colder, dry conditions is the toughest order of all. For many of us, this temperature represents typical fall hunting conditions.
The rifle has a .45 barrel with a 1:66 twist and the load was 70 grains of Swiss 3fg, .446 lead roundball, a .015 linen patch on the ball and a .010 over-powder patch. I like to use the over-powder patch, as I think it really helps prevent gas burn-through, especially when using full-house loads.
We shot from benchrest at 60 yards, a typical turkey match distance. No wiping was done between shots. What was most noticeable about the Bear Grease was the fouler was in the middle of the three-shot group, and generally, the first three shots out of a roundball gun are typically the hardest to get to group accurately, as many rifles need to be "fouled-in" with a few shots before they settle down. The Bear Grease seemed to eliminate that procedure in this rifle.
Given these results, I'm planning on using the Bear Grease for more extended match shooting and will provide updates on the results.
I was curious as to how the Bear Grease would work in relubing 22 rimfire ammunition. This is something I've done with regular SPG Lube for a number of years with older ammunition that I believed the original lubricant had dried out on. To be honest, I have to say that some rifles liked the "relubed" ammunition and some showed no change at all in accuracy. I have noticed that some rimfire rifles, which have a propensity towards leading or carbon build-up have been cured by the relubing process.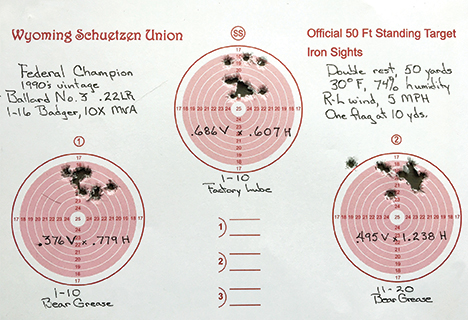 To test the Bear Grease in a rimfire, I selected a favorite Ballard No. 3 rifle that has a Badger 1:16 twist barrel fit to it. The rifle has always shot well, but I have experienced some problems with leading on dry, cold days, especially with old ammunition. I thought it would make a great test rifle for a fouling test. On hand, I had some 1990s vintage Federal Champion 22 ammunition that had always shot decently for budget-priced target ammunition. It would not be my pick for a serious 22 match out to 200 yards, but it made for good practice ammunition out to 50 yards. More importantly for this test, the lubricant on the bullets themselves was dry to the touch.
The small tin that the SPG Bear Grease came in made it easy to put just a thin film of lubricant on the bullet by simply rolling it across the lube. I fired a couple of foulers, in a clean, dry barrel and then two, 10-shot groups at 50 yards with greased ammunition to do an initial test, and followed those up with a 10-shot group fired with the ammunition as it came from the factory. I cleaned the barrel and borescoped it after the 22 rounds of Bear Grease ammunition and after the 10-round group of dry factory ammunition.
The groups in the photo show more horizontal spread than vertical due to the 5-mph wind. Accuracy was slightly better with the Bear Grease ammunition, but the real eye-opener divulged itself when I cleaned the rifle. There was noticeably less hard fouling and carbon build-up in the leade when using the greased ammunition; two patches would clean the barrel easily, whereas the factory-lubed ammunition required four patches to completely swamp out the fouling. I noticed a slight amount of leading with the factory ammunition and none at all with the Bear Greased cartridges.
Given these test targets, I will be using SPG Bear Grease in my roundball guns, as well as in most of my rimfire rifles, especially when using old ammunition. SPG Bear Grease comes in a handy 2-ounce tin for the price of $8 or an 8-ounce block for $18. To place an order contact SPG Sales in Kirksville, Missouri, at 660-988-4099, or look them up at blackpowderspg.com. Be sure to look through their website as it features their other great products for shooters, by shooters.