I*XL Bowie Knife from Sheffield

Before, during and after the Civil War, the I*XL Bowie knives were well-known for carving their way across the American West. Those I*XL knives were made by the George Wostenholm family in Sheffield, England, and they adopted the I*XL trademark (which is short for "I Excel") in the 1820s. However, this review isn't just about knife history; the I*XL Bowie knives are still being made in Sheffield, England. Even so, a brief history of the I*XL brand might be appreciated.

George Wostenholm died in 1876. By then, the American market was contracting due to the influx of more product from American cutlery manufacturers. By 1914, the Wostenholm company employed about 400 people and nearly went bankrupt in the mid-1920s. The partial destruction of the Washington Works, at Sheffield, during World War II meant that the company had even more trouble trying to compete after the war. In 1971, the Wostenholm company was finally bought by their rivals, Joseph Rodgers & Sons, and by 1978, the Washington Works shops were completely demolished. The name and trademarks of George Wostenholm were then bought by the Egginton Brothers, who still make Sheffield cutlery using the I*XL mark today.
A detailed description of this new I*XL Bowie knife must include the 6-inch carbon steel blade. The handle, measured from the front of the guard, measures 4.5 inches to the end of the pommel. Those measurements give the knife an overall length of 10.5 inches. At the back, the blade is just over 3⁄16th inch, which helps this sturdy little Bowie weigh in at 9.2 ounces. That makes it a fairly hefty knife for its size. The blade is nicely hollow-ground, but the top edge, which is narrow and tasteful in shape, is not actually sharpened. The knife can easily be sharpened if that's what the buyer wants. The sharpened lower edge is 5.5 inches.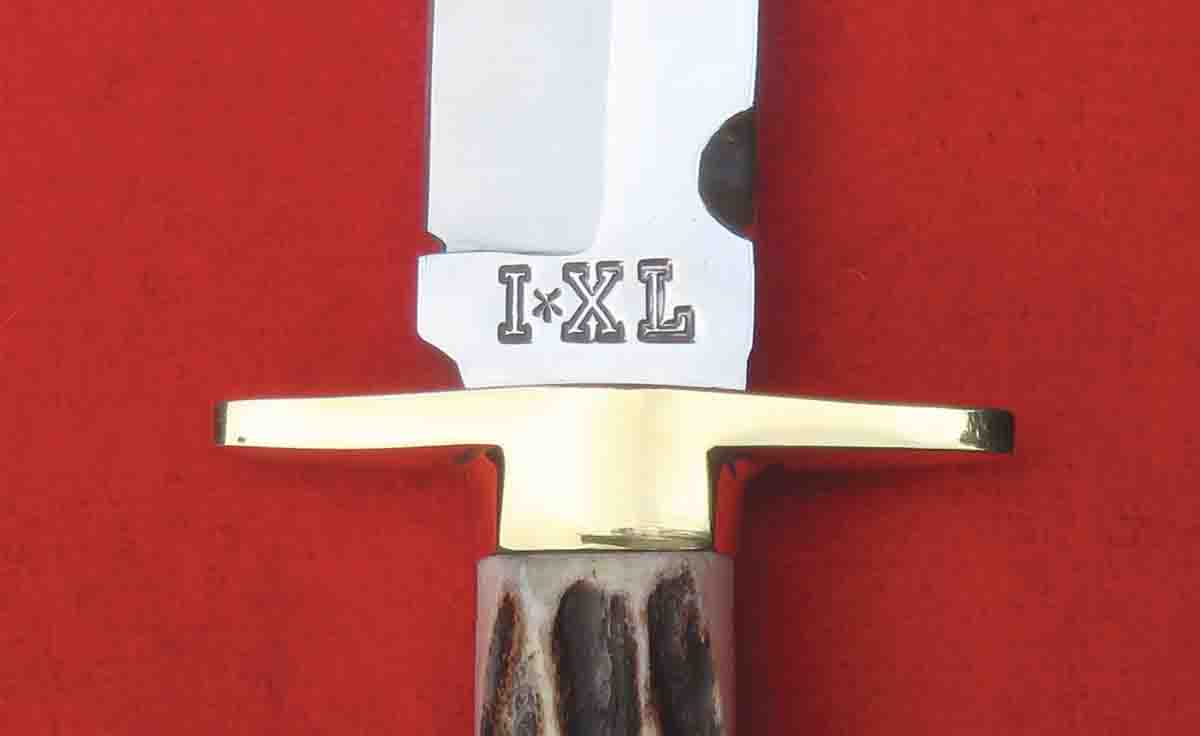 Let me add that this knife shows evidence of being hand-fitted, which I really appreciate. The pommel and guard were not perfect fits, and although the fitting was very good, some handwork with a file was needed to make the brass and stag pieces come together. Of course, the stag slabs are very attractive, enough so that I hope my photography does this knife justice.
Several knife fanciers will refer to this knife as a "small Bowie." We can't have any real argument there. Even so, this knife is sized very well. Too many Bowie renditions are so large that they must be used like cleavers, to chop with instead of making more delicate cuts. While the Bowie knife is regarded as a fighting knife, I find this knife to be a very good size for more general duties.
I also find it both interesting and refreshing that these Bowie knives are still being made in Sheffield, England. In my opinion, too many of our old American trade names are now being made in other countries.
These I*XL Bowie knives are priced at $135 (which is $30 below the manufacturer's suggested retail price) plus shipping. A sheath is not included. I*XL Bowie knives can be purchased from C. Sharps Arms in Big Timber, Montana, (csharpsarms.com or info@csharpsarms.com) or by calling 406-932-4353.
- Mike Nesbitt
New .32-40 Brass from Huntington Die Specialties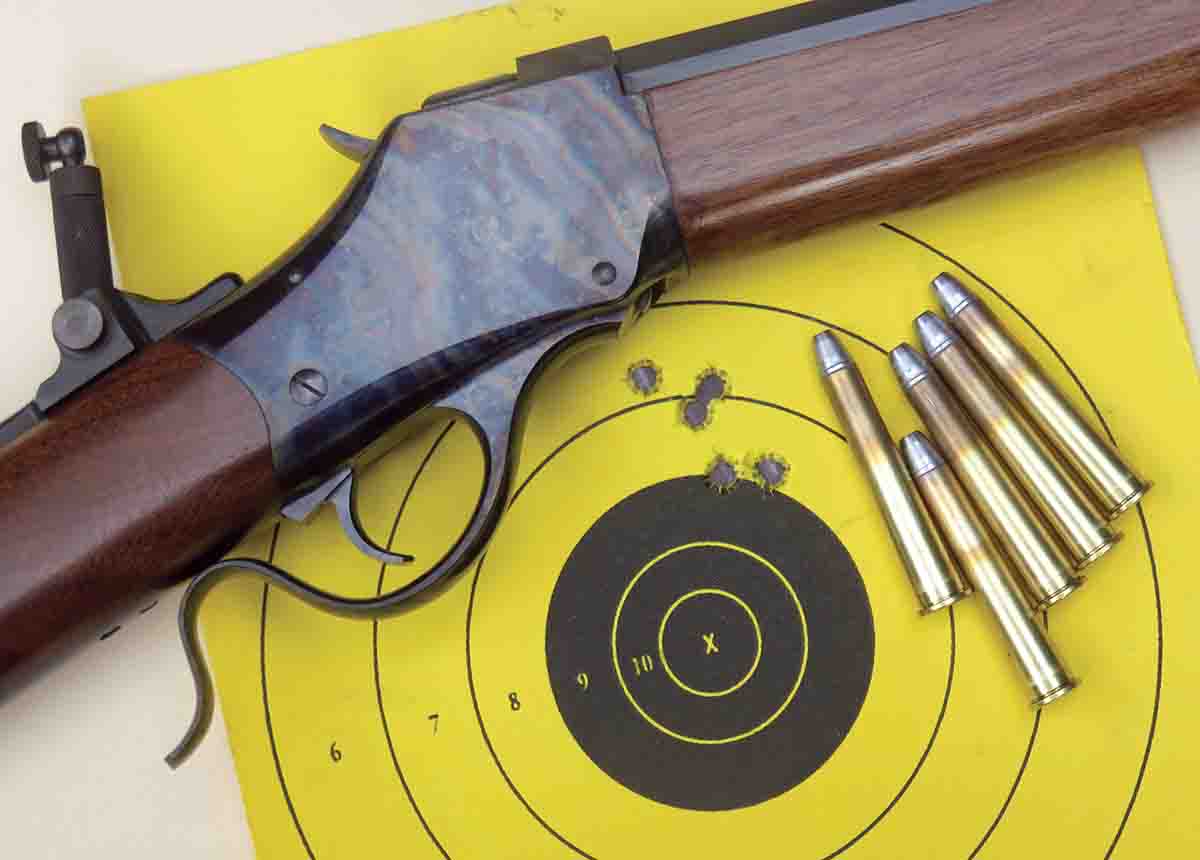 Huntington Die Specialties has some new .32-40 brass, which was something my High Wall .32-40 had been requesting. So, 60 of these new cases were ordered and they actually delighted me from the very beginning because everything about them is right, including the correct headstamp. To say the least, it is very nice having new, properly marked brass for the time-honored Winchester .32-40.
Huntington's representatives told me this new brass was made by Starline, and it was a very exclusive run just for Huntington's. When the brass arrived, I couldn't help but notice how good it looks and there are some "blue" heat marks on it from being nicely annealed. Preparations were quickly made to get some of these cases loaded to do some shooting.
Those preparations included casting some bullets using Lyman's mould 319247, the old standard plain-base bullet for the .32-40. The lead I used was reclaimed range lead, so I can't tell you what the mix or the hardness was, although range lead has always performed very well for me. Two of the freshly cast bullets were weighed and both of them balanced the scale at 162 grains. Then the bullets were sized to .321 inch and lubed with C. Sharps Arms' BPC lube. With that done, the bullets were ready for loading.
The new cases were also given some quick preparation. They were sized in my old RCBS dies for the .32-40 just to be sure. I say "old" dies because I bought them new in 1969 and I've used them for all of my .32-40 shooting. This new brass was resized just so there would be no problems with chambering the new cases in my High Wall. Following up that idea, one full-length sized case was chambered in my High Wall before the loading continued, just to make sure there would be no surprises.
Then the new cases were checked for length simply by running them through a file trim die. I don't actually have a file trim die for the .32-40. Instead, I use a trim die for the .32 Special along with a spacer which has a thickness equal to the difference in length between the .32 Special and the longer .32-40. All of the cases passed this test.
Prior to being loaded, all of the case mouths were chamfered just to ease the entry of the cast bullets. My .32-40 dies are a two-die set without a separate expander die. I have always felt that the .32-40 should be treated more like a straight-walled case and maybe a three-die set would work better. However, the two-die set has worked fine with cast bullets as long as little steps like chamfering the case mouths is done.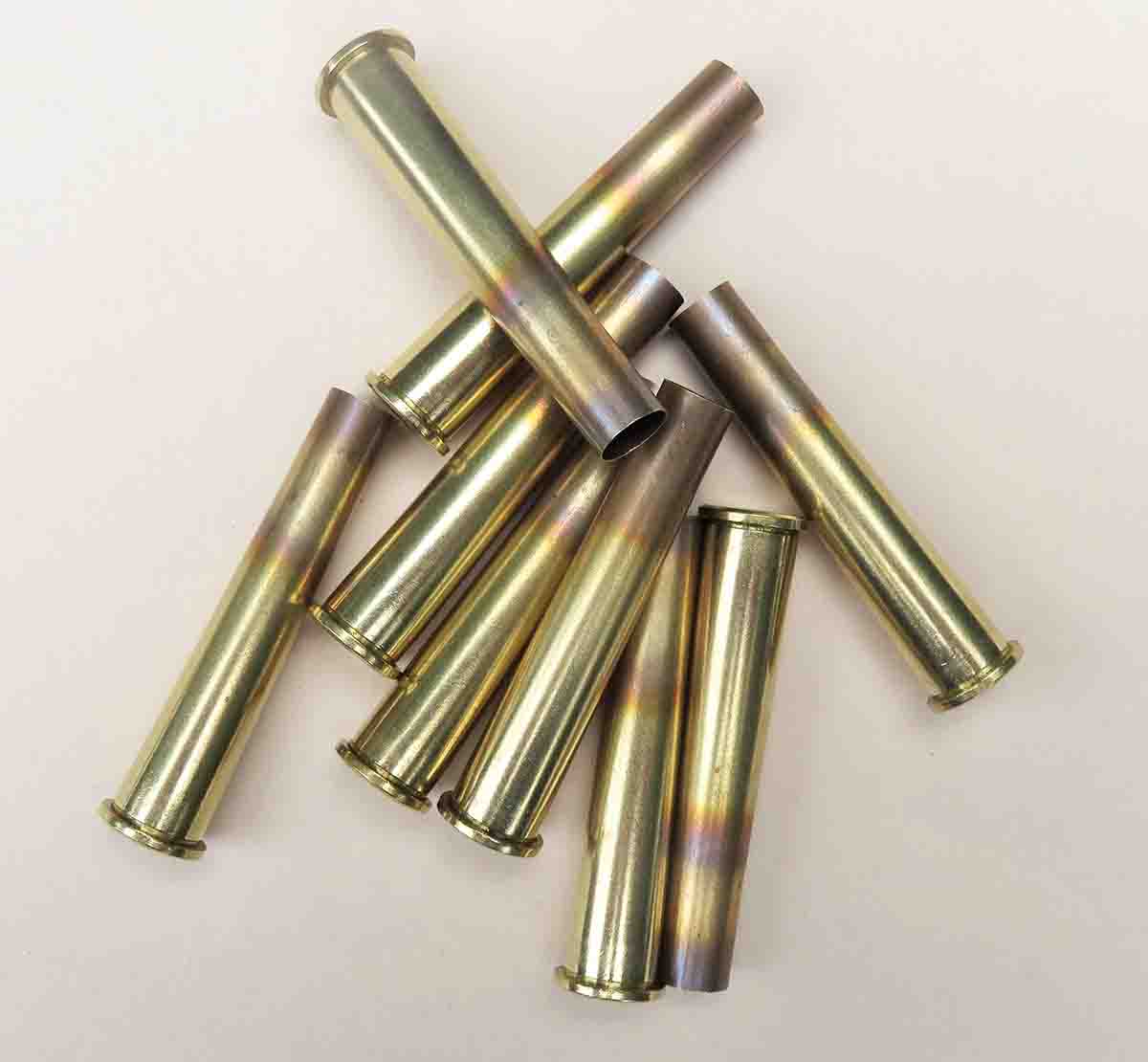 CCI's 200 standard Large Rifle primers were used to ignite the 40.0 grains (individually weighed) of Olde Eynsford 1½ Fg black powder. That is a full case of powder, right up to the mouth if it isn't used with a drop tube. A couple of light taps on the side of the case will settle the powder quickly, about 1⁄8th of an inch, which makes starting the bullets a bit easier. Then the bullets were seated, compressing the powder with the bullets. That's not the best way to do things, but those bullets did seat easily with no troubles or deformation. No wads were used between the bullets and the powder.
That same loading was chrono-graphed previously using Winchester's "Duke" cases and out of the 28-inch barrel of my High Wall they averaged 1,444 feet per second. For black powder shooting, that's a rather snappy load and it is one of the things that helped make the .32-40 popular. While these new Huntington cases might not be exactly the same as the older Winchester cases, I did not compare them, and the average velocities should be nearly the same.
Shooting these loads with the new Huntington's brass was simply a pleasure. A small bullseye was posted at 50 yards, and five shots from the first loading grouped nicely, right above the "black." A little more shooting was done but most of my new loads were being saved for later. Possibly they'll be used for hunting.
Huntington states: "This clean, unprimed brass withstands the stresses of multiple load-fire-reload cycles, and the brass in each bag comes from the same production lot for optimal consistency in your finished ammo." Regularly, it is priced at $26.98 per 20 cases but as this was written, it was on sale for $23.98 per 20. Let's hope that sale price continues. To check their pricing, go to huntingtons.com and be sure to look under HDS for these .32-40 cases or call toll-free 1-866-RELOADS (1-866-735-6237).
-Mike Nesbitt