The United States Wins Gold at the World Championships
Bisley, England - August 24-31, 2019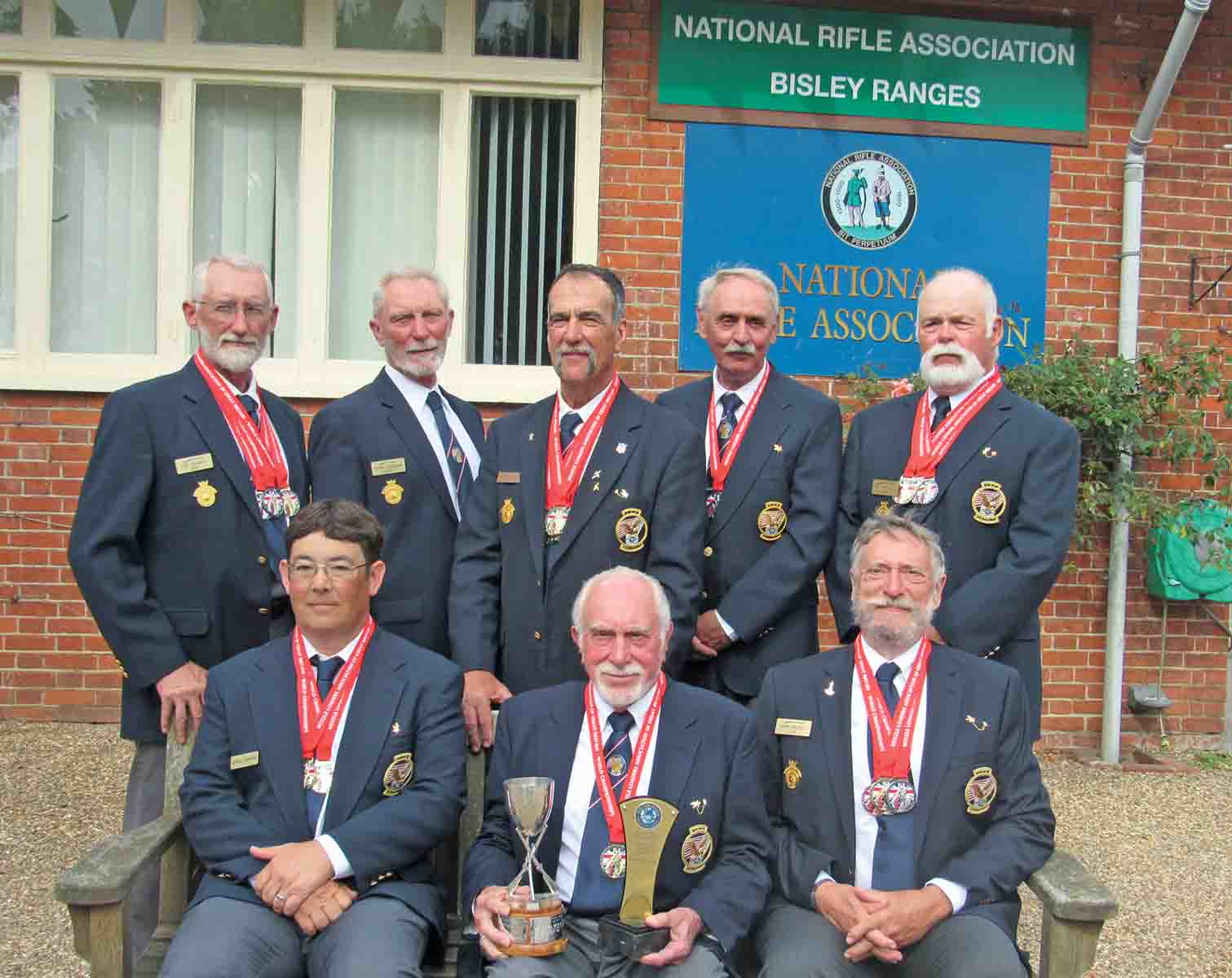 United States shooters again proved they are the best in the world shooting long-range muzzleloading target rifles at the 12th MLAIC World Championships in Bisley, England August 24-31, 2019. The U.S. brought home the Gold, winning the Overall Grand Aggregate for Mid-Range (300, 500 & 600 yards) and Long Range (900 and 1,000 yards).
It wasn't easy. There were 11 countries; Australia, France, Germany, Great Britain, Netherlands, New Zealand, Norway, South Africa, Spain, Switzerland and the United States. There were 69 individual competitors striving for the grand prize. We didn't win every match, but we won enough to come out on top again. Below is a summary of how our guys did in the original and replica categories, as well as team results for each yardage.
300 Yards Original: 5th place: Kenn Heismann
300 Yards Replica: Gold Dave Gullo
300 Yards Team: Bronze: USA, Gold: Germany,
Silver: Norway
500 Yards Original: 4th Place: Dave Munch
500 Yards Replica: 8th Place: Ray Hanson
500 Yards Team: Gold: USA, Silver: UK,
Bronze: South Africa
600 Yards Original: Bronze: Dave Munch,
4th Place: Kenn Heismann
600 Yards Replica: Gold: Dave Gullo, Silver: Lee Shaver,
6th Place: Ray Hanson
600 Yards Team: Gold: USA, Silver: Germany,
Bronze: South Africa
Mid-Range Aggregate Original Individual:
5th Place: Dave Munch, 6th Place: Kenn Heismann
Mid-Range Aggregate Replica Individual:
Gold: Dave Gullo, 4th Place: Ray Hanson,
5th Place: Lee Shaver
Mid-Range Aggregate Team:
Gold: USA, Silver: Germany, Bronze: South Africa
900 Yards Original: Silver: Dave Munch
900 Yards Replica: Silver: Dave Gullo
900 Yards Team: Gold: USA, Silver: South Africa,
Bronze: France
1000 Yards Original: 8th Place: Kenn Heismann,
10th Place: Dave Munch
1000 Yards Replica: 4th Place: Dave Gullo
1000 Yards Team: Gold: South Africa, Silver: USA,
Bronze: Norway
Long Range Aggregate Original Individual: 6th Place:
Dave Munch
Long Range Aggregate Replica Individual: Gold:
Dave Gullo
Grand Aggregate Original Individual: 5th Place:
Dave Munch
Grand Aggregate Replica Individual: Gold: Dave Gullo,
5th Place: Lee Shaver, 6th Place: Ray Hanson
Grand Aggregate Team: Gold: USA, Silver; South Africa, Bronze: Germany
Highest V-Bull Count: Mark Sobierajski, Australia
I was proud of our squad of seven riflemen: Craig Faubion, Dave Gullo, Ray Hanson, Brice Harper, Kenn Heismann, Dave Munch and Lee Shaver, seeing them go to the podium many times receiving their medals and hearing our national anthem played. Every member of our squad won something. In the past, a few countries dominated this sport but no longer. Any one of the 11 countries can come knocking at your door. Often only a few points separate the winner from second and third place. It's good to see other countries climbing the ladder and getting better. It keeps us on our toes and nothing makes you better than good, tough competition. We hope to bring in more good shooters to our ranks to give us more strength and depth. The U.S. shooters have set the bar.
You can look at the scores and see how we did, but I want to pay attention to a few individuals who deserve special recognition. Dave Gullo won Gold for Individual, Overall Grand Aggregate, plus several First Place medals at individual yardages. Mark Sobierajski of Australia set a new World Record at 500 yards, shooting a 48.5 of a possible 50. John Whittaker of the United Kingdom took Gold in the Grand Aggregate Original category, one point from a tie of the standing world record. Laurie Kerr of New Zealand was second in the Individual Grand Aggregate Replica, just behind Dave Gullo. Laurie shoots the recumbent position (on his back) because of a severe shoulder injury a few years ago. Not only that, but he shoots a .40-caliber rifle for less recoil. The amazing scores shot by Dave Gullo and Mark Sobierajski were shot with Ferriss rifles made by Lee Shaver, U.S. shooter and gunsmith. The South Africans, who won Silver, shot Ferriss rifles as well.
Anyone who would like to get involved in this great sport won't be disappointed. Making friends and acquaintances from all over the world is a plus, and wives enjoy the chance to travel. This event is proof that our sport is alive and well, and we all need to be thankful and support it in any way we can. The full match results are posted on the MLAIC website: mlaic.org.
Our next USIMLT event will be the nationals at the Ben Avery Shooting Complex in Phoenix, AZ, March 6-8, 2020. Check out the website at usimlt.org for details and registration form. In 2021, Hungary will be the host for the next World Championship. C
– Ed Decker
Captain USIMLT Long-Range Team
Farmer Benefit .22 BPCR Match
Carpenter, Wyoming - July 27, 2019
Smithmoor Range
Being a part of a community is one of the most satisfying and fulfilling parts of my life. From growing up in a community of small farmers, I have so many fond memories of celebrating the good times together and banding together to help those out that needed a hand. Sadly, with the drastic increase in the size of the farms and the "in-a-hurry" atmosphere of our modern world, those days are gone for most people. They are, however, alive and well in the world of BPCR and Smithmoor Range. I am honored and proud to be a part of this community of people that is made up of the best folks on Earth.
On July 27th, we hosted a benefit .22 BPCR match for the Zach Farmer family at our West Smithmoor Range. For those that don't know, Zach is a young, working man who suffered a most tragic, heart-breaking accident with his wife and baby. A blown tire resulted in a rollover, leaving Zach, his wife Christa, and couple month-old baby Colton severely injured. Zach has been an active participant in our Winter Series .22 matches. Zach's Dad, J.D., and Uncle Dick are some of our most ardent and enthusiastic supporters. All of the Farmers are rather quiet, unobtrusive folks that contribute greatly to our range and matches while never asking for anything in return. It is an honor and pleasure to know them, and a lot of folks jumped at the opportunity to help them.
I wanted to add some flavor of a Schuetzen match to the day, so there were a variety of events going on. The main event was a 40-shot .22 BPCR silhouette match. We added a fifth station to it and a few fun side matches that were held after the match. There were enough events that it would have been hard to enter all of them, so shooters picked what they wanted to do. During the fifth station and continuing after the match, shooters could shoot a paper target for a 5-shot small group, 10-shot score, and we made a fun blackjack event where you had to get as close to 121 with as many shots as needed without going over. These were run as a re-entry match so if you didn't like your score, you could buy another target and shoot it again as many times as you wanted. Also, on any of the targets, for a dollar you could enter the Center Match so that the best "closest to center" shot of the day would win. We had a prize table with a variety of donations on it that shooters could pick from. Smithmoor mugs, gift certificates, packages of brass and jugs of honey and real maple syrup were among the items.
As always, lunch was a real bullseye! Mom and Dad had barbecue boneless pork ribs, coleslaw, rolls, chocolate cake, peanut butter cake, and Coralee's rhubarb crisp, hot and ready for us. We took a break from the shooting to enjoy the meal. I thought it was super; thanks Mom and Dad for the great food!
David Heintz won the small group target with a 1-inch 5-shot, 100-yard group. My Dad, Gary Smith, was right behind him with a 1/32-inch larger group. Pretty darn good shooting if you ask me! Cecil Sauer won the high 10-shot score target with a solid 239. It was just breezy enough and the mirage was stiff enough that scores closer to the possible 250 were tough. There was a cluster of scores in the 234-236 area. I had thought the blackjack target might be really tough and fun. To my surprise we had three shooters shoot a 121! Cole Sauer and Chase Sauer did it earlier in the day and then Billy Acklin did the miraculous feat a little while later. Bill's Dad, Tim Acklin is a new shooter and did very well. He drilled one shot right in the middle to win the Center Shot match. Good shooting everyone!
After the silhouette match was over, we quickly set up three fun matches. We have two sets of prairie-dog targets and we ran a hunter-style match with them. Unlimited shots in five minutes and no spotters to see how many one can hit. We have done it before and it was sure fun. My kids kind of hogged that match and had a really good time shooting prairie dogs. We also sat shotgun shells on the pig rail and had a try at them. The wind played havoc trying to keep them on the rail, but I think Cole and Chase Sauer were the champions there. The final match that proved very popular was Long-Range Balloons. Steve Anderson picked up a pack of balloons and we taped them to rocks on the big-bore turkey berm. 385 meters is equal to 421 yards! What fun it was lobbing in .22 rounds to hit them. It was rather amazing how well one can do once you get some sight settings. It was fun for all, but I think Doc Bement had the most fun. He was so excited and was all smiles and laughter each time he got one. I don't remember how many he got, but it was definitely more than anyone else. Then he handed his rifle to Mary Zang, and she gave it a try. One shot and she hit one! Some of us weren't quite so good, however, and dumped a lot of shells down there without any luck.
As always, the .22 match was a hoot. We had twenty-five entries for it and had several events of note. K.D. Purdum shot her very first full match and I thought she did extremely well. She was all smiles, and I am sure we will see more of her on the line. Chase Sauer won A class with a super 23. This was his third AA score and he will be moving up next match, much to his satisfaction. Zach's brother Hayden won AA class with a solid 26. He has not been able to make it to a match for a while, so that was really good considering the dry spell. Cole Sauer, our reigning Junior National Champion, shot a 31 to win AAA. He has his eye on Master Class and this was the first score he needed to get there. Bill Acklin won Master Class with an excellent 33. Bill is a relatively new and very enthusiastic shooter. He has been working hard to improve and it was great to see him have some success. The big news was Jim Rodebaugh! Jim shot a 35 for the match win! That is a Grand Master score and, incidentally, his third one. Jim is now in the Grand Master class, which is truly something to be proud of.
The number of folks that sent cash, checks, and donations for prizes for the match or items for the silent auction was nothing short of awesome. People from all over the country, many of who did not even know the Farmer's, felt the need and graciously donated. The silent auction was really something special. There were twenty-five items and they ranged from a really cool Nerf gun, one of Coralee's famous pies, a handmade quilt from mom, to a RCBS Rockchucker press, a Lyman electric powder measure and a really cool horse blanket rifle case. The two attention getters, however, were a knife and scabbard from Jim Rodebaugh, and a beautiful Sako .243 rifle and scope from an anonymous donor! Wow, talk about some treasures! The silent auction netted $2,160 and money from the match entries and donations totaled $3,371. The total proceeds from the match that went to the Farmer family was $5,531! Thank you to all that contributed, this is a very worthy cause and will go a long way to helping them both financially and morally by letting them know how many folks are pulling for them.
Also, a big thanks to everyone that is a part of our range and matches. You truly make this sport great and it makes all of the time our family puts into the range very fulfilling and worthwhile.
– Cody Smith


Wyoming State BPTR Mid-Range
2019 Championship
Worland, Wyoming - July 21-21, 2019
Worland Shooting Complex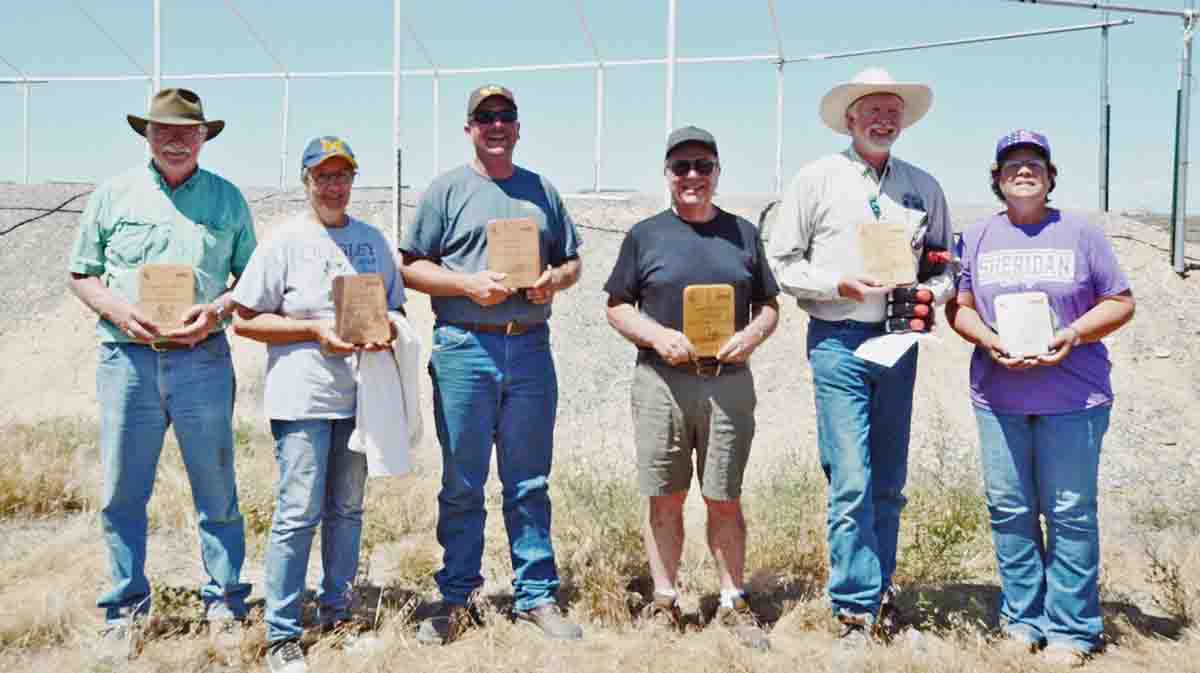 The Wyoming State BPTR Mid-Range Championship was scheduled to begin on May 18th, 2019. Unfortunately, the weather had other plans for us. It began raining Friday afternoon and never gave up all weekend. Saturday, we called the match and decided to have a 30-shot match on Sunday. As it turned out, Sunday was no better, so all of the shooters got together and we agreed to cancel the May match. It was also agreed that if we could reschedule in July that most of the shooters could return. After getting all of the approvals, we rescheduled the match for July 20th and 21st. The weather then, although hot, did cooperate.

On Saturday were scheduled the 200- and 300-yard relays at 20 shots each. After the 200-yard relays our winners were starting to emerge with Cody Smith shooting a 200 -13Xs with Jack Odor and Steve Anderson right behind him with 199-11Xs and 199-10Xs. Bryan Youngberg and Randy Ellingrod were in the hunt with 196-6Xs and 5Xs, respectively. Then on the 300-yard relays Cody Smith and Bryan Youngberg narrowed the field by scoring 191-3Xs. At the end of day 1 we had Cody Smith at 391 -16Xs and Bryan Youngberg at 387-9Xs on the men's side and Cecile Wiechman with 367-3Xs and Loyce Ellingrod with a 366-5Xs on the leader board.

Sunday followed suite with Cody and Bryan coming in with 176-1X and 171-2Xs on the 600-yard relays. Cecile and Loyce came in with 146 and 138-1X on the women's side of the 600-yard match. The winds kept the range a challenge by circling around during the Sunday relays. Cody ended up as high overall shooter with a score of 567-17Xs. Bryan Youngberg came in second with a 558-11Xs. Cecile ended as high woman shooter with a total score of 513-3Xs and Loyce was second with a overall score of 504-6Xs.

We ended up with 22 shooters for the weekend, 21 at any position and only 1 this year on position. We are scheduling the match for 2020 on June 6th and 7th. The gates for the host Worland Shooting Complex will open on Friday with practice and dry camps for those that want them. We will also offer a fun gong shoot if there is any interest from the match participants. The gong range is from 200 to about 900 yards. This could be either Friday afternoon or Saturday after the mid-range event.
– Tom Outland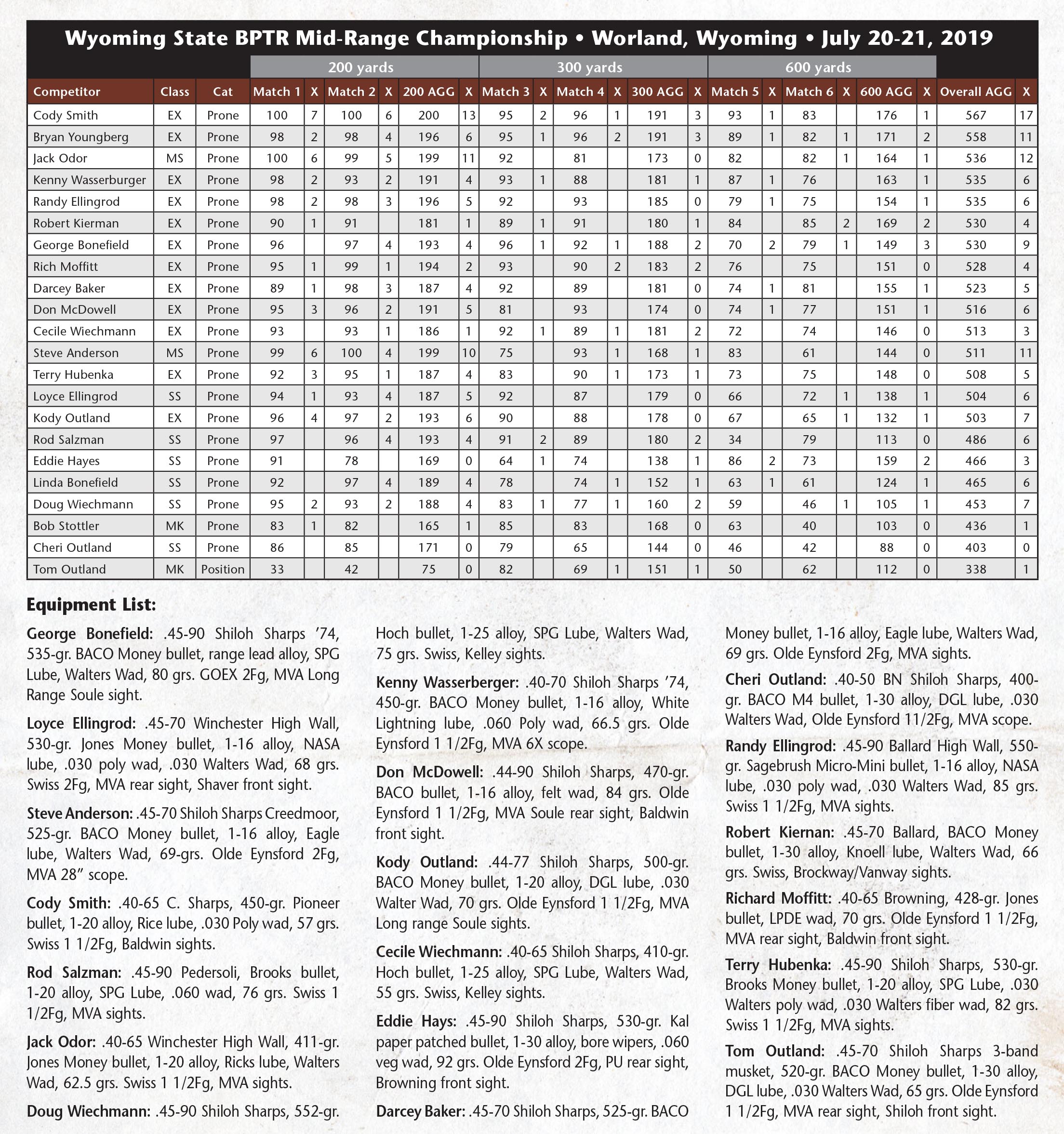 Wyoming State .22 BPCRA Silhouette Championship
Carpenter, Wyoming - August 16, 2019
Smithmoor Range
On August 16th Smithmoor Range hosted the 2019 Wyoming State .22 BPCRA Silhouette Champion-ship. Among the 35 entries were the current National Scope Champion (Ty Rice), the current National Iron Sight Champion (Cody Smith), the current Women's Champion (Coralee Smith), multiple past national Champions such as Jack Odor and Brad Rice as well as a whole host of other excellent riflemen. I am telling you this not to brag (although I have to admit it makes me very proud), but rather to help illustrate the magnitude of what follows.
I am very proud to announce that the 2019 Wyoming State .22 BPCRA Championship was won by a very fine young man named Cole Sauer, who happens to be 12 years old. He stepped to the line and stood tall among the grown men and women. Don't think for a minute that this was a fluke, that we let Cole win, or that he is somehow super-gifted. Although a talented young man, Cole rose to the level of winning a State Championship through hard work and determination. He started in A Class and through a lot of practice, goal setting, happiness and frustration he enjoyed the thrill of winning a State Championship. We are all so proud of him.
Cole's win also reminds me of one of the reasons why I love our shooting sport. Everyone is equal when they step to the line. It doesn't matter about age, financial standing, education or past wins; at the beginning of the match we all start at the same spot. If you want to win, you have to earn it.
The news of Cole's win was pretty exciting, but there were a lot of other good things that happened as well. We had shooters come from a long way to our humble range out on the prairie, as well as most of our usual shooters. Alabama, Georgia, California, Oklahoma and Pennsylvania were all represented. It was warm and breezy, which made for some challenging shooting. Momma Lorraine and Dad made some super boneless pork ribs for lunch, along with homemade coleslaw, chocolate zucchini cake and my favorite, Dad's Cowboy Beans. We also had a variety of donuts, banana bread, lemon blueberry bread and apple muffins for a morning snack. Thank you all for the wonderful food!
Dick Hennebry was our A Class State Champion for the last time with a 25. Dick will be moving to AA Class with his iron-sight rifle at the next match. He's a Master shooter in Scope Class, but relearning to shoot irons has him starting all over. John Madden shot an excellent 29 to be the AA Class State Champion, just edging out Cole Sauer's brother Chase by one point. I suspect both these guys will be moving to AAA Class soon.

Things got really exciting in AAA and Master Class. AAA Class saw a tie with 32s between Greg Bybee and Tom Reed. They shot at turkeys and Tom nailed all five while Greg dropped his last turkey. It was fun to watch! Tom won a Allwayz Manufacturing Tattered Flag State Championship plaque that he is very proud of.
Master Class saw Cole and Coralee tying with 34s and a four-way tie for second with 32s. Talk about some competitive shooting! Cole and Coralee shot off on chickens for the Overall Champion position. She smacked six chickens, while under the stress of a match is pretty impressive. They went for best of five on the first go-around and tied and then went to sudden death. They tied the first round, then the second, and on the third Cole hit his chicken and Coralee was unable to answer. This left Cole as the High Overall and Coralee with Champion Master Class! For second place Brian Haffey, Mark Pachares, Bryan Youngberg and Robert Kiernan all came to the chicken line for best of five. It was settled in one round with Robert Kiernan coming out on top for 2nd Place, Mark Pachares for 3rd, Brian Haffey for 4th and Bryan Youngberg for 5th. Great shooting, everyone!
Our new Grand Master Class had five entries and I am sure it will be growing based on the shooting we saw in Master Class. We had a three-way tie here with 33s. We went for best of five and I came out on top, Ty Rice earned second and Jim Rodebaugh finished third. I think it makes the matches extra fun when they are this competitive and have to be settled with shoot-offs.
I hope that all our shooters understand that none of our efforts here at Smithmoor would be possible without the very generous donations from the supporters we have. We had a great bunch of awards and prizes that were donated by great sponsors. Allwayz Manufacturing in Pine Bluffs (allwayzmfg.com) made the super Tattered Flags that the winners took home. They are a very cool, special kind of award that I know all appreciated. Montana Vintage Arms (montanavintagearms.com) is a premier maker of sights, scopes, actions and a variety of high quality products and is a dedicated supporter of ours. Most of us know Buffalo Arms (bufflaoarms.com) as the place to go for almost anything we need for shooting. They are a most generous sponsor and an excellent business to purchase equipment from. Wyoming Sight Drifter (wyomingsightdrifter.com) is our ol' workhorse that I can always depend on for anything we need for our matches. Hamburger for meals, labor on the range, "Drifters" for prizes; you name it, and Steve Anderson who helped out. For anyone that doesn't know about the Sight Drifters, check out his website at
wyomingsightdrifter.com
. No range box or work bench should be without one.