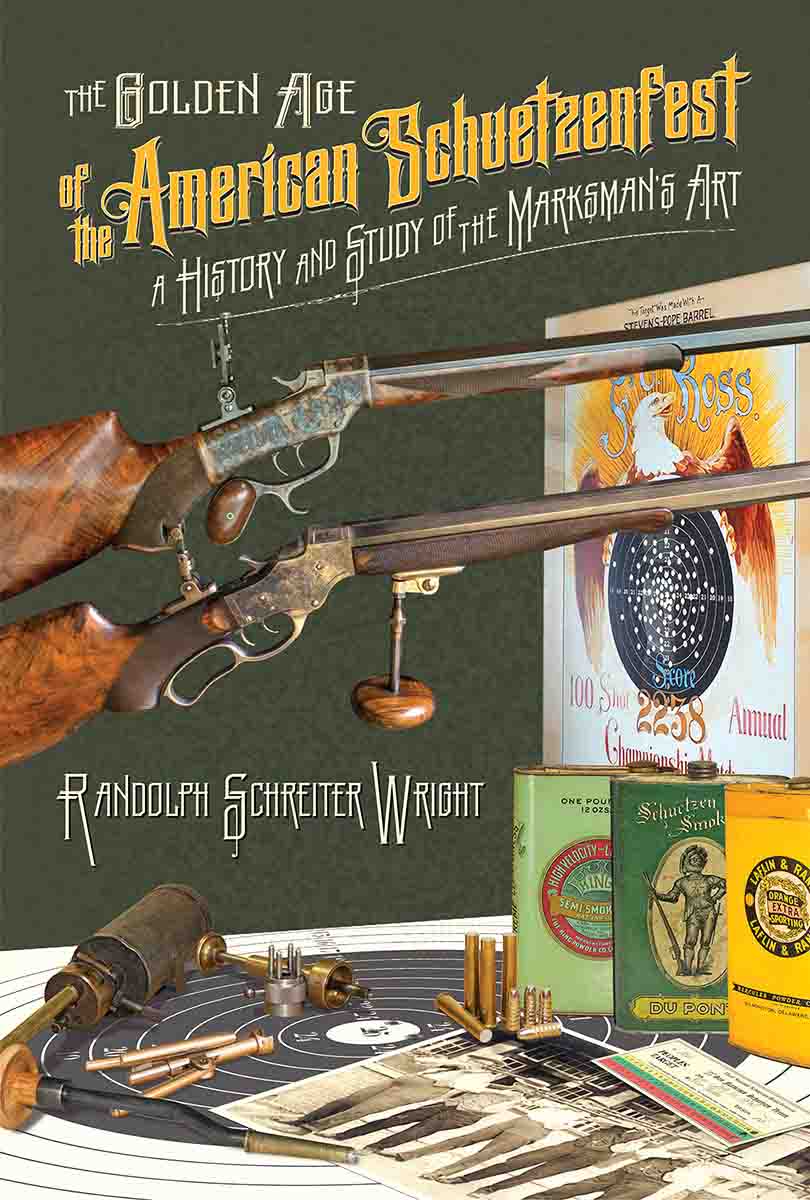 With the completion of this new book, Randy Wright has done a huge service to the single-shot rifle world. I will also say that this book will become a classic in the field of Schuetzen competition and is definitely required reading for anyone interested in getting involved in this fascinating shooting discipline.
Many times, I have attempted to explain to a new shooter the almost infinite number topics that make up Schuetzen shooting, from the history of the sport to techniques and available equipment. It is not something that can be explained or retained in a few hours of conversation. Before long, I would see that new shooter's eyes glaze over when he realized the sheer volume of information, much of which had to be sourced from a variety of books that were not easy to locate. Adding to the confusion was that many of the old books didn't give clear, concise instructions on techniques and sources for supplies were mostly outdated. Many shooters simply walked away as it seemed to be too daunting a task to even get started.
Randy's new book changes all that. Now, one can simply say, "Get a copy of The Golden Age of the American Schuetzenfest, commit it to memory and then we will talk." It's that good.
Want to know about the history of Schuetzen shooting? It's in there. The top old-time shooters? It's in there. What exactly is a Schuetzen rifle? It's in there as well. Basically, everything one needs to know about Schuetzen shooting from its history to loading technique, rifles, ammunition, sights, accoutrements, targets, modern-day Schuetzen organizations – it's all there. As editor of a magazine, I can really appreciate the huge amount of time Randy spent putting this book together and then presenting it in an easy to read, entertaining fashion. It feels like you really are sitting in his gun room having a conversation. And, because Randy is a very accomplished Schuetzen shooter himself, the information presented is up-to-date, researched and solid.
As I write this, I looked at one of the many shelves in my den stocked with shooting books. I counted 15 volumes on one shelf alone that dealt with some aspect of Schuetzen shooting. Ninety percent of the information presented in those books is covered in The Golden Age of the American Schuetzenfest and in a much clearer and concise format. Do I need to say more?
No matter if you are a "newbie" to Schuetzen or an old hand, this is one book that absolutely needs to be in your library. Hardcover and 388 pages filled with nearly 400 photos and illustrations, this book is an extremely good value. In fact, I'm going to get two; one for a "loaner" and one to keep in the gun library. I would advise you to do the same.
For more information, contact Wright Galleries at 7515 E. Mercer Lane, Scottsdale, AZ 85260, or call (623) 451-9427, artgallery@wrightgalleries.com or visit wrightgalleries.com. The price is $49.00 plus $8.00 shipping and handling; payment may be made by check, money order, credit card or PayPal. Books are in stock as of this writing and ready to be shipped.
Web Cartridge Belts
Tommymaker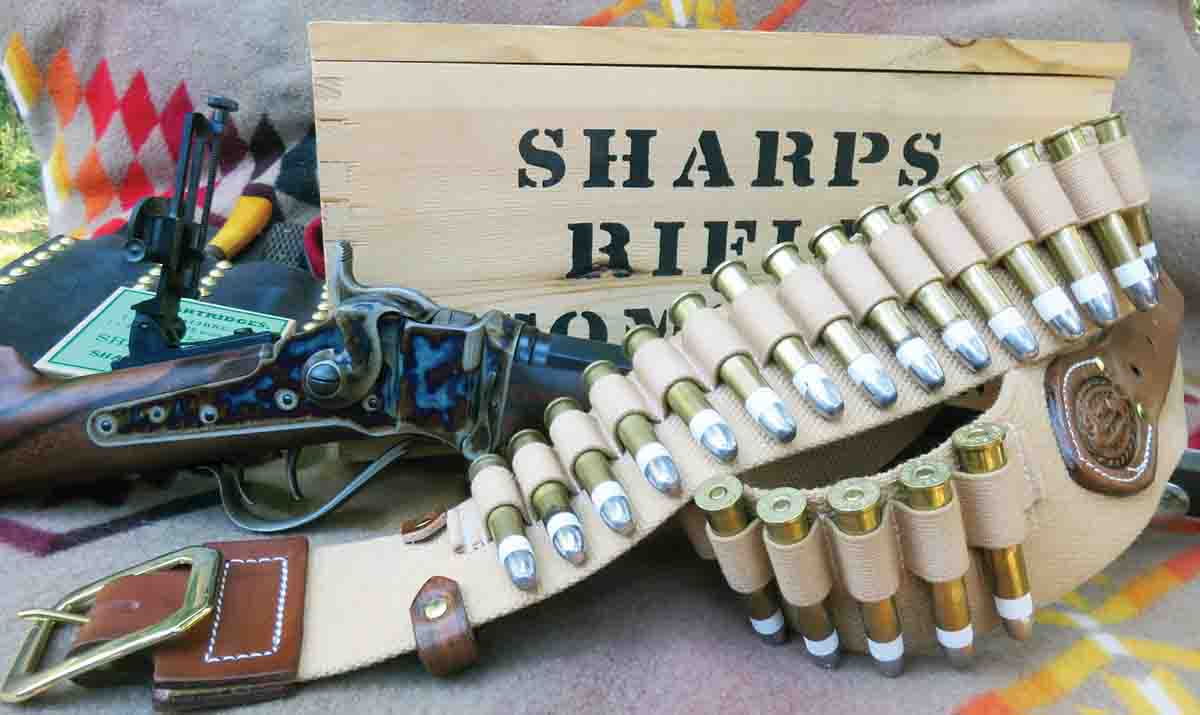 "Tommymaker" is usually one of the regulars on "Traders' Row" at the Quigley, but this year he was nursing an injured foot, so he missed out on the Buffalo Rifle Match this time. For his foot, missing Quigley was probably the best thing. It rained hard enough that some of us were thinking about wearing flippers. But I wanted to see Tommymaker and get one of his web cartridge belts, so our business was conducted by mail.
Tommy was contacted by email before Quigley because the cartridge belt I wanted probably wouldn't be found among his standard plunder. My intention was to put in an order for the belt I wanted and then pick it up at Quigley. That was a good idea and, actually, things worked out for the best because Tommy was able to tell me the information he needed in order to make the belt. One thing he needed was a measurement around my waist and, as he says, the size of my Levi's wouldn't do.
Most web cartridge belts are made for .45-70 cartridges, but I wanted one with loops for .50-70s. Tommy's web belts are three inches wide and he usually uses two-inch webbing for the cartridge loops. That's fine with a .45-70 and other cartridges, but it would almost hide a .50-70 round. So, for my belt he used a one-inch wide webbing and I think that works and looks just fine.
My finished belt has 36 loops for the .50-caliber cartridges, and while it does hold the .50-70s like it was made for them, I'm using the belt more for .44-77 cartridges now. The bottleneck .44-77 round is fatter than a .45-70, and the cartridge loops on this belt fit the chubbier .44 Sharps cases very well. In fact, the .44-77s look so good in this cartridge belt that I find myself thinking about getting another belt to carry .50-70s.
At the same time I ordered my belt, my pal Jerry Mayo joined in and ordered a belt for .45-70 cartridges with the two-inch deep cartridge loops. He's a little "bigger" than I am, and his belt for the .45s has a total of 44 cartridge loops.
Tommy welcomes custom orders and I'm considering getting a belt with some loops for the .50-70 (again) but also with some loops for .44 or .45 pistol cartridges. Perhaps getting a belt with no cartridge loops on the right and left side, something like the Quigley cartridge belt, so there would be space for a revolver holster or a knife sheath, too. If you have ideas for a custom web cartridge belt, bounce those thoughts off of Tommy and see what he says.
The cotton webbing is a natural light brown color which I prefer more than the bleached white. The belt is made with a heavy webbing and the cartridge loops are made with a lighter web with a finer weave. A good heavy leather is used for attaching the buckle and for the tongue, making this a ranger-style belt, and the whole belt is really made to last. Tommy also makes bandoleers just in case you want to carry a lot of ammunition. The good news about his cartridge belts is the standard price of $50 plus postage. Custom options, of course, might kick that price up just a little. For more information, contact Tommy at tommymaker@yahoo.com, or call (785) 475-3268. Tommymaker Custom Leather, 966 CC5 Lane, Oberlin, KS 67749. - Mike Nesbitt
Buffalo Runner Rifle Cover and Shooting Pouches
October Country


This is an update on a previously reviewed product, the Buffalo Runner rifle cover made by October Country. The initial review of the "chocolate" cowhide cover was in The BPC News No. 103 (Fall 2018). I hope you'll agree that the news I have to share about it makes this revisit worthwhile because now the Buffalo Runner rifle cover is made of buffalo hide.
Now for notes on the new rifle cover: The buffalo-hide rifle cover is made with four-ounce leather, very soft, and the cover is sewn together with the "fuzzy" side out. This makes them look more like covers made with brain-tanned leather, which adds to the appearance by giving it a more authentic or "period" look. The rather light brown color of the buffalo-hide cover is referred to as a "tobacco" color. These gun covers completely encase the rifle, and the end is then turned over the rifle's buttplate to close the case and is held closed with a leather tie.
It offers good, appropriate protection for a Sharps rifle. The rifle cover is made in two sizes; the shorter size fits rifles with a total length of 52 to 56 inches and is priced at $134. The longer size is for rifles with a total length of 56 to 62 inches with a price of $144. These covers are made two inches wider than the company's muzzleloader gun cover to accommodate black powder cartridge rifles with taller front sights. The rifle in the picture is my .44-90 Sharps which has a 32-inch barrel, and there is more than enough room for that rifle. The soft gun cover will certainly "bend" to match the contour of the rifle. Custom sizing is also available.

October Country is also making a couple of styles of buffalo-hide shooting pouches for muzzleloading fans. The buffalo-hide pouch was medium-sized (which I like) and measures 7 inches deep and another 7 inches wide. The top of the pouch and flap edges were bordered with a dark suede leather that gives it a good outline. Inside the pouch is a ball pocket made of a similarly colored leather. The flap can be secured down with a brown button that looks like it is turned from horn. The buffalo leather used for the pouch is rated at eight ounces, and leather of the same weight is used for the buckle loop and tongue on the cotton webbing, which is used for the strap. The American-made solid brass buckle, of course, makes the pouch strap adjustable. The price for one buffalo-hide shooting pouch is about $75. For more information call (208) 762-4903 or contact them at PO Box 969, Hayden, Idaho 83835. - Mike Nesbitt
Stock Finishing Oil and Stain
Blak Forge Armoury


Zack Buck at Blak Forge Armoury sent a sampler of the company's stock finishing products including Red Bugloss, Red Oil, Red Finishing Oil and Amber Finishing Oil. The first thing to notice is the stains and oils come in glass bottles with tightly fitting caps. I have no use for products of the sort that come in plastic "childproof" containers or tin cans with press-fit lids. The childproof bottles just mean half of it will be spilled while attempting to get it open, and the tin cans never seal properly, plus the contents dry out in short order.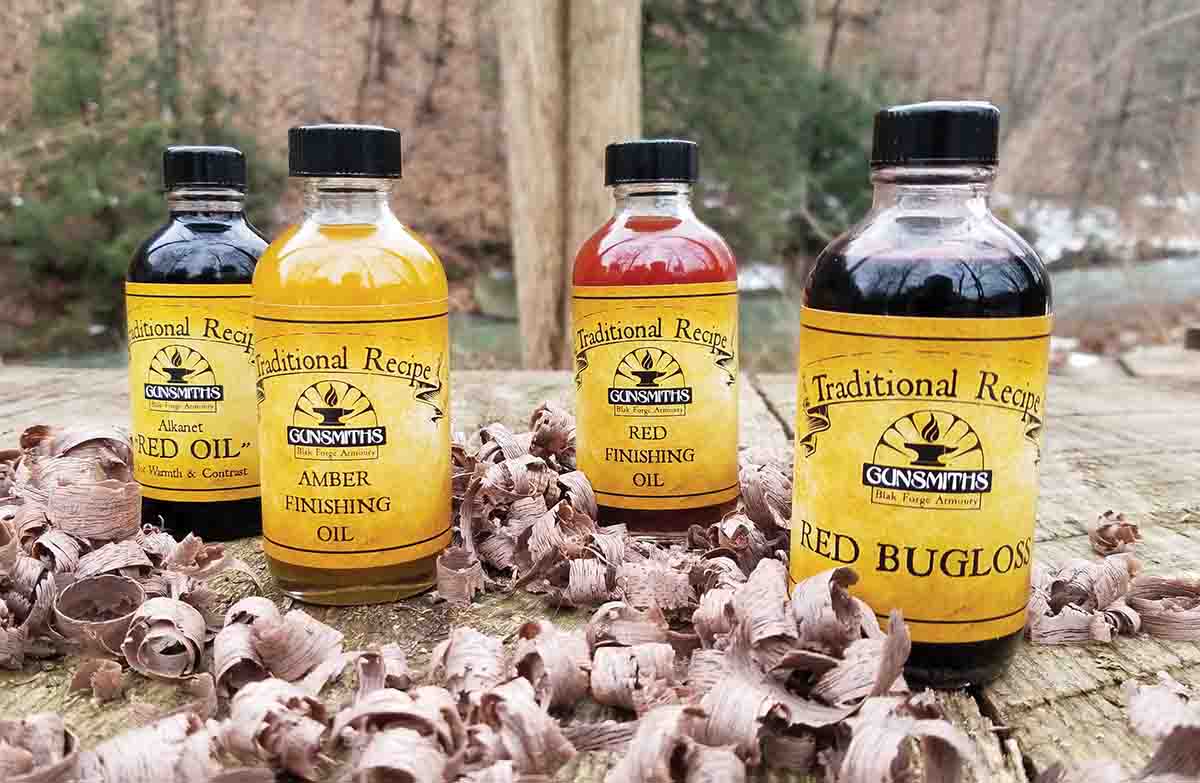 Some test pieces made of walnut were stained with the Red Oil and the Red Bugloss and they are indeed "red." They would both be excellent for re-creating the red-hued finish on old Winchester firearms. Both were topped with the Red Finishing Oil and the combination really made a rather mediocre piece of walnut come to life. The Red Finishing Oil by itself gave me a nice warm finish on both walnut and maple.
I had a Marlin lever-action stock that needed a top-dressing in order to finish it up, so the Amber Finishing Oil was used. The first thing I noticed was how quickly the oil dried; almost as fast as using shellac. It was put on only small areas at a time, which allowed me to hand rub it before it set up. The oil did not "bead-up" or become tacky, it simply dried fairly hard right away. It gave me a perfect replication of an old factory varnish finish and gave some nice color to a plain piece of walnut.
I can see that Blak Forge products will be on my workbench, especially when restoring old finishes or trying to match an old factory finish. I like the colors and the fast working time; the Red Finishing Oil did not set up as fast as the Amber Finishing Oil and would allow for more hand rubbing.
The Red Bugloss is $14 per bottle, Amber Oil, $16 per bottle, Red Oil, $18 per bottle and Red Finishing Oil, $16 per bottle plus shipping and handling. Bottles are 4 ounces each. Contact Blak Forge Armoury at 1803 Route 287, Morris, PA 16959. Call (570) 404-6159 or zackbuck@blakforge.com. - Steve Garbe