Ruminations of a Life Long Bullet Caster
&
Preparation of Match Ammunition for Black Powder Cartridge Rifles
One simply cannot have too many reference books if he is a serious rifleman. Keeping accurate records of your own shooting and reviewing the experiences of other shooters is also a pleasant, but a never-ending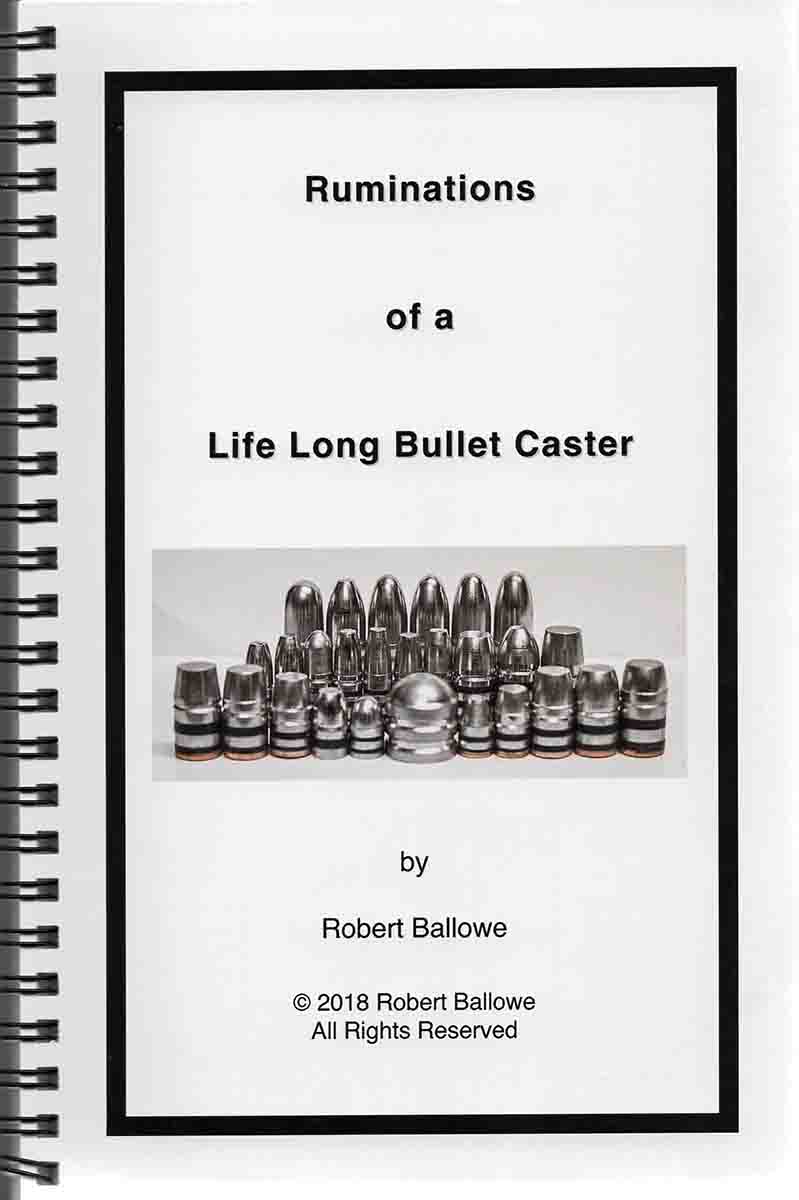 endeavor. That's why it was a definite pleasure to review these two books by Robert Ballowe, Preparation of Match Ammunition for Black Powder Cartridge Rifles ($19.95 ppd) and Ruminations of a Life Long Bullet Caster ($24.95 ppd). Both books can be purchased for $39.99 postage paid.
Given our digital age, it seems that there are increasingly more "experts" in the discipline of accurate shooting, especially when it comes to black powder cartridge rifles. It can be very daunting for a new shooter to separate useful, straightforward information from the self-serving chatter of Internet keyboarders. Robert's books are a breath of fresh air in this regard, they are filled with
useful tips and basic information that the beginning – and seasoned – BPC rifleman will greatly appreciate.
This is especially true when it comes to the casting of top-quality lead bullets. Robert surely knows of what he speaks, having cast bullets since the age of 10 and ultimately becoming the owner/operator of Cast-King bullets. It was natural that he would become interested in black powder cartridge rifles and he applied his casting expertise to the manufacture of match-grade bullets for his newly acquired 1874 Sharps .45-70. It is extremely fortunate for us that he decided to gather his experiences into an easy-to-read reference book. Ruminations of a Life Long Bullet Caster needs to be in your library if you are serious about bullet casting. The book contains 120 pages and is well illustrated with color photographs.
Preparation of Match Ammunition for Black Powder Cartridge Rifles is written in the same no-nonsense style and includes chapters on match-prepping unfired brass, annealing cases, lengthening brass, aligning the expander, forming custom nose punches as well as a large chapter on casting and lubing bullets. No matter if you are just beginning to load for a black powder cartridge rifle or have years of shooting under your belt, you will find much of interest in this informative book.
I have always said that loading for black powder cartridge rifles is relatively simple as long as one understands the basic rules. Robert Ballowe knows those rules, which were learned from experience, and he presents them in a very down-to-earth style. I enjoyed reading both his books and learned a few things in the bargain. It is always good, no matter how experienced you think that you've become, to consider the thoughts and techniques of other riflemen.
Both of Robert Ballowe's books can be ordered from Robert Ballowe, 9725 Mahlum Lane, Missoula, MT 59808. rmb1951@hotmail.com or call (406) 251-6652.
Combustible Cartridges from Buffalo Arms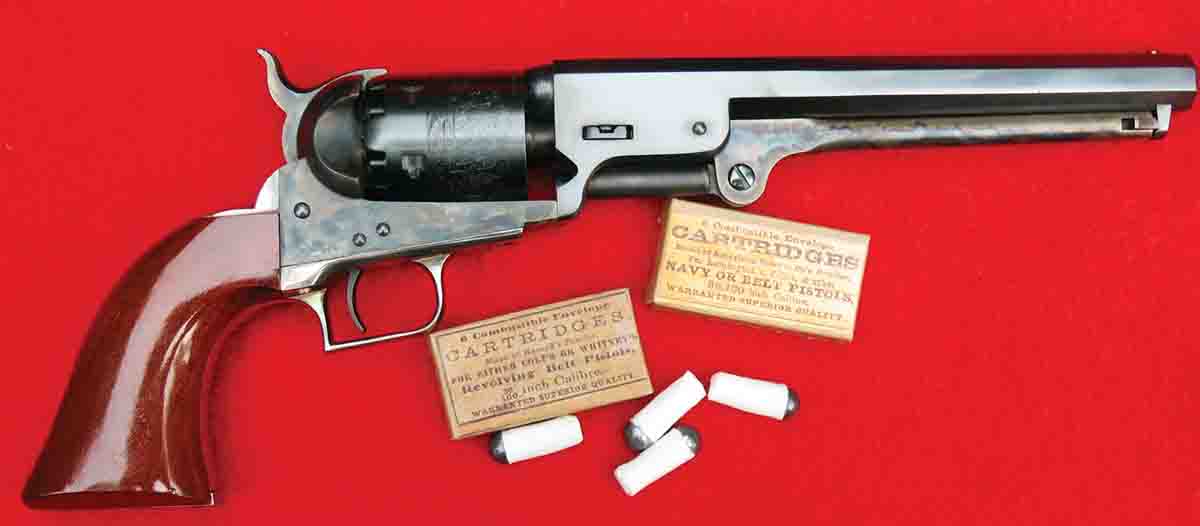 Buffalo Arms Company has started offering combustible black powder paper cartridges for .36- and .44-caliber percussion revolvers. The cartridges are hand-rolled and tapered so they can be inserted into the chambers very easily, loading into the front of the cylinder. To add to the vintage flavor of these cartridges, they are packaged in boxes containing just six cartridges with period labels that are very reminiscent of those produced during the Civil War.
After seeing these paper cartridges for revolvers, I wanted to give them a try. Two boxes were ordered, both for my .36 Colt Navy Model. The small boxes with the early-style labels are fascinating and they are included in the photos. To properly describe the paper cartridges , they are made with a nitrated paper that burns with almost no ash. In fact, the paper is almost as flammable as the powder. For the .36-caliber cartridges, they are loaded with 14 grains of GOEX FFFg powder and topped with a Hornady .375-inch diameter ball. The paper seams are sealed with sodium silicate, which BACO refers to as "water glass" and the ball is held to the paper cartridge with the same solution.
Only 14 grains of powder is somewhat of a light load for the .36 Navy, but these paper cartridges are also recommended for the shorter-cylindered pocket models such as the Colt 1862 Police revolver. A common loading for the Colt Navy Model used from 20 to 22 grains of powder beneath the .375-inch round ball, but believe me, there is nothing wrong with shooting a Navy using these lighter loads. BACO also makes paper cartridges for .44-caliber revolvers and those are loaded with 28 grains of GOEX FFFg powder under a .454-inch diameter Hornady ball; those .44 loads would have quite a bit more power.
To test fire some of combustible cartridges, I used a third generation Colt Navy. At the range, the nipples were cleared by snapping caps and that was done twice because some of the gun's nipples just didn't sound like they were clear. After the second batch of six caps, the gun was ready for loading. Loading was very simple: just insert the cartridge and ram the ball down as deeply as it will go. There is no need to tear the cartridge, as you would if loading a musket with a paper cartridge, because the nitrated paper burns almost as readily as the powder. Besides that, I'm guessing that the paper cartridge ruptures when the load is pushed to the back of the chamber with the rammer.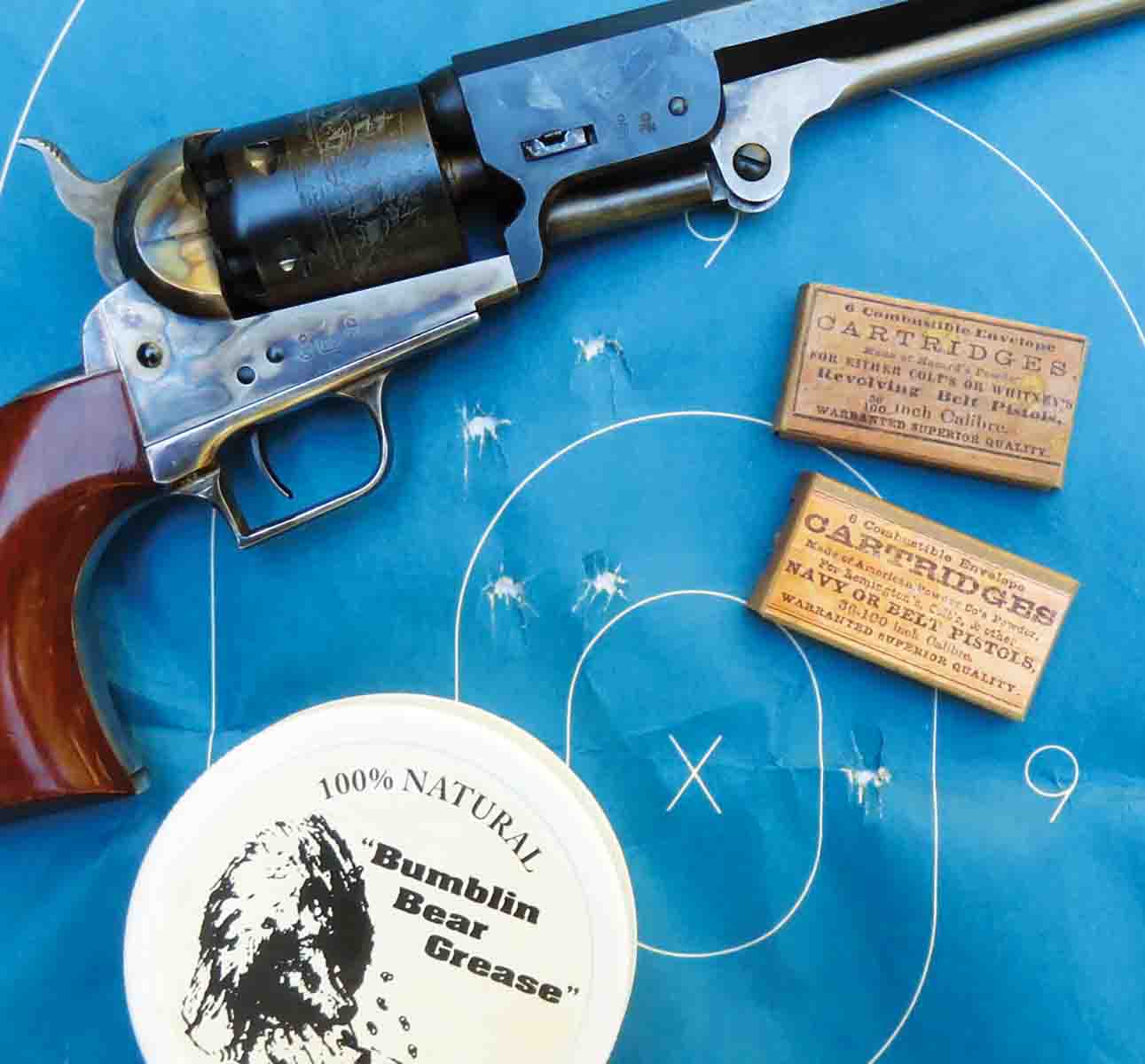 After all of the cartridges were loaded in the gun's cylinder, the mouths of the chambers were sealed with Bumblin' Bear Grease from October Country. The grease acts as a lube for the ball while going down the barrel, but its primary purpose for being applied to the front of the chambers is to prevent chain fires; that is, having more than one chamber fire when the revolver is shot.
My "man-sized" target was and posted at about 50 feet. I held on the bottom part of the 10-ring and squeezed the trigger. The first shot was actually my best, it scored a 10 at 3 o'clock. Four more shots followed, getting two more 10s and two 9s, making a rather good group. The shooting was done offhand with a two-hand hold. Very pleasant shooting!
That left me with one shot remaining in the Navy's cylinder. Another shooter at the range that day had a chronograph all set up and in use. I asked the owner if I could fire one test shot over his machine and he replied that I could along with adding the comment, "Just don't hit it." That last shot was a good one, completely missing the chronograph, and registering 691 fps. Higher velocities, of course, would be achieved with heavier powder charges, close to 1,000 fps with a fully loaded Navy. That concluded my shooting, so far, with the paper cartridges because the second box was saved for later use.
And there will be some later use, for sure. I can see myself shooting my Colt Navy percussion revolver quite a bit with these loads. If it turns out that I will do a lot of shooting with paper cartridges like these, I will learn how to make them myself. If that happens, another story will follow.
Buffalo Arms Company offers combustible paper cartridges only for revolvers and they are priced at $14.99 per box of six. That works out to almost $2.50 per shot but a small savings can be enjoyed by purchasing more than one box. If five boxes are purchased, the price drops to $13.44 per box. To shooters who are hooked on the paper cartridges, Buffalo Arms also offers its nitrated paper so they can "roll their own." To place an order, visit buffaloarms.com or contact them at 600 Vermeer Court, Ponderay, Idaho 83852, or phone them at (208) 263-6953. - Mike Nesbitt
Buffalo Runner's Rifle Cover from October Country

October Country makes both canvas-lined blanket rifle covers and leather rifle covers for either muzzleloaders or buffalo guns such as the Sharps 1874. I asked how long the company had been making the leather rifle covers. John Maciocek informed me October Country had made the cover that was used in the movie "Quigley Down Under." With that outstanding bit of information as a basis, I quickly said that I needed one.
John then asked what the barrel length of my rifle was and I replied that I wanted the leather cover for my .44-90 '74 from C. Sharps Arms with a 32-inch barrel, so he told me their Buffalo Runner's Rifle Cover would be a dark chocolate brown, which was just fine with me. After those technicalities were taken care of, it was only a short wait until the new leather rifle cover arrived in the mail.
The cover arrived very quickly, and my .44-90 Sharps was wearing its new rifle cover and, as you should guess, quite comfortably, too. The leather cover is just a bit wider than need be so rifles with larger front sights can easily fit into them. The length of the rifle cover is just fine but just a little long, with the end of the cover folding back over the stock and tied in place. No buckles or rivets are used. My rifle fit the new cover so well it looked like it was made for it.
Of course, the movie had to be watched again, with special attention given to the scenes where Quigley's rifle cover was shown. The one made for the movie had some little differences, but mainly ornamental, and Quigley's rifle cover was a light brown color. There are symbols marked or branded onto the leather and the fringe is attached with a lacing instead of being sewn in. But the similarities shared by this new leather rifle cover and the one in the movie far outweigh the differences. Like the cover in the movie, October Country covers are made from one piece of leather plus the leather for the fringe.
I must admit that I like this rifle cover, and this one will be seen traveling with my .44-90. It will be used to transport the heavy rifle and it will also be rolled up as extra padding under the rifle's barrel when it is being fired from a benchrest.
October Country's Buffalo Runner's Rifle Cover is shown on its website (octobercountry.com). The company describes it as made from oil-tanned, chocolate brown leather with the suede (fuzzy) side out and a matching narrow fringe. The covers are made in two sizes; the shorter size fits rifles with a 26- to 28-inch barrel and a total length of 46 inches or less. The longer size is for rifles with a 30- to 34-inch barrel and a total length of up to 52 inches. Custom sizing is available. Prices for the chocolate brown gun covers are $125 for the short cover and $135 for the long cover. For more information visit the company's website, call (208) 762-4903 or contact them at 6272 N. Government Way, Dalton Gardens, Idaho 83815. - Mike Nesbitt